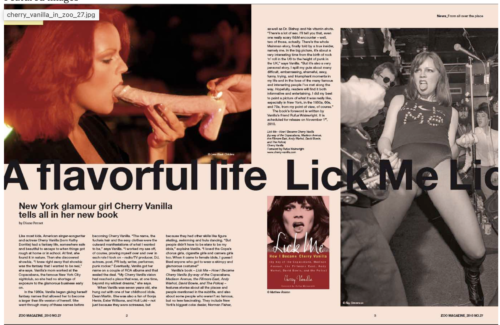 Dear Shaded Viewers,
I remember the first time I met Cherry Vanilla, I was a young designer in a group show put on by the Fashion Designers of America and Cherry Vanilla was the Master of Ceremonies. The idea for the mise en scene was to re-create the door at the Mudd Club with Cherry Vanilla performing. That was decades ago and for the very first fashion film festival, You Wear it Well, I asked Cherry to be the Master of Ceremonies, that was in Los Angeles in 2006.
Here are a few articles on Cherry and all my warmest wishes for a very Happy Birthday.
https://ashadedviewonfashion.com/2018/11/18/dp_does_los_ang/
https://ashadedviewonfashion.com/2017/04/08/women-in-rock-an-interview-with-the-original-bad-girl-cherry-vanilla/
https://ashadedviewonfashion.com/2015/08/11/cherry-vanilla-lick-me/
https://ashadedviewonfashion.com/2011/06/07/cherry-vanilla-with-tim-burton-at-his-opening-at-lacma-last-week/
https://ashadedviewonfashion.com/2011/01/26/cherry-vanilla-in-zoo-27-and-some-excerpts-from-the-foreword-written-by-rufus-wainwright/
Later,
Diane