-"Within the walls of the Rijksakademie artists are invited and encouraged to surrender all certainties and push the envelope of their knowledge and skill, of themselves and their artistry. When they arrive here they have already concluded prior education and have worked several years as a professional artist, settling into a routine. They more or less know who they are as artists and how they prefer to work. But at the Rijksakademie all this is abandoned. Here, all reserves are dropped and minds are opened.
The Rijksakademie is a place for the most talented artists, those with the biggest transformative potential. Every year 23 are chosen from more than 1400 applicants. Together with the 23 entering their second year they form a compact community connecting Amsterdam to the rest of the world and vice versa. This institute with its history dating back to 1870 functions as an incubator for an international and forward looking brand of artistic practice.
A Rijksakademie residency marries fundamental questioning to absolute freedom. It entails a period of two years characterized by doubt, enlightenment, failures, triumphs, rejection of old convictions and acquisition of new insights. Resident artists stimulate and inspire each other, and Rijksakademie staff and advisors from all over the world do everything in their powers to feed the transformative re. Ultimately it's the artists who help themselves forward. They turn themselves and their practice inside out. The maturation most Rijkakademie residents experience is not a gradual evolution but rather a faltering growth spurt that will resound during the rest of their careers. It's a very fragile process as well, which for that very reason takes place mostly behind closed doors.
Once a year, during RijksakademieOPEN, those doors open. This happens in cooperation with Amsterdam Art Weekend, and is generously supported by our partner Rabobank. This is the moment for you to get acquainted with what is happening in the studios and is re ected in the work you'll see. It doesn't necessarily qualify as fully matured works of art. Presentations can't always be understood or positioned. Maybe in ten or twenty years they can, but then again, maybe not. What you can do is imagine and wonder. And maybe you'll catch a glimpse of the future" Els van Odijk – Director Rijksakademie van beeldende kunsten
Juliaan Andeweg (1986-NL).
Juliaan Andeweg's installations Boreas and Sneaker Wave project an inauspicious atmosphere. Greek mythology and Northern European sagas and myths serve as sources of inspiration.
In Boreas five ceramic pots sit in a sardonic mist, shooting up flames. They represent the various continents and also symbolize the circular portals to the underworld. They are surrounded by paintings of fashion models in luxury ads portrayed as contemporary Gorgons or Valkyries. The women are accompanied by constantly expanding and decreasing mist, smoke and thunder. The cyclical nature of the spectacle can be retraced to mythology, just like the marsh-like environment with its atmospheric mist. Next to this, Andeweg presents two vertically folded paintings entitled 12 to the Moon and we got to leave soon… which echo his painting background. Ambiguity, transformation cycles and the concurrent existence of various perspectives are central to these recent works. Nature, mythology, the commonplace and alchemy get mixed-up. The continuously changing results coagulate temporarily in a form. – Vincent van Velsen.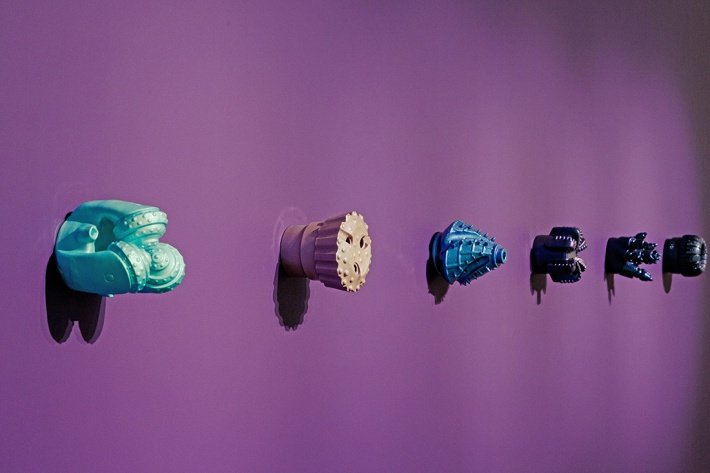 Monira Al Qadiri (1983-KW)
Although it often draws from a very personal source, over the last few years Monira Al Qadiri's work has come to incorporate larger political and historical ideas. As a Kuwaiti she feels a sense of anxiety over the impending collapse of her country's oil wealth, as the nation-state built on fossil fuels will soon find itself to be unsustainable.
Al Qadiri's 3D-printed oil drill heads are silent witnesses to activity that is hidden and invisible. The inner-workings of the petroleum industry are usually concealed from the public, who respond with amazement and fascination when they
are finally revealed. Simultaneously these sculptures remind us of Kuwait's now defunct pearl diving industry: Al Qadiri discovered that pearls and oil have the same dichroic color spectrum, placing pearls on the light and oil on the darker side of the scale. Through the use of these colors she attempts to create an aesthetic and historical bond between the pre- and post-oil eras.
The national past, personal present and imagined futures be- come intertwined in Al Qadiri's practice, as the works project themselves into a future without oil, reflecting back on it like an ancient relic from time immemorial. – Alix de Massiac.
Dit-Cilinn (1983-SE/TH)
This planet has a kind of intelligence. It can open a channel of communication with an individual human being. The message that nature sent me is, Transform your idea of the world and reality through a synergy between dance and idea; a synergy between understanding and intuition; and dissolve the boundaries that your culture has sanctioned in you. In
the presence of dissolved boundaries, one cannot continue to close one's eyes to the ruination of the earth, the suppression of the female, and the institutionalized fear of the ecstatic experience. Ecstasy is a complex emotion containing elements of joy, fear, terror, triumph, surrender, and empathy. In this state we can glimpse the world outside the confines of learned culture and bring back structures that can serve our community and the biosphere that supports us. – Tsanten.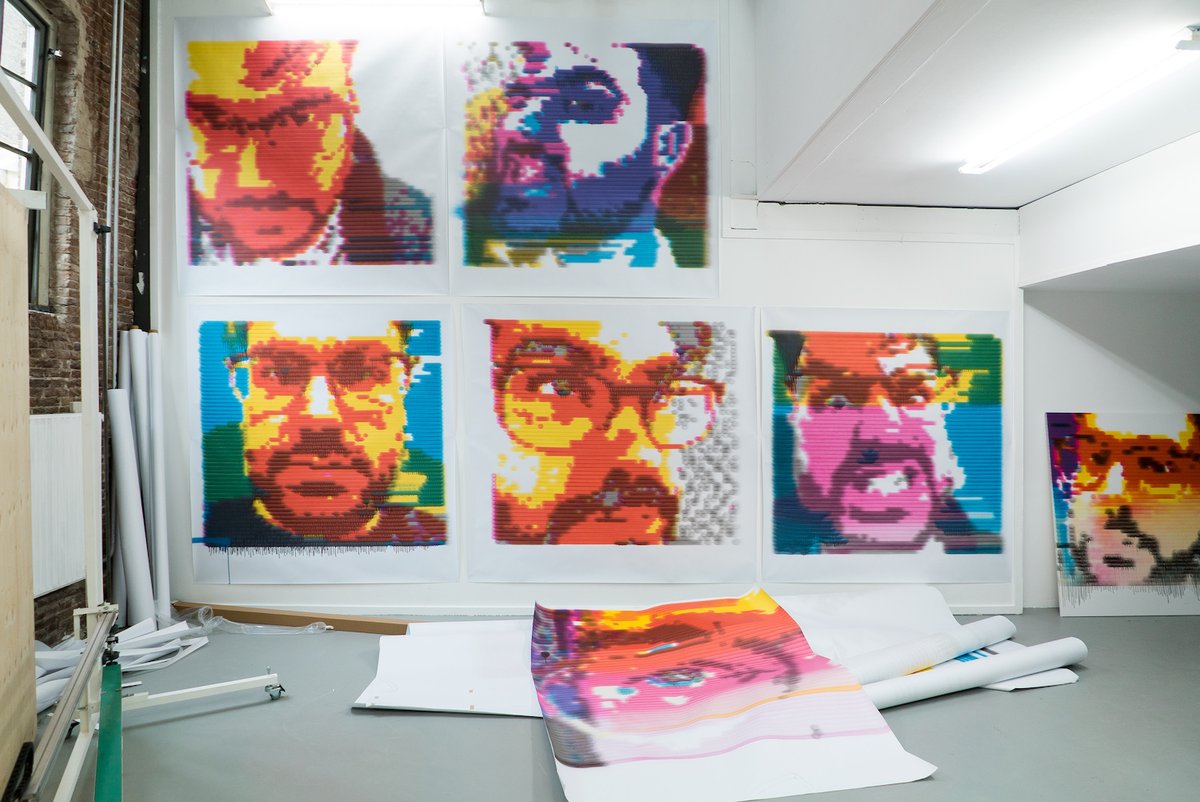 Rutger de Vries (1987-NL)
Handwriting is considered a trademark in graffiti. The artist is unknown but his 'tag' is highly recognizable. Rutger de Vries was one of those anonymous graffiti artists, but translated the street-born freehand technique to the studio, fundamentally changing the work and its creator. At the Gerrit Rietveld Academy where he studied graphic design, and later at the Werkplaats Typografie, he experimented with spirographs and a mechanical aerosol machine producing circles. Now he takes things to the next level by creating a computer-controlled prototype of an enlarged printer. The work it produces hints at painting, but De Vries completely abandons the idea of a unique signature. The work becomes anonymous, while he, as an artist is more visible than ever. He only makes himself known through the images he feeds his machine via software. These are in effect self-portraits, as though the artist is present after all, like a 'ghost in the machine'.  – Edo Dijksterhuis.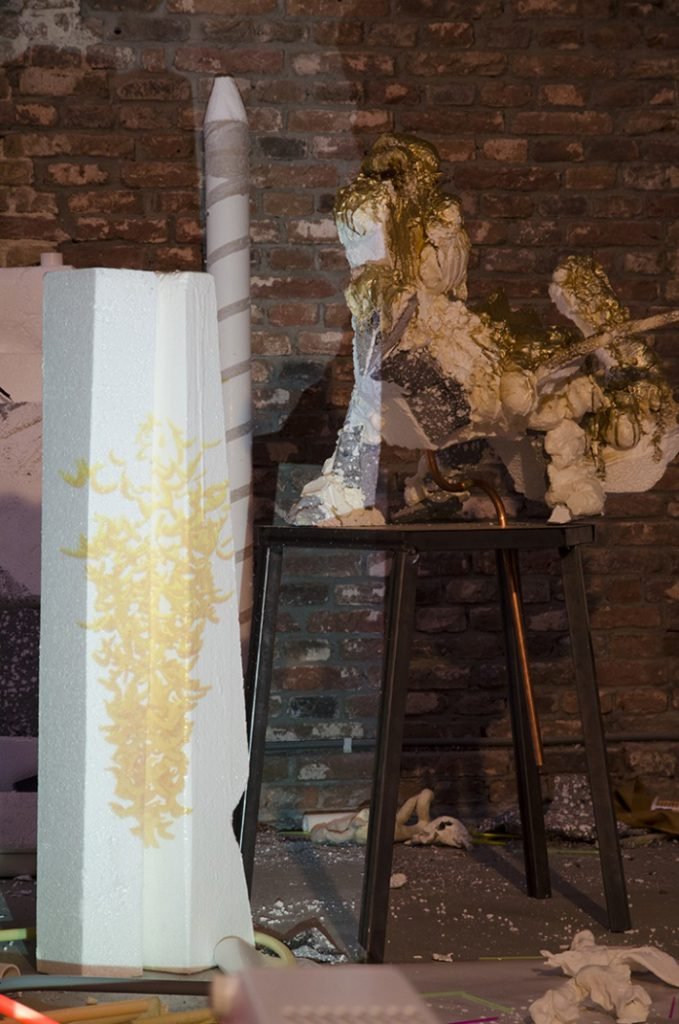 Robbert Weide (1975-NL)
Through his objects Robbert Weide creates situations in which something is about to happen. His installations are preludes to a sensation – the viewer is waiting for a conclusion or solution, but it fails to happen. Part of the installation he is presenting during RijksakademieOPEN 2016 is a fountain made of Styrofoam, that doesn't spray water. As such, Weide's works are mental constructions for visitors to complete.
Weide looks for ways to present a finalized work with an unfinished character. He derives most pleasure from the production process that gives rise to unexpected turns or thoughts. For him, this creates freedom. Consequently the end result often deviates from his initial plan. The visibility of the production process stresses the suspense of the lacking denouement. – Julia Steenhuisen.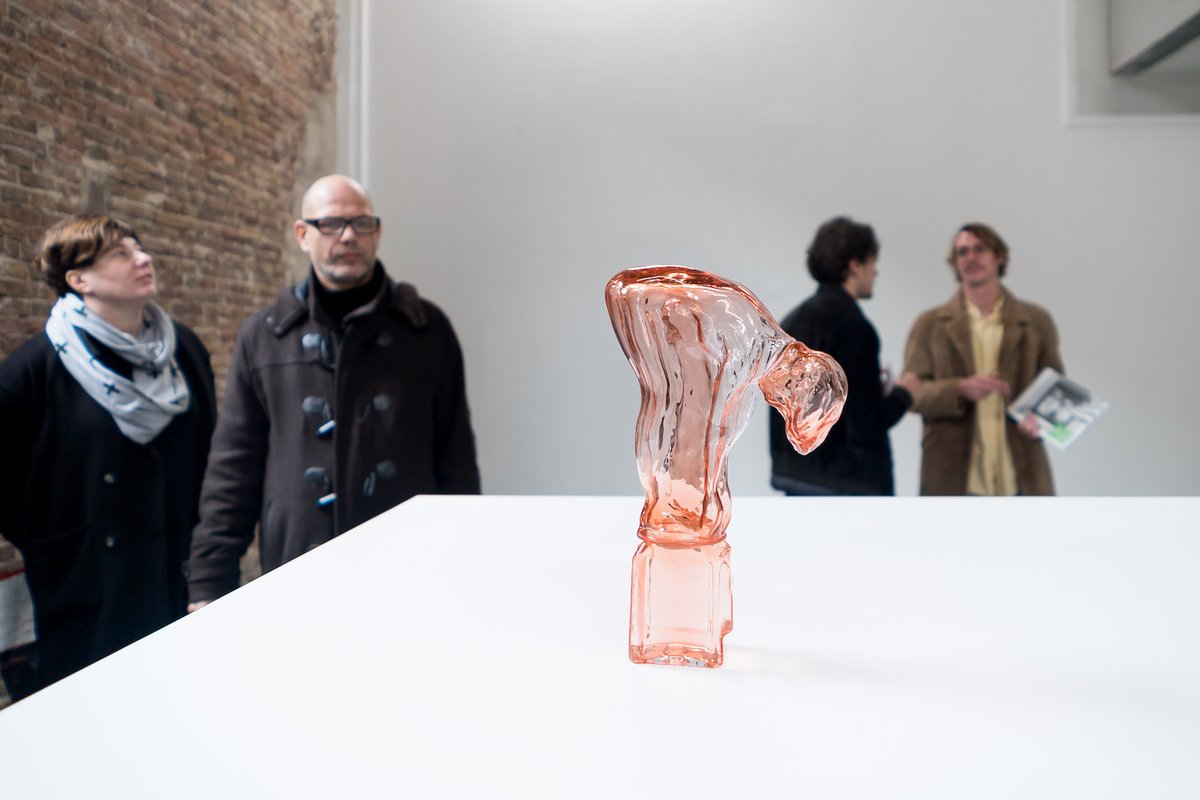 Christine Moldrickx (1984-DE)
Daringly hesitant, the figure stands poised on a stool. Bent over double, hands and feet touch the seat to complete a union with the thin fundament. The posture evokes/connotes/ indicates what the glass *(what glass?) (the material it's made from) expresses/denotes/implements. Body and object, figure and pedestal meld together. Water fills the hollow form to the level up till the point where the body and chair meet/where the feet meet the stool (hands dipping into the water), breaking/cancelling the proposed synthesis level of uncertainty. The instability of the vessel's contents (which will continuously perform the water cycle) creates a precarious threshold, made more haphazard/exacerbated by the figure on the edge or: The volatility of the water not only signifies an uncertain footing, the posture itself is in (a moment of) transition – (a movement) suspended in matter. Awkward/ clumsy and yet committed (concentrating), the raised figure strains to be lower (trying to retract from its elevation). What preceded this stance and what will follow? Possibilities of past and future branch out into myriad potential movements and choices. The paused continuity of movements/This moment in transition/broken continuity enables an either-or, a this-or-that of contrary movements and possibilities in space. Tension, exertion, anxiety, vacillation/hesitation proffer from almost unnoticeable/barely visible micro movements. Whilst the water methodically moves through its perpetual states/ phases, ne drops of sweat bead in the hollow of the body from feet to head/head to toe/head to feet. – Anna Lena Seiser & Christine Moldrickx.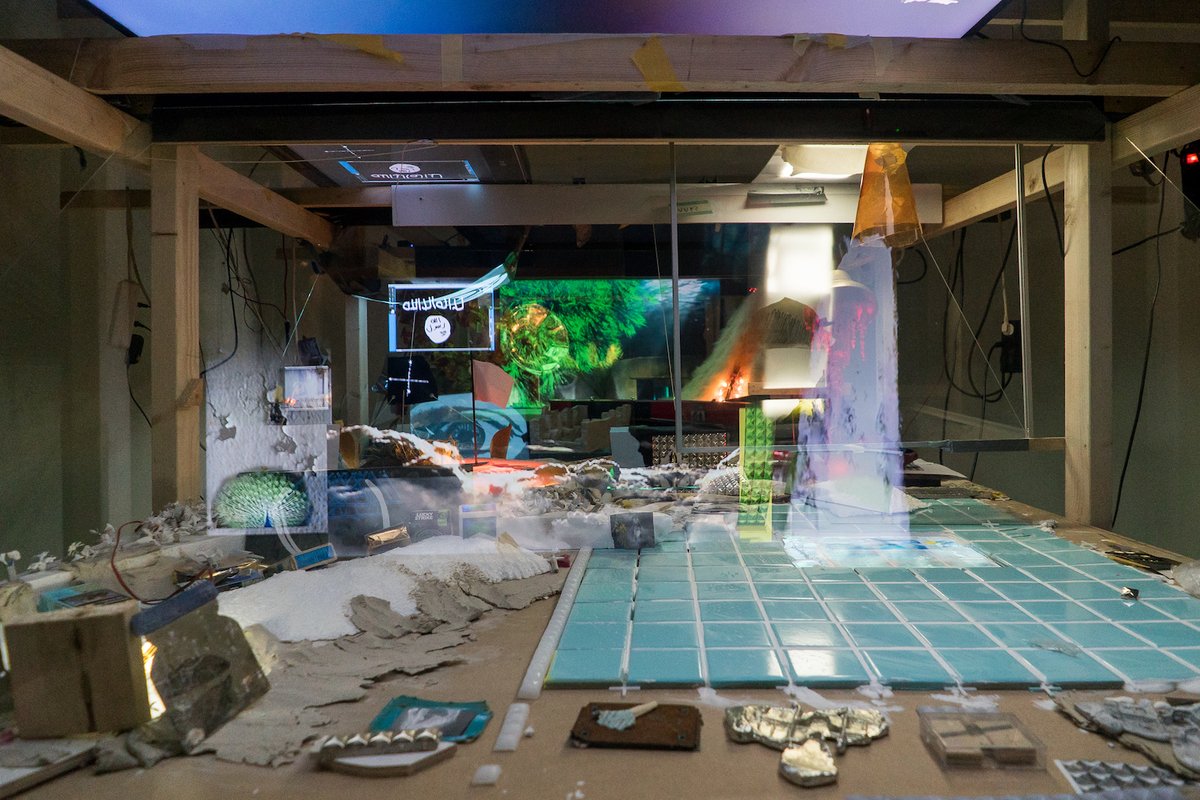 Funda Gül Özcan (1984-DE)
Video-artist and performer Funda Gül Özcan tends to push herself and her works to the breaking point. Her work for RijksakademieOPEN 2016 casts light on her often-impenetrable logic. She created a diorama-like sculptural installation that works as a display for a visual poem. This work is a picture puzzle, challenging the spectator to venture forth into something unknown, but familiar. Videos are connected to sculptures and miniatures in order to form narratives that are part scenography and part poetry. Random images dare us to recognize something. What is reflection and what is real? And what is reflection? This cabinet of curiosities offers up illusions of the subconscious and invites us to fully activate all our senses. Our view can change a ruin into a stage for a rainbow and a piece of toilette paper into a flag belonging to no nation. – The Artist.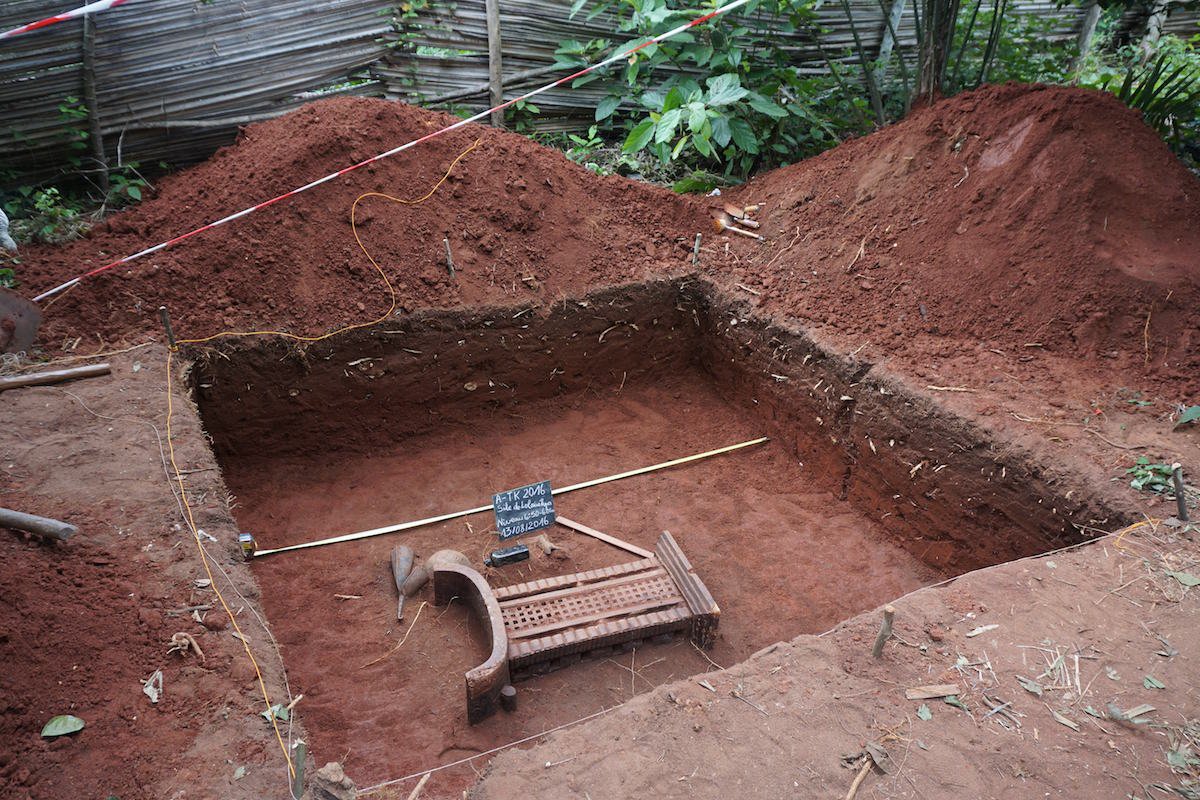 Thierry Oussou (1988-BJ)
In his work Impossible Is Nothing Thierry Oussou explores archeological methodology in order to make a contemporary artwork. Working with archeology and history students in Allada, Benin, he excavated a reproduction of a throne be- longing to king Béhanzin. The monarch died in 1906 fighting the colonization of Benin. The original throne was then taken to France. Oussou breathes new life into this piece of heritage by asking questions about authenticity, history and visibility. He reflects on the relationship between contemporary art and ethnographic objects in museums, and poses questions about who owns the throne and where should it be displayed. Oussou uses everyday objects in his work. He is interested in the transformation of these objects – a chair becoming a king's throne, a symbol of power – through historical, political and social contexts. – Alix de Massiac.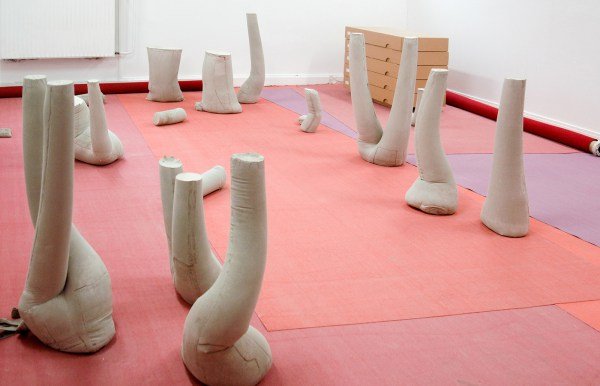 Alex Farrar (1986-GB/NL)
The young artist makes a suit, a costume to pass off as a professional, as successful. There is a gap between desire and reality. The finish is a bit choppy. The fabric is poor,
the seams are untidy – it's made by an amateur after all.
His aim, however, is perfectly clear. After graduation there
is a second suit, of better quality, with better workmanship. He has learned. Years go by and various suits wear out. What remains can be found in the pockets or a chance photograph. The passage of time is reflected in unraveled seams, traces of wear and tear, and the accumulated knowledge. Maybe too in the conversations of those who noticed the unannounced intervention. The worn suits have been laid out and prepared at the conservation workshop
of the Rijksmuseum. Residues of performances, of desires lay on the table. The last suit has only just been finished and is virtually perfect. It is not worn, only displayed. The desire
– obsolete, distorted or fulfilled – is weightless now, cast in concrete. – Laura van Grinsven.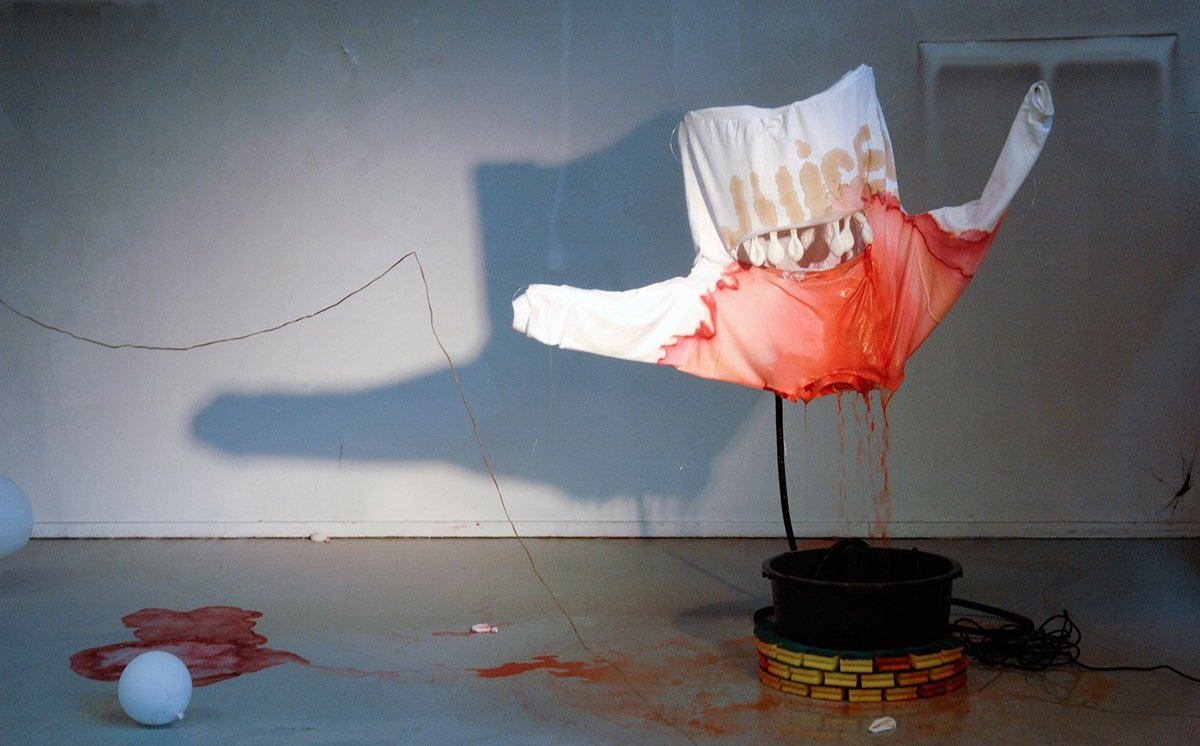 Geo Wyeth (1984-US)
Juice Inferno
Look, across the street
Underneath moss
Crown cuts,
We up late.
You're just gonna throw that away?
All fty hands up, no
1 million
Men marching, saying
I've had it, and I don't want to go to work anymore, don't
Want to, no way, no reason.
The gray light in our kitchen saying
Hell is so last season,
You smelled it burnt too, and I believed you,
While reaching for the Juice Across the table, into collapsing mud huts or phantoms of
Starbucks or old laptops.
Your eyes press backwards,
Thumbprints browning your
Lids, you remember your old block — when you were the local
Top,
But here,
I go walking, clocking in red clothing, Here, I'm Smoking Hot.
Once, there was this old guy Singing like
Front yard swimming pools! and
Windows 95! and Signs! and Tapestry roadside
Delivery! and I knew him, before he died,
He gave me his walk.
We up so
Late at night, peeling away through slow mountains, pushing white cartons
Too hard by accident.
How angry, though?
Peeling then
Browning
Until the flavor barges in.
You old enough to eat mush.
I got ready too quick and was half
Way out the door before you
Checked your phone and saw the
Shop was already crushed. – The Artist
Photos: Courtesy of the Rijksakademie Press Team.
Video: E✄I† D∪▼☼L 2016, video loop by Juliaan Andeweg.
Best,
MHM.