'Soy el fuego que arde tu piel
soy el agua que mata tu sed
el castillo, la torre yo soy
la espada que guarda el caudal
tu el aire que respiro yo
y la luz de la luna en el mar'*
Rodrigo Amarante – 'Tuyo'
* I am the fire that burns your skin, I am the water that kills your thirst, The castle, the tower I am, The sword that holds the flow, You, the air I breathe, And the moonlight in the sea.
We all know the narrative about Colombia. The award-winning 'Narcos' only reinforced the perception, presently biased, of a country that solely rhymes with white powder and street fighters in immaculate Hawaiian shirts. Straight up my father shouted 'We won't pay your ransom if you get kidnapped in Colombia'. I didn't have any other choice but to contemplate my alternatives – and they were non-existent. With more sorrow than rationality, I browsed online 'what is the average ransom payment in euros?' and more importantly, 'Are your parents entitled to pay for your ransom?'. According to the self-elected specialists, 'if your parents can't afford the amount requested, they release the kidnap victim for a lowered value.' Sounds like a hard-discount chain slogan. The tragedy only intensified when Siri kept on randomly playing the Narcos' anthem Rodrigo Amarante – 'Tuyo' every time I stepped out. 
Más cansón que una tostada en un brasier – "More annoying than a slice of toast in your bra."
One can only be dazzled by Bocagrande's pristine resemblance with the Miami apotheosis era. When edifices were conceived with no perception whatsoever of being altogether erected. When a construction that reached the 10th floor would be considered as a skyscraper. When promoters would openly run off with your life savings. 
Audrey, my travel companion, instantly was chased down by a rap gang. A group of street performers blessed with a sense of melody from a different galaxy. Perhaps the Metaverse. They devised a maliciously brilliant scheme without any loopholes envisaged. Blasting the most flawed and incoherent beat. A tribute to Fisher-Price keyboards. Never exhausted and always cunning, they will follow you within 2 feet, all day if they have to, delicately singing into your ear until you drop a few pesos. Audrey fell into the alluring trap. She disclosed our country of origin, and this resulted in the inevitable. The lead vocalist stepped closer and unveiled his masterpiece, a well-thought composition: 'Mbappé I love you, Eiffel Tower oh oh oh, Mbappé Mbappé. Slightly redundant. 

La Isla Bonita
Off the coast of Cartagena de Indias, the island of Tierra Bomba is an earthly paradise with a slight aftertaste inherited from Tijuana. Plastic is worshipped as the Holy Grail. Plastic cup, plastic chair, plastic straw, plastic butt – name it all. In quest of a decadent day-escapade, hordes of visitors continuously disrupt the island's inner peace. We were part of it. 
Rolling in the pearly white sand whilst indulging in a never-to-be-released Tequila brand came to an end. Our assigned driver Rodrigo didn't bother to come back to pick us up. He had probably left the island himself already. The clock was ticking, and the sun was plunging into the infinite abyss. The tension was palpable as we couldn't locate our speedboat. 
I confess that in the course of the morning euphoria, I slightly omitted to pinpoint our location on Google Maps, delegating this role to my instincts.
For two hours, we wandered in vain on the coastline, leaving bits of tortilla chips to mark our path. My iPhone compass only reinforced that feeling of despair – 'Yea, we're heading to the north side.' But where? 
On our way to nowhere, I noticed a tour guide leaning on his sailboat. Candidly, I approached him and blathered the tale of our hectic adventures, emphasizing our struggles just as a French playwright from the hood. His response was unforeseen, clearly off the script – 'Well, you should get going soon! It's getting dark." I retorted: Yea that I know, but can you take us back? He simply dozed off, waving at us all smiles. 
Ahead, another one of these illustrious about-to-sink-in-any-seconds makeshift boats caught our attention. Entirely made of wooden boards, an apparent tribute to Géricault 'The Raft of the Medusa', the pirogue contained more people than any engineering would ever allow. The fare was 2 dollars flat – no life jackets—done deal, we're out. 
Hide your wife, hide your kids
Another case of Instagram vs. reality. Lurking into innumerable "couples/ travellers' profiles" misled our judgment tremendously. You know what I am talking about. Conventionally, a conglomeration of men being held hostage by their wives, who have no other choice but to photograph their muses all day long while dragging around 100 pounds of technical equipment. The ones who fell out of bed at 3 am to 'capture the essence' of dormant monuments, cropping out every visitor of the panorama. Best believe when you show up ecstatic a few hours later, it's a different scenario. 
Fast forward, the depicted Instagram fairyland, Playa Blanca, happened to be the prime destination for Narcos. Naturally, we only found out when our Uber driver casually notified us that it was time to roll up the windows and hide our obnoxious bling. The once highway merged into a muddy trail, and our vehicle got swamped by the influx of tourists coming onwards like on a gold rush day. 
Coincidently, Fernando, the owner of a wheelbarrow tuned like a Lamborghini, proposed to brave the crowds and carry our suitcases. Sensing our Gringos vibes, the storytelling began. 'Erase una vez… …Once upon a time… far, far away. As in a Commedia dell'Arte performance, his family came into the picture, seized our bags, and set up the fishing boat like we were about to cross the Atlantic ocean for a tuna hunt – only to go 3 feet away. 
This Jiggery-Pokery led us, a decade later, to the promised land. A eulogy to Paris-plages* at its apogee where obtrusive beach vendors cohabitate with Macarena aficionados and jet-ski-first-timers-altering-any-potential-aquatic-species-left. Our days were simple. Waiting patiently for the electricity to return each day from 3-5 pm and experimenting with more hybrid Piña Colada combinations. 
*Every summer, the Seine riverbanks, and the Villette canal basin turn into a summer beach resort. Avoid at all costs.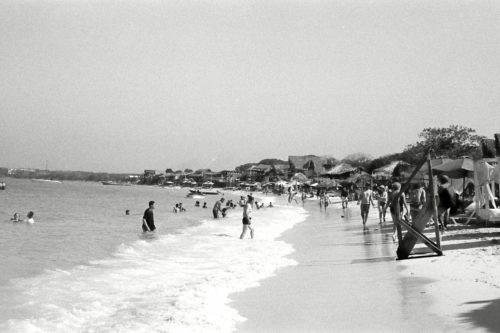 No new friends
Our winter exodus or perhaps the sweet sound of foreign shell companies invigorate our desire to wander next door to Panamá. The 400 miles land bridge linking the Americas has been the hotspot of biodiversity and home to some of Earth's most exotic and diverse animals and plants. Bottom line, we were here on a mission, meeting up with Panamanian white–faced capuchin monkeys. My ultimate life goal. Seizing an opportunity, I rigorously enforced the infamous "make a wish, clap three times" cartesian protocol. Minutes later, we crossed paths with a monkey whisperer, an apparent punk that bounded with an ape gang living on the premise of Lac Gatùn, by the canal of Panamá. Say no more. 
Tilda, the primates guru, dragged us at 6 am on her speedboat (that might serve other purposes at night) along the Río Chagrès. Half-awake or perhaps half-asleep, I wondered whether it would be a good idea to plunge my hand into the murky waters. I did. Nothing happened. As we approached the capuchin monkey headquarters, Tilda unveiled her combo of howls, hoots, chatters that I wanted to imitate but was frightened by the potential linguistic barriers – still perfecting my accent. The primates' olfactive and thug-life receptors were on alert. Uncles, nephews, and neighbors pulled up on the boat, sensing the feast ahead. They rushed without a holà toward Audrey, who pretended to have only one peanut. U can't be tricking monkeys. Mad, they literally robbed her, opening her bag and checking all her belongings as if they worked for TSA. As a one-night-stand, they left indifferently without a word, fulfilled.