Welcome to the Mother Ship: The entrance to the Zaha Hadid floor at Puerta America
Dear Shaded Viewers,
While covering Cibeles Madrid Fashion Week I was a guest at the Puerta America Hotel, the Spanish capital's design shrine that opened in 2005. A veritable mecca for architecture and design freaks, each of the 13 floors is designed by a different starchitect, from Marc Newson to Jean Nouvel to Norman Foster. The most buzzed-about floor (and the one with the most expensive rooms, apparently) is the one created by Iraqi designer Zaha Hadid. Because I loved her design of the MAXXI Museum in Rome which I visited in July, and I'm a fan of that sort of "1960's vision of the future" look, I requested a room on Hadid's floor. I knew I was in for an unusual type of luxury experience but I wasn't quite prepared for the challenge the room thrusts at its visitors.
Without a right angle in sight, the room's continuous curves and eerie lighting makes you feel like you're inside a radioactive egg or, more accurately, as if you've been teleported to some chic alien's cave on a planet art-directed by a Stanley Kubrick obsessive. I half expected to find HAL 9000 when I opened the amorphous white slab that acted as a closet door. "I'm going to use the bathroom now, HAL."
"Without your space helmet, Glenn, you're going to find that rather difficult."
Gazing incredulously around the room, I was upset with myself for not packing some vintage Pierre Cardin or Andre Courreges outfits to match my surroundings. But at least I was wearing space-agey silver metallic sneakers!
Hadid constructed the room with LG HI-MACS® acrylic, a synthetic, non-porous material similar to Corian. Because all of the acrylic surfaces of the room are matte, it screwed with my depth perception and I found it difficult to judge where the walls and ceiling began and ended. Basically, the room never allows you to see it clearly. This was particularly disorienting in my jet-lagged state. This is not to say that it's a bad or uncomfortable room, but it is a hardcore experience–ideally suited for guests who are up for the challenge of interacting with Hadid's work on a very intimate level. After all, this is not a stroll through Hadid's CHANEL structure that popped up in New York a few years ago. This is a space where you'll sleep, shower, make love, eat Pringles at 4 o'clock in the morning….and the whole time Hadid's design is imploring you, "Pay attention to me!" And you do. I found myself reacting to the design every second I was in the room, for all five nights of my stay, even while I was asleep. (I kept imagining that the ceiling–if you could even call it that–was undulating in the dim light and that the glacier-like wall to my left, which sloped toward the bed, was poised to engulf me.)
The sublime terror didn't end in the bedroom. The shower, pictured above, creates the feeling that you're trapped under an avalanche with a sliver of light atop the drift signaling your only hope for escape. I wasn't even sure where the wall of the shower was as the room made me snow blind. But once I got used to it, I found the experience strangely soothing. I thought back to all the lousy hotels I've stayed in with ugly-tiled bathrooms, with terrible lighting and aesthetically offensive fixtures. After you've become acclimated to Hadid's bathroom, you feel like you've taken a generous dose of Huxley's Soma, providing an easy escape from the tyranny of tacky, bourgeois design.
The best way to illustrate my initial emotional reaction to Hadid's shower was found during my trip to the Prado museum. A room dedicated to Francisco Goya's "black paintings"–done during a time when the artist was recovering from two near-fatal illnesses–featured this painting, "Perro Semihundido."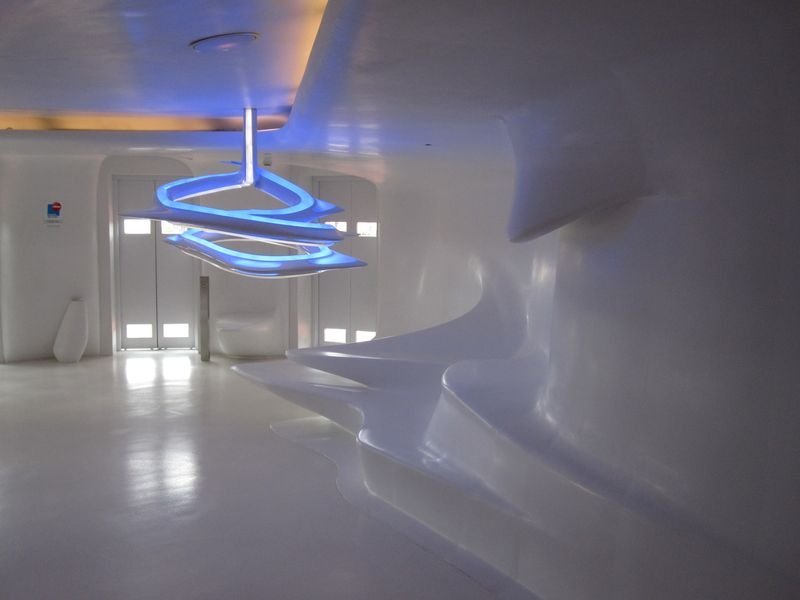 If you're a design head, a stay at Puerta America is an absolute must. The ideal stay would involve changing rooms at least once so you can experience the different styles. That probably would have been a good idea for me because after my 5-night stay in Hadid's fascinating yet disturbing room I began to feel a bit like Alan Arkin in the film "Simon."
Love,