Adjust, rearrange, re-calibrate. We've all taken steps to adapt to the growing scourge of Coronavirus. On a personal level, I made sure to stimulate my intellect while binge-watching Emily in Paris on Netflix using my ex-boyfriend's credentials. Inspired, I elaborated a sweet covid19 escape. The story outline was pretty simplistic: "get the fuck outta Paris." In a polite manner, I have been harassing the Ghanaian Embassy to obtain a tourist visa. Same as the PS5, my request appeared to be a far-off utopia.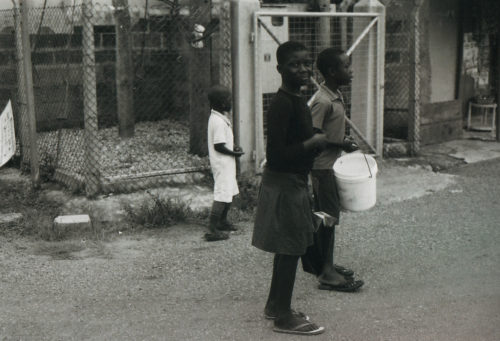 Following a middle-age precept, I was asked to mail my passport to the embassy. You meant a copy of my passport, right? Smelled like scam spirits all over again. As if I didn't have enough on my plate, my neighbor caught me performing a few voodoo rituals that I obviously justified as a rational course of action to facilitate the visa procedure. Well, guess what, two days later, my passport was in my mailbox. 
Two shots of espresso got me feeling myself at the Air France lounge. I showed up looking like the daughter of the world-acclaimed Congolese singer Papa Wamba, rocking blond braids, a Kangol tracksuit, and pink sunglasses. The employees were hesitant on whether they should curtsy or call security. I thoroughly endorsed my character, filling up my pockets with Cognac miniatures, hot dogs, cutlery, giving as many hi-fives as possible to strangers, and pretending to be on a Zoom call with my record label. The myth was instantly dismantled when I asked what was up with the upgrade in First-Class. 
Uber Safari 
On the very first night, while performing my John Travolta advanced artistic gestures, I instantly captured the attention of alleged London- past zone 5-suburbs rappers. A few rum punch later, a conversation about chihuahua and tequila led us to get on a safari…the very next day.
6 am on a dash, the unconventional troupe, dressed as National Geographic explorers with a touch of bling, pulled up with a Uber. I couldn't help but stare dumbfoundedly at the camouflage shorts, Valentino sneakers, and diamond chains and was trying to comprehend the creative vision behind it. For 3 hours, we rode across the countryside in a Toyota Corolla, maximum capacity, no AC, dust in the face, and I was delighted to listen to their mixtape 100 times in a row. Upon our arrival at Shai Hills National Park, the guard, amused by the absurdity of the situation, informed us we would have to use our own car for the Safari. Intensive negotiations formally began with Kwedena, our Uber Driver. The Brits offered 200 dollars, their signed mixtape, and a Pokemon card. Kwedena, nodded, pleased with the agreement. 
Now picture us cruising around the savanna with a Toyota Corolla. Not to mention that Kwedena slightly omitted to notify us that he filled up the tank of his car with only 5 dollars. He was cool with it. 
We made a stop at an ancient cavern and proceed to walk in. Kwedena, noticing the hostile environment, grabbed his gold-plated crucifix chain and implored god. The cavern was filled with bats and other unidentified animal species. Kwedena didn't want to fuck with us any longer and threaten to leave. As the tour continued, and we sequentially managed not to get kidnapped by hyenas. 
Lost my arm at the clinique
I got bitten by a spider while flexing on Instagram. Pretty common nowadays if you ask me. However, the pimple grew more prominently, and I decided, as a wise human being, to check on IAmMyOwnDoctor.com to get some advice. The diagnostic was blatant. Unanimously, the chat group of so-called doctors that obtained their doctorate on Duolingo told me that my leg should be amputated. My options were limited; therefore, I had no choice but to give Ghanaian clinics a try. I ran an online investigation and almost fainted as I read some of the reviews: « If you want to live, don't go to this hospital!!!!». 
I found a clinic that allegedly assured me that I wouldn't lose a leg or be a victim of kidney thieves. In a moonwalk style, I sat on a plastic chair, waiting patiently for the doctor to arrive. Mr. Mc Gregor, which I firmly believe was a name of substitution to reassure foreign clientele, allowed me in his office. Upfront, he mumbled between his presentation speech that he was just an intern, as the staff was off on Sunday. He scouted, briefly reached my pimple with his pinky, and concluded that I needed injections. I paused for a minute. Injections? Is this not a technique from the 19th century, back when Pasteur invented a vaccine for rabies? 
Angelina, a quite threatening nurse, stepped in, ready to fulfill her mission. In total freestyle, not-wearing-any-gloves kind of vibe, she firmly grabbed my arm. Like Operation game, except this was reality, she attempted to find my veins and…missed it. Not once, but 5 times. At this point, it looked like an attempt of murder. Tears run down my cheeks as I looked at my arm filled with blood while Angelina, unbothered, sprayed some hand sanitizer around my numerous wounds like if she was cleaning her kitchen. Doctor Mc Gregor came to rescue, but I was long far gone. 
Light my fire or my braids 
Over the last few weeks, I got carried away with a new obsession for braids. For the equivalent of 10-piece McNuggets, I found a hairstylist that explicitly guaranteed that I could look nearly as fly as Beyonce's cousin. The tagline was quite tempting. Naively, I succumbed and handed a photo of a Nigerian actress, wishing for a miracle.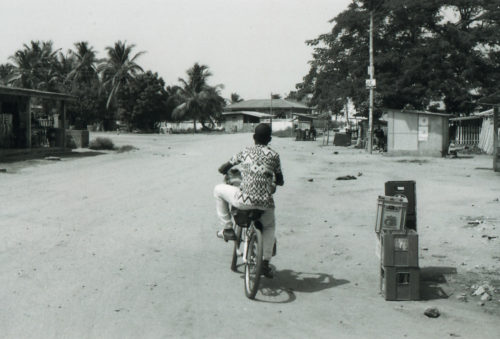 Kobina, the hairstylist, firmly grabbed my hair, analyzed the texture, and shouted, "Is that your real hair." A non-rhetorical question, apparently, as she attempted to solve this mystery on her own by rubbing my scalp frenetically. After retracing my whole ethnic background, she eventually let it go. 
Around me, the scenery depicted organized chaos. Street vendors moved in a high rotation within the hair salon, selling their goods strategically. Everything you wished for was potentially available: fried chicken, replicas of Mona Lisa canvas, Tamagotchis, rolls of toilet paper (non-exhaustive list). My attention shifted to the television program, The Bold and the Beautiful, resolutely intrepid with the Ghanaian voiceover. The production brief was quite unclear, as the voice actors didn't bother to match the lip-syncing and shouted in every scene. 
Kobina brought me back to reality as she directed her gas lighter towards my head and mumbled a few words in Twi. Flames gradually rose in seconds, expending on my tresses. As my life flashed before my eyes, I was reminiscing on the jollof rice I left behind. 
To be continued…