A short film, a music video and a political action. Everybody Knows stands as a statement by a crew of artists from Russia, Ukraine and Belarus, all of whom fled their home countries in the wake of the war. Set to the words of Leonard Cohen, the film shows us what happens when everybody knows, but does nothing.
Please find the interview conducted by Niccolo Montanari on the politically oriented film "Everybody Knows" set to the words of Leonard Cohen:
What led you to create "Everybody Knows?
The idea for the project emerged as a result of the war. In retrospect, I realise that I could have conceived it earlier, but it wasn't until the last two years that I fully grasped the magnitude of what we had been witnessing all along. 
A lot of ideas on this subject came into my mind, it is my way of trying to understand how did this happen and how is this fucking possible. This specific concept seemed the most poetic, so I hoped it could be sold as a music video. Which didn't quite work as you see. But while searching and pitching I got a lot of support from other filmmakers and it helped me realise that this idea has to be made as soon as possible. So then Leonard Cohen came to mind and the rest is history.
How did you assemble the team of artists for this project, and what challenges did you face in bringing them together?
Being based in Tel Aviv, I saw a wave of creative individuals, artists, and filmmakers seeking refuge and many would write to me to ask about how life works here. It became a bit too much, so I created a Telegram chat that began with 25 people and now has over 1,000 members.
Soon people started meeting, creating, talking, learning how Israel's banks and hummus systems work together. That's how I learned about the crazy amounts of talented people now 
So while some of the members of the crew are my good friends and amazing professionals like Yuval Orr, Anna Pereleshina, Yan Yasinsky. Others – like Sonya Goryacheva, Katrin Tublin, Yulia Gavrilova – are new immigrants from Russia and Ukraine that I was lucky to meet in the last two years in part thanks to this community.
I was genuinely amazed by how people responded and wanted to be part of the project. So the challenge for me was not to let them down as we came together to speak about this painful topic.
Can you elaborate on the symbolism behind the repeated images in the film and how they deepen the viewer's understanding of the situation?
The repetition of the shots is intended. It deepens our understanding that everybody knows what is happening, but also that they are willing to accept this. The worst part is that they have also given up on caring – this is the apathy we wanted to explore and put across with Everybody Knows.
What role do you believe artists have in speaking the truth and bringing attention to political and social issues?
Art has always been an important or even one of the most important during mediums difficult times like these and during happy times too. It's the way to process, to talk to a larger audience through stories, images, metaphors, to mirror our flaws, to grieve together or to laugh at ourselves. Self-reflection is important, that's the essence of what art is.
As artists, I feel we have an obligation to speak up and challenge what we believe to be wrong and is generally accepted by society. That has always been the role of any artist: challenge the status quo. Of course I can't hope to capture the entirety of the complex of the horrifying truth, but I can try to understand what I feel about it and shed light on that particular part of the larger truth.
In your opinion, how does "Everybody Knows" extend beyond the war in Ukraine and serve as a commentary on the state of the world and the nature of truth?
"Everybody Knows" goes beyond being a commentary on the war in Ukraine. It serves as a reflection on the current state of our world, where the concept of truth has become subjective, where the lines between right and wrong can be blurred.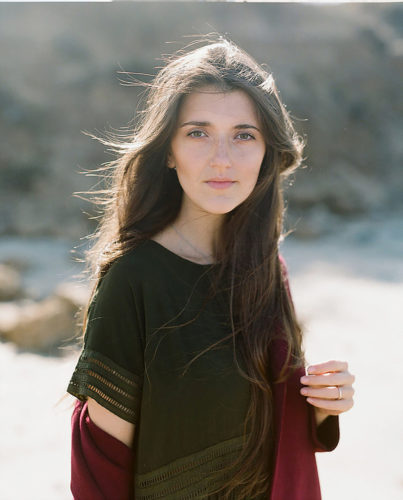 Daria Geller
__________________________________________________________
A cover of Leonard Cohen's "Everybody Knows" by Roi Keidar (feat. Daria Geller) Original Music & Words by Leonard Cohen Composer – Roi Keidar Vocals – Roi Keidar & Daria Geller Violin – Alina Maslennikova Recording Engineers – Eldy Brant and Ben K.
CREDITS Director & Cinematographer – Daria Geller Executive Producers – Yuval Orr Daria Geller Producer- Sonya Goryacheva Art Director – Yulia Gavrilova 1AD – Katrin Tublin 2AD – Anna Pereleshina DP's Assistant Yan Yasinski Focus Puller – Pasha Adler Film loader – Naama Bernstein Gaffer – Ilya Pliatskovskii Grip – Lev Arpishkin Steadicam – Gilad Porat Special Makeup Effects Artist – Kseniya Malkina PA & Makeup – Valeriya Moysak Spark – Nikolay Platonov PA – Leonid Fridman PA – Timofei Stelmah-Darevsky Driver – Nazar Harhun Equipment Rental – Utopia Backstage Photographer – Eitan Mottahedeh PR – MontanariPR
Actors: Man – Vladislav Zalivanski Woman – Anna Pereleshina Mother – Bruria Rabiner Monster – Michael Gluz Crowd: Polina Pakhomova, Tanya Kupavyh, Olga Yovov, Lena Turevskaja, Hawlee No, Elina Shusterman, Thea Spector, Anna Karmelitski a No Man's Land production