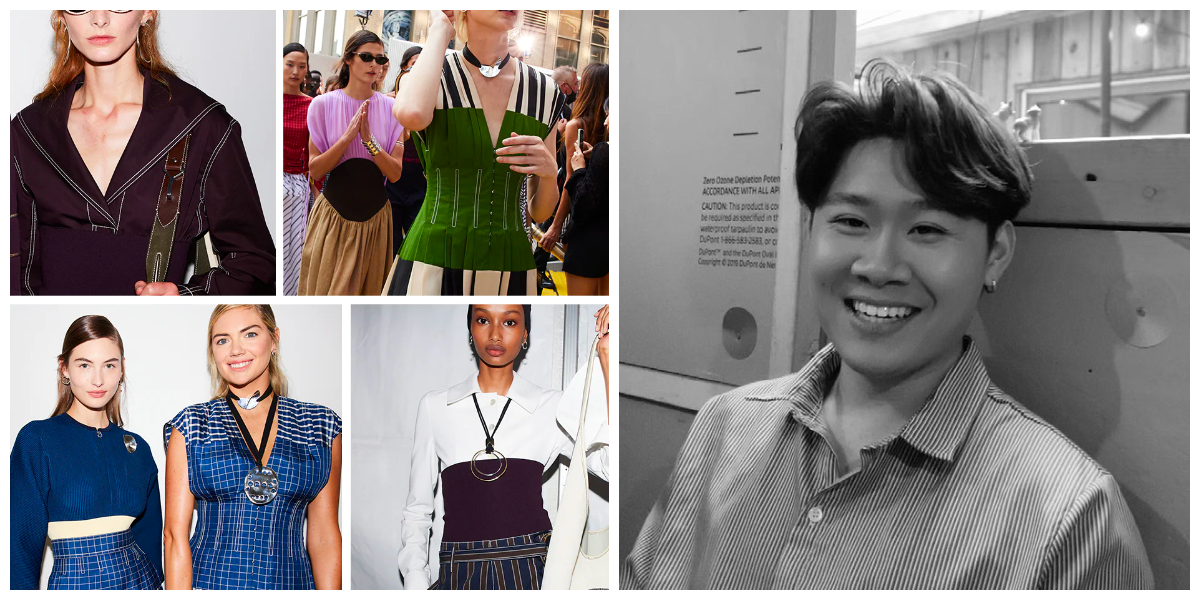 When we think of fashion design, rarely do we look behind the curtain and see how products are made–from the design phase to final product on the runway.
New York City-based product designer Lihsing Wang is an industry expert and design luminary in the fashion world. He currently works for Tory Burch, designing in the jewelry and accessories department, and many of his work, from arm rings to purses and necklaces, have graced the runways from Paris Fashion Week to New York Fashion Week, and beyond.
Wang has won over a dozen awards for his design work, including the A' Design Award, the International Design Awards, the European Product Design Awards, and the NYC x DESIGN Awards, among others.
He is also an artist, as well. Wang is also the visionary founder of Utopia, an event platform that fosters cultural exchange through painting, drawing, fashion and performance. Through exhibitions, artist lectures, workshops, and events,  Utopia nurtures creative thinking, encourages cross-cultural communication, propelling  the advancement of the art world. He speaks to ASVOF about fall fashion trends, working at Tory Burch and his path to success in the design field.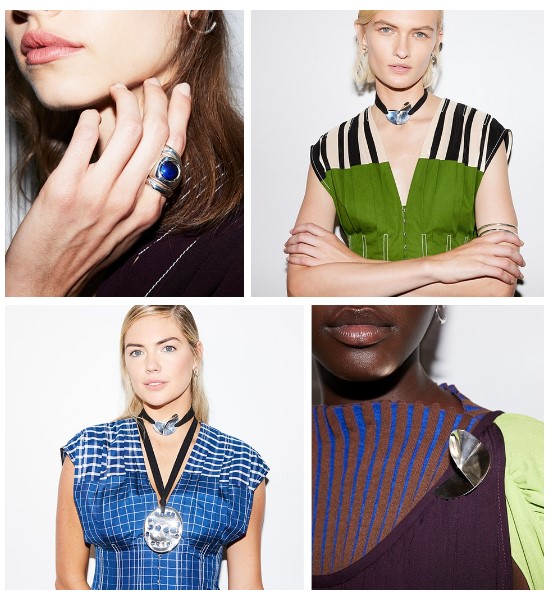 How did you know you were meant for this work? And what has been your biggest success?
Lihsing Wang: I am from Taiwan, where the economy heavily relies on export processing. Thus, my work experience back in Taiwan is making designs suitable for mass production through the rapid prototyping process. As I am working in the USA, my passion for assisting the New York fashion industry in jewelry design blossomed. My design skill helped bridge the gap between designers and factories in South Asia by efficiently creating prototypes that design can seamlessly go into manufacturing processes. This accomplishment not only highlights my expertise in design and production but also showcases my ability to foster productive collaborations across international borders.
What has been a major career highlight? 
One of the most significant career highlights for me was the creation of the Tory Burch 2022 spring sculptural jewelry collection. This particular jewelry design, which included earrings, bracelets, and necklaces, held great importance as it made its debut on the runway and received great success. Subsequently, the collection was also well-received in the market. Designing the sculptural jewelry collection ignited my passion for the design process, as it involved adding a subtle layer of refinement that might be initially overlooked. However, upon closer examination, the artisanal plaques threaded with hand-stitched leather logo details on bags, pendants, and mules revealed a meticulous level of detail. The development of this design involved sculpting the shapes repeatedly until achieving the desired look, showcasing the dedication and craftsmanship put into the collection. The experience of working on this project further deepened my appreciation for the intricacies of design and the beauty of bringing intricate ideas to life.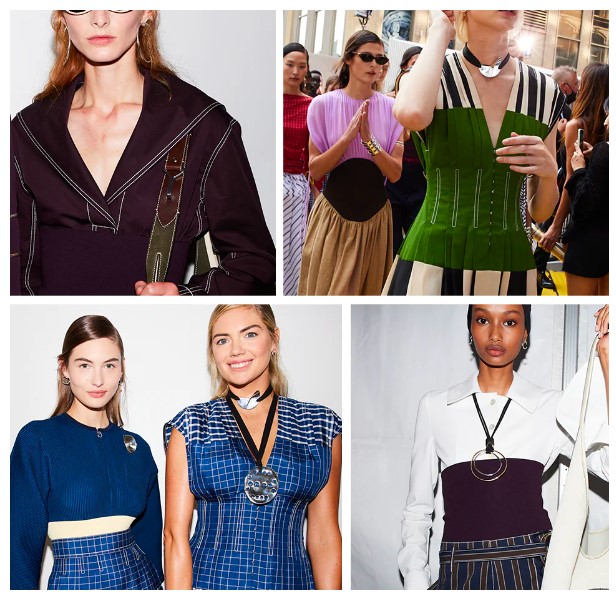 What fall design trends do you expect we will see this fall in terms of jewelry and accessories? 
In the upcoming fall collection, Tory Burch is set to empower women through fashion once again. Anticipate witnessing a fresh and daring approach to beauty and femininity, as the collection challenges conventional norms. With an "undone attitude," the traditional wardrobe will be deconstructed and rebuilt, introducing new styles that inspire and break boundaries.
What is the most difficult part of your job as an industrial designer working in fashion? Also, what's the most rewarding part of your job?
As an industrial designer working in the fashion industry, I've experienced a significant difference in approach. Fashion design, unlike Industrial design, requires a compelling narrative or deeper meaning to make a powerful statement, such as empowering women. Industrial designers, in contrast, focus on identifying problems and providing solutions to address those issues. Initially, adapting to the fashion world was challenging for me. However, I soon realized that having a background in both industrial and fashion design became my greatest advantage. It allowed me to bring a unique perspective to the table, blending the problem-solving skills from Industrial design with the storytelling and creativity needed in the world of fashion. This fusion of knowledge and perspective has been invaluable in my journey as a designer in the fashion industry.
What is the major key to making durable jewelry for Tory Burch, from an engineering and production side? To make sure it's top quality?
In my collaboration with Tory Burch, my role revolves around translating design ideas into practical reality while ensuring a seamless production and usage process. Instead of relying solely on sketches, I leverage the power of 3D printing to create jewelry prototypes for thorough review. My goal is to develop functional and producible jewelry pieces that align perfectly with Tory Burch's vision and design aesthetic. By bridging the gap between concept and realization, I aim to deliver jewelry designs that not only meet the highest standards of quality but also encapsulate the essence of the Tory Burch brand.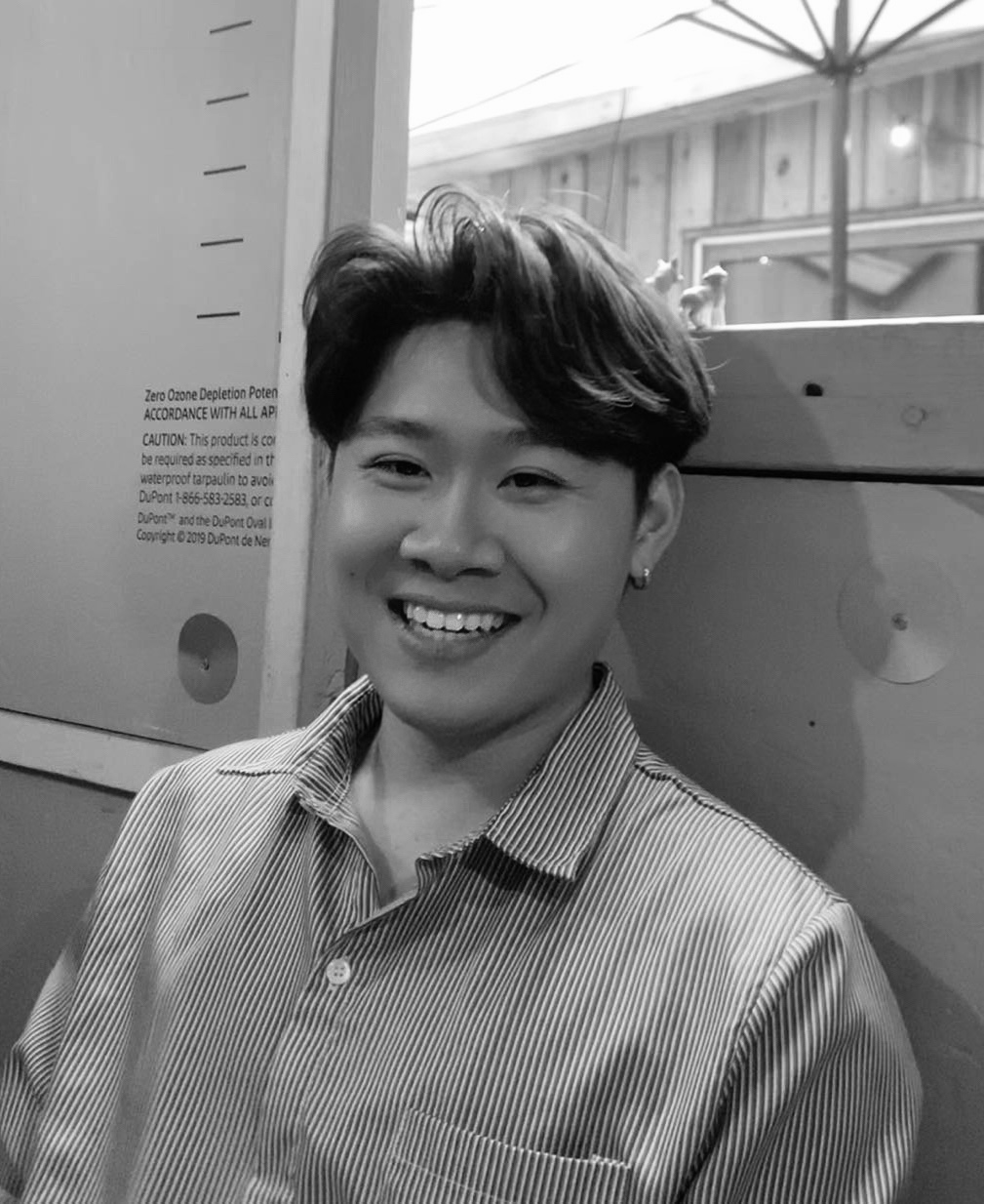 Links
Lihsing Wang on Instagram: @lwang42
Lihsing Wang on Linkedin