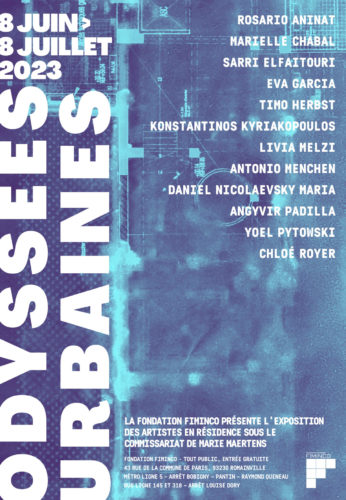 Dear Shaded Viewers,
The Fiminco Foundation is showcasing the culmination of its third group of artists' residency in an exhibition. Curated by Marie Maertens, the exhibition takes place in the Chaufferie from June 8th to July 8th.
The exhibition titled "Urban Odysseys" brings together twelve artists who have come from diverse backgrounds and cultures. Having shared their lives and creative spaces for several months, they now engage in a final collective dialogue within the impressive and captivating industrial setting of the Chaufferie. This multi-level space has provided a platform for their inner explorations and external adventures. Initially, the artists arrived in the vibrant neighborhood of Romainville, which was unfamiliar to many of them. Its ever-evolving architecture, constantly shifting between construction and deconstruction, resembles a living organism with various perspectives and a touch of intrigue. Throughout their stay, they discovered, connected, and exchanged ideas, delving into collective memories that sometimes serve as a remedy for displacement. As the residency draws to a close, a sense of detachment arises from the familiar routines, observations, and daily routines that have shaped their experiences.
"Urban Odysseys" retraces fragments of these personal journeys, exploring how individuals merge with the collective during their nearly year-long artistic exploration. The exhibition captures the metamorphosis that has taken place within a building perceived as a living entity. It delves into the depths of its foundation, unearthing notions of origin and contemplating the factual reflections of authority that arise from its welcoming ambiance. The exhibition opens up pathways to futuristic and experimental perspectives, inviting viewers to immerse themselves in this captivating artistic realm.
During the exhibition, activations will be organized by the artists, more information coming soon.
During the exhibition, free guided tours will be offered on Saturdays at 4:00 PM. https://www.fondationfiminco.com/event-fiminco/odyssees-urbaines/
Free guided tour of the "Urban Odysseys" exhibition at the Fiminco Foundation.
In addition to these tours, Saturday, June 17th will be dedicated to welcoming children and families from 2:00 PM to 5:00 PM! As part of this, a children's tour will be organized at 3:00 PM.
Later,
Diane