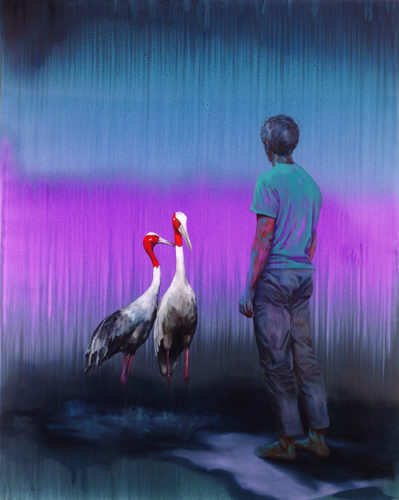 "This new exhibition at the Suzanne Tarasieve Gallery is entitled Them and carries the project of putting the living at the centre of my painting. I have been working for a long time on man's relationship with nature, through
inspired by animist cultures and extra-western rituals, with a view to placing the dialogue between man and his environment at the centre of my work  between man and his environment at the very heart of social, poetic and aesthetic issues.
For the exhibition Them, I wanted to place man at the margin and make the figure of the tree and the animal gaze the central subject. The exhibition opens with large, colourful paintings entitled Him representing trees with strident and unnatural colours. These paintings show my desire to personalise these trees, to make them subjects and no longer objects. They are not landscape paintings but rather "tree portraits" in imposing formats. In this first room, the walls of the gallery are painted, transforming the space into a place of painting.
The rest of the exhibition is based on the theme of looking at the living and the animal's view of us.
This whole section is punctuated here and there by small paintings representing the eyes of various animals, in close-up, looking at the public. Their framing is concentrated on the eye itself, to the point that a disturbance is created.
We do not know to which species they belong. In the middle of these multiple 'eyes' are presented other paintings
paintings such as Limits, Interzone or Discovery, which make the view of living beings or natural phenomena the central theme of this room. Man is portrayed in these images as a witness, a simple observer. He does not act but is content to contemplate."
Romain Bernini