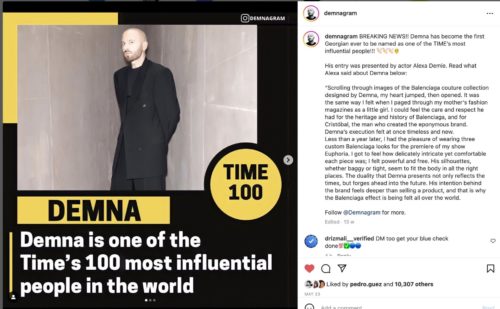 Dear Shaded Viewers,
What an honour the actions of Demna bring such respect to the fashion industry, showing there is depth and soul.
Below are the IG posts:
Demna dedicated Balenciaga's Fall/Winter 2022 collection to the people of Ukraine. Taking an outspoken position on the war in Ukraine makes Demna an outlier among the designers and brands. Demna has also been named an ambassador of the United24 Rebuild Ukraine Direction for helping refugees. Demna and Balenciaga released a special edition T-shirt of which 100% of all net profits will be donated to the exclusively humanitarian rebuilding of the civilian infrastructure.
The Order of Merit III degree is awarded to employees of embassies of foreign States in Ukraine, well-known state, political, public figures, artists, scientists, businessmen and others.
The charity tee is available to order exclusively at united24-demna.balenciaga.com.
BREAKING NEWS!! Demna has become the first Georgian ever to be named as one of the TIME's most influential people!!! 👏🏻👏🏻👏🏻🤴
His entry was presented by actor Alexa Demie. Read what Alexa said about Demna below:
"Scrolling through images of the Balenciaga couture collection designed by Demna, my heart jumped, then opened. It was the same way I felt when I paged through my mother's fashion magazines as a little girl. I could feel the care and respect he had for the heritage and history of Balenciaga, and for Cristóbal, the man who created the eponymous brand. Demna's execution felt at once timeless and new.
Less than a year later, I had the pleasure of wearing three custom Balenciaga looks for the premiere of my show Euphoria. I got to feel how delicately intricate yet comfortable each piece was; I felt powerful and free. His silhouettes, whether baggy or tight, seem to fit the body in all the right places. The duality that Demna presents not only reflects the times, but forges ahead into the future. His intention behind the brand feels deeper than selling a product, and that is why the Balenciaga effect is being felt all over the world.
Later,
Diane