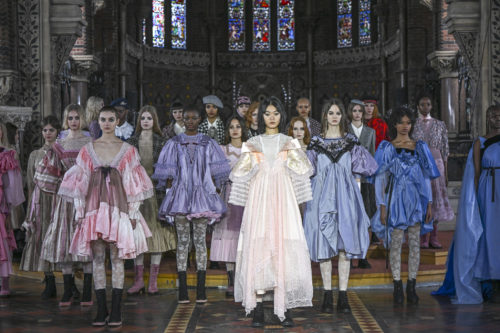 Bora Aksu might be an incurable romantic but his ability to create garments that dialogue with modern femininity is beyond question.
Born to a family of doctors, the story of Bora Aksu starts in Izmir, a city by the Aegean coast of Turkey, where the designer spends his childhood collecting dolls and drawing illustrations of female figures that one day, he will end up making clothes for. The women he encounters in his life, particularly his mother, act as a protagonist in the creation of his design aesthetic. The tightly-knit family connections that form the foundation of the Turkish culture, guides him to fuse his past with the present… to form a distinct design signature which champions romanticism, revealing the power of femininity in women that is so often misperceived as a weakness in society.
Theatrical in volumes, dreamy in colors, playful with a dose of darkness… Aksu's designs are a feast for the eyes, evoking the type of enchantment and fantasy which only exist in fairytales. Like Alice falling down the rabbit hole, the wonderland Aksu offers is one filled with organza, lace, tulle, taffeta… all finished with the magical touch of demi-couture.
But one shouldn't be naïve to think that Aksu's vision looks at the world through rose-colored glasses. His ambitions as a designer not only lay in revealing beauty, but also to engage in a debate revolving around gender, to expose the darkness that women have suffered throughout time. In each collection, his brand honors overlooked female figures in history, who have shown great strength and bravery by standing up against social norms constructed with prejudice and discrimination against women. He collects their narratives, all from different timelines, and weaves delicately to transform their characters into a contemporary fashion language that feels wonderfully whimsical, innocent and emotional.
It is no doubt that the desire to indulge in romanticism has won Bora Aksu many followers around the world. Today, he is a prestigious alumnus of Central St. Martins, a regular attender of London Fashion Week and currently has 64 stores around the world, reaching success particularly in Asia. I had the pleasure of interviewing the designer on his muses, design process and current take on the fashion industry.
– How did your path lead you to fashion?
The whole starting point for fashion to me was the raw drawing ability that I had when I was a child. I find drawing highly sensitive in a way which opens doors to my imaginary world. I always had a secret admiration for fashion through observing it from a young age.
I think my first initial fashion ideas came from the people around me. My family, my mum, observing their attitudes and the way they dress, I wanted to almost capture it. Once I made that decision, I moved to London to study and learn the subject from A to Z. It's actually quite interesting once you have a direction in life, everything falls into place really quickly. Then Central Saint Martin's BA and MA came in to the picture.
– Your aesthetic revolves around female beauty; do you remember the first time you recognized beauty?
When I was a young child, I created a world for myself through drawings. Although this was even before I even knew what fashion meant, I was only drawing female figures and also drawing what they wore. My main subjects were my mum and my auntie and most of my drawings from childhood represented their fashion sense. Their clothes, their hair styles, shoes… My aim as a designer is to create my own definition of beauty, and for me the female form is the most important tool.
I am an incurable romantic and my aim as a designer is to seek and define beauty in my own terms. My design aesthetic fuses a romantic sensibility with raw elegance. Delicately textured fabrics and whimsical detailing are underpinned by a distinctive twist on tailoring that sees darker, more storied elements temper decorative shapes with a translucent use of colour. There is an imperfection to my work which creates purity and beauty. Fashion design for me is a visual language that enables me to communicate with the outside world.
– When starting a collection, how does your creative process come about? What is your thought process like?
I do like telling stories through collections and people have the most inspiring stories. For me, the collection development really make sense, if it is based on a story. Even the fabrics, textures or contrasts within the collection becomes a representation of certain elements of storytelling.
I have always been drawn to characters like; fragile and somehow broken but still they have this determination and strength that stand against traditional restrictions. I do love the naivety, and the way these characters translated their brokenness into strength… So, every season depending on the mood, I search for these heroines and try to dig into their lives, finding out their struggles and their strength. And of course, the obstacles they faced purely because of their gender still amazes me. But overall, I have a deep admiration for these characters, especially how they pushed through life and how they refused to be shamed by society. In most cases, these characters gained the much-deserved respect for their bravery after their lifetime.
Through designing I constantly search for a balance point. As the texture, weight of different fabrics and structures are all important in their own right; as a designer it's very important to find a balance point in that specific design that makes everything work together in harmony. Detail, structure… all play different roles and sometimes one of them is more dominant than the other. But saying that; this does not create a formula that's relevant for every single design solution… what is important is that all the elements in that design works. That's why I usually have a long-trial period before the designs in the collection are accomplished.
– Do you feel that there is connection between your designs and Turkish heritage?
Definitely there is, although sometimes the inspiration sources are more visible in the end design and sometimes it's more hidden. Whether it's the past or the present, all my ideas come from what's going on around me: from friends, culture, memories, movies… I think my first ideas on fashion came through the people around me. My family, my mum, through observing their attitudes, the way they dress I wanted to almost capture it. This obviously had the elements of cultural heritage.
When it comes to the source of inspiration, I don't put any boundaries around it. Anything or anyone can be an inspiration to me. It is usually a big pot of ideas. As soon as an idea comes to mind, I like to sketch it out. When you mix the ideas and blend them, there is this ethnic quality, mixed with a spiritual vibe. My process of putting together a collection is through many layers. You can have an initial inspiration and it's never just one thing. It's not so much of what sources you are inspired from but more of how you use them to make them your own. I always look into my childhood memories and bring out something very personal to me.
For me, the collections really depend on the seasonal mood I'm in… Some of the collections become more personal than others. Some of them have a more cultural edge… For other seasons I have longer researches, trips and visual references… In the past for example, I used to spend 3 months travelling through different villages and town in the Aegean region… For me, it was a way of getting to know the Turkish culture in a way that I had never experienced before…
– One of the first images that comes to mind upon hearing your brand are beautifully dressed dolls. Dolls are known for being a symbol of beauty, naivety and fragility, yet you find your inspiration in overlooked women from history who portrayed great bravery and strength. What is the relationship between your fascination with dolls and the muses you draw from history?
For me the muses are a reflection of the season, I think choosing muses from the past somehow enables me to see their whole life and the impact they created in society later on. For me, a muse from the future is unknown and more like a fantasy rather than a reality. When I am inspired by the muses, there is always a thought process of how would they be if I bring them into today's world. How would they dress or act…it is always a bridge between the past and present.
The muses are so important for me, as I always start building a collection around a character. I do choose muses that do not fit in their historical time line or sometimes I choose muses that are overlooked heroines of their time. For AW22, I was inspired by the peerless life and achievements of the medieval writer and historiographer Christine de Pisan, who advocated for women's equality. Her works are considered to be some of the earliest feminist writings, including poetry, novels, biography and autobiography, as well as literary and political commentary. De Pisan became the first woman in France, and possibly in Europe, to earn a living solely by writing. I am fascinated by her timeless approach and wanted to bring her to our times.
– Are there any women from our time who inspire you?
My mum was and still is a huge source of inspiration for me. Not just as a strong woman who always wanted to stand on her feet and pursue a difficult career in order to create a life for herself, but also as an amazing creative human being. I am sure that my mum's sense of fashion implanted something bigger in me. She was always very creative but her creativity was mostly hidden behind her identity as a doctor. Even though she was a very hard-working mother, she also had a strong vision of how her style should be and was never satisfied with the styles the stores at the time offered. So instead of getting frustrated, she decided to create outfits for herself. She learned how to knit and she created amazing skirts and dresses. When I look through our family albums, I could see how stylish my mum was and realise that as I was growing up, my initial ideas for fashion came through her. Through observing the way she dressed, I almost wanted to capture that style. This brings out something very personal to me.
Also, when I was studying my master degree at Central Saint Martin's I was blessed to be one of Louise Wilson's students. Louise Wilson was one of the most influential fashion professors of all time. She pushed me to express my design identity and find my true self. Having studied under her umbrella, it actually brought a total realisation of the concept of 'what you are all about'.
– How do you define fashion? Because it feels like the term lacks a proper definition and with the power of social media and celebrities, it now seems to be transitioning into a form of entertainment.
It is quite difficult to simplify and define fashion in today's world. I believe fashion is more of a way of expressing someone's individuality rather than just a simple way of covering body parts. It is a unique language which has a visual voice. I think as humans, we need to have values that can be transferred to future generations. For me, fashion is a dream, a visual feast, a new world to enter into… It is a tool to communicate with my true self. A visual language that enables you to communicate without using any words.
During time of difficulty and hardship, the worst thing we can do is to stop creating and inspiring. I believe fashion will be more about individuality in the future. I think it will be about people, their individual style and their personality. I don't think trends will continue dominating fashion, they will be irrelevant. Every individual will create their own trends and follow it.
– Do you feel pressure to balance your creative expression with commercial appeal? How do you walk the line between them?
This is the hardest of all… as the role of the fashion designer has become much more complex, evolving to include the very competitive commercial aspect, while also being creative each season. This is key in order to define a global brand vision.
Every season finding the right balance between creative and commercial is an ongoing battle. Of course, with experience it gets better. But it is almost always a discussion between the head and heart. As the heart is more about a creative explosion, it doesn't care about the commercial aspects of the designs. But I think working with a professional team that you trust, who takes different responsibilities and gives constant feedback, is also very important.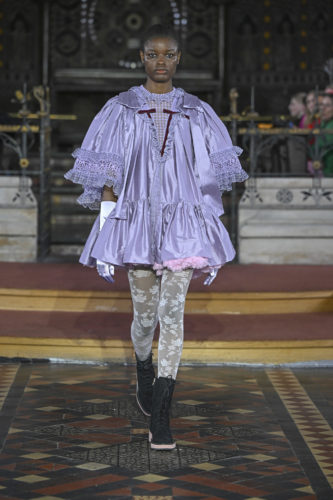 – Are there any aspects of the fashion industry that you would like to change or wish it were different?
I believe that we are living in a world where we need to find a harmony between each other. Getting to know other cultures is so important to create love and understanding. Fashion is a great tool to build this bridge between different cultures. We have been influencing each other for over thousands of years and through technology, this interaction has become much faster and stronger. I really think 'fashion' should have been kinder to the world we live in. Fashion displays such beauty, but it's a shame that there is such a harshness hidden behind that beauty.
– You have over 50 stores around the world, what is the driving force behind your success?
I think being able to do what I love to do is the most crucial thing; when I had my first ever fashion show, my first orders came in and it was almost like a shock to my system, as I was not prepared. It was like learning how to swim in the ocean. After years of doing it and learning through the mistakes, we managed to create a great system. We always sold very well through different department stores and boutiques, but never had our own retail platform. This changed in 2015 as we opened our first Bora Aksu store and it grew so quickly. We have 64 stores now, including Bora Aksu kids.
– What advice would you give young designers who are starting their brand?
There is a lot to say… But most important is knowing the fact that fashion design is not a job that you can do during working hours; it is a lifelong commitment and it will be running in the designer's blood. You must know that this commitment is one of the reasons why you need to love what you do. Otherwise, it's impossible not to burnout. I always think being able to do what I love is the greatest achievement.
I think we are all born with different gifts; but I guess it is all up to us whether to nurture these gifts, keep them or abandon them. When your gift becomes a passion, you don't even think of it because you can't help doing it. I guess that was the case for my path in fashion design. I love it so much that I don't know how I would feel without it. For me, this is the biggest achievement. I think it's a blessing in life to be able to do what you love and I wouldn't change it for anything.