Dear Shaded Viewers,
Wooyoungmi presented its fall/winter 2022 co-ed collection in Paris's Garage Amelot, a multi-story car park. Models entered through doors, they would open the door and then slam it behind them. The setting is inspired by the novel "A gentleman in Moscow" by Amor Towles written in 2016. The entirely white catwalk was composed of 6 doors. As the doors slammed, the music was created, accentuated by electronic music.As the story goes an aristocratic count is under house arrest in the Hotel Metropol Moscow, despite his life sentence to house arrest in a hotel, he finds an existence within the limited confines an existence blessed with true human connection. A century later, in a global society still redefining its new reality, human connection has become a precious luxury that is not to be taken for granted. One model, or two, even three walk through the door at the same time, sometimes in reverse, they cross paths. The staging  invites an organic human interaction with the simple and communal act of moving together in space as fashion moves in the world.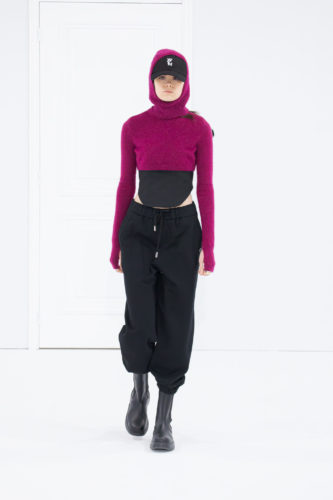 The collection exudes a nostalgic and glamorous atmosphere. The colours came from the iconic Saint Basil's Cathedral.