"Hello, It's Silvia calling. I just wanted to tell you about normality", those are the words recited and remixed in the beginning of the Fendi AW 2021 menswear show.You definitely get a sense of newness in the new collection.
An updated Fendi silhouette. The new bourgeois, maybe that is what Silvia Venturini calls the new normal. Normal is a strong word to. Is Fendi even part of what is normal? I mean, the brand definitely makes part of colloquial language nowadays, mostly thanks to a certain Queen, who popularized the term "Fendi prints on" through a certain rap song, but normal is a bit too much, but who cares about semantics in fashion anyway?
The styling, general aesthetics and energy of the collection's show is really exciting. The bright colours really do their job to uplift the spirit in a world tired of a health and economic crisis. A great highlight of the collection is the presence of so many great down jackets and the little leather accessories like the tiny neck bags, a sweet and sexy approach to menswear. Another great family of pieces is that of the oversized trousers and shorts, great for the fashion forward client and the celebrities like J. Balvin who might endorse the brand. At the same time, the collection still carries some more classic looking tailoring, and fur is there nevertheless, done in very innovative cuts to distract the eye away from the animal-cruelty-free speech; very popular right now.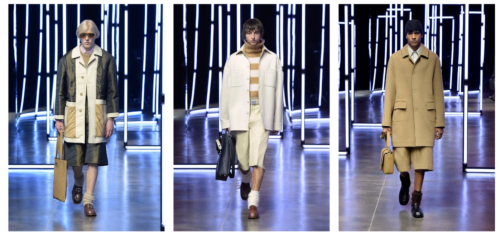 WATCH: