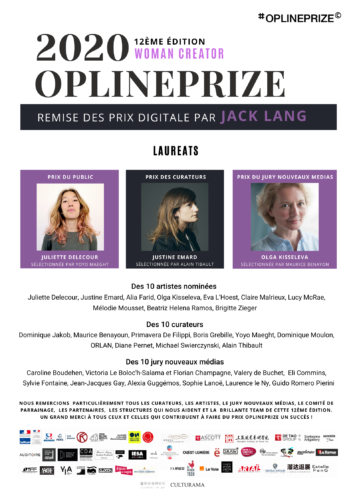 Dear Shaded Viewers,
Michele Robine has just sent over the news:
"It is with great pleasure that we announce with Jack Lang, the winners of the 12th edition of OPLINEPRIZE 2020 (online videos). The 12th edition was titled WOMAN CREATOR. Jack Lang, President of the Institut du Monde Arabe, Michele Robine, President of OPLINEPRIZE, Philippe Bernard, President of Groupe Passerelle and Stephanie Pecourt, Directrice of the Centre Wallonie-Bruxelles Paris. For obvious reasons the Award Ceremony which was scheduled for the Monde Arabe could not take place. Alas this is an online prize.
The winners are pictured above. Public Prize -Juliette Delecour, artist selected by jury member Yoyo Maeght, Curators Prize: Justine Emard, selected by jury member Alain Tibault and Jury Prize for New Media: Olga Kisseleva, selected by jury member Maurice Benayon.
The ten artist nominees were: Juliette Delecour, Justine Emard, Alia Farid, Olga Kisseleva, Eva L'Hoest, Claire Malrieux, Lucy McRae (my nominee), Melodie Mousset, Beatriz Helena Ramos and Brigitte Zieger.
The ten curators: Dominique Jakob, Maurice Benayoun, Primavera De Filippi, Boris Grebille, Yoyo Maeght, Dominique Moulon, ORLAN, Diane Pernet, Michael Swierczynski and Alain Thibault.
The ten curators for new media: Caroline Boudehen, Victoria Le Boloc'h-Salama et Florian Champagne, Valery de Buchet, Eli Commins, Sylvie Fontaine, Jean-Jacques Gay, Alexia Guggemos, Sophie Lanoe, Laurence le Ny and Guido Romero Pierini.
#OPLINEPRIZE