Marine Serre's bottle bag is yet another great invention or reinterpretation of the French fashion designer. We first saw it appear on her runway collection for Fall Winter 2020 and now it's finally making it into stores.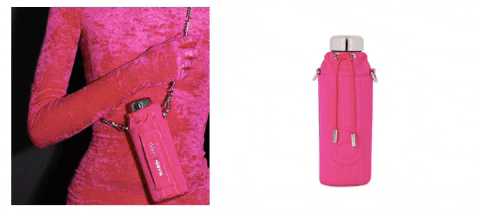 It's not a secret anymore that fashion depends a lot on accessories, specially designer fashion. It's easier to sell non-size sensitive objects to clients rather than clothes, which have a lower chance to be purchased because of sizing, fit and because there are even options in the market for lower prices that might even be more practical than designer clothes and more economically affordable as well. There is also more space for creativity in the design of accessories, since they remain "an object" that you sort of carry around rather than making it part of your body, contrary to clothes.
Being creative and thinking really forward is something Marine Serre, the inventor of the ball bag, always does with a lot of success. Staying true to the slogan of her brand "Future Wear". The bottle bag is great because it's functional, something we need and which hasn't yet been properly served by fashion designers, or better said it is not an item that has made it yet into the fashion designer spectrum.
Something to learn from Marine Serre, is definetely her sensibility to visit different categories or cultures to inform her own universe. Most of the time fashion and fashion designer brands feel almost agarophobic of the rest of culture of the rest of the world, which translate in monotonous non innovative propositions. It's great to learn the opposite from the creative courage of such a young and successful fashion designer. To keep one's eyes open.
LINKS: