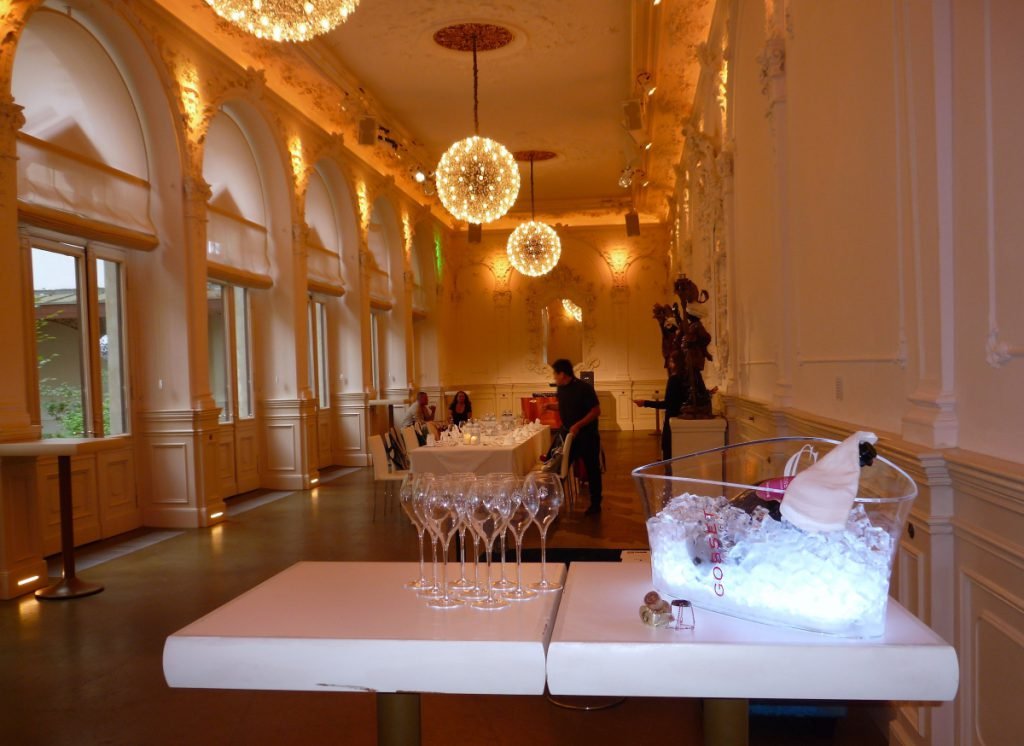 Dear Shaded Viewers,
Last month, while attending MQ Vienna Fashion Week, we were invited by fashion and hospitality publicist Elisabeth Muth to attend a splendid Champagne luncheon at the enchanting VIENNABallhaus, a heritage-protected mansion with a dining room dating from 1870.
Just an Oedipal complex's throw from Sigmund Freud's house in the heart of the 9th district, this exclusive events venue is a medley of Biedermeier and modern-age details. (Booking details at the end of this post.)
Paris-based fashion journalist Stephane Gaboue with our delightful host, Hannah Neunteufel, owner of VIENNABallhaus.
Pascal Dulex, creative director and culture coach at FREITAG and Camille Boyer, one of the founders of the Austrian Fashion Foundation. Elisabeth does PR for FREITAG, so we were treated to a preview of the brand's new foldable luggage, the ZIPPELIN. Instead of a heavy, bulky metal frame, the bag's support is inflated with a bicycle pump.
When deflated, the spacious bag rolls up compactly and can be stored in a shoe box! I have a FREITAG trucker-tarp tote bag which I use everywhere and every day.
Paulo Mariotti of Vogue Brasil and Globo News with Camille and a cornucopia of deep-fried and baked delights, from veal to chicken to catfish. Even though I only eat meat occasionally in NYC, I eat quite a bit of it every year in Vienna. They do it so well there!


The meal started out on an experimental note: an unusual yet toothsome pairing of an octopus tentacle brushed with octopus ink and a luscious medallion of black pudding on nut-bread toast. The decadent richness of the moist blood pudding was tempered by fresh bursts of mango and bell-pepper salsa.
After that opening sally of an appetizer, the lunch quickly veered into traditional Austrian comfort-food territory, perfect for Vienna's drizzly early-fall weather. Austrian/German potato salad, made with vinegar, has been a favorite side dish of mine, ever since my paternal German-American grandmother introduced me to it on blue-and-white floral-patterned china in her tchotchke-besieged kitchen in Bloomfield, New Jersey. At first, potato salad without mayonnaise seemed unthinkable to my 5-year-old palate, but after a few bites, I switched allegiances.
As Amanda Lear would say, give a bit of mmmm to me: Wiener schnitzel with cranberry sauce, fried chicken, julienned-cucumber salad with basil and mayonnaise, and the aforementioned potato salad. I had seconds—and fourths.
The dessert? Probably the best chocolate cake I have ever had (and you know I am very discerning when it comes to sweets—I almost exclusively eat them only when I'm in Europe!) It was festooned with an artful tangle of raspberry-and-citrus-infused sprouts. The pear sorbet was a divoonly fresh foil to the cake's warm richness.
Post-lunch smiles from everyone! Well, almost everyone. Stephane, Susan Sabet, the editor-in-chief of the Cairo-based fashion magazine Pashion, Paulo and moi. (Battle of the striped tees.)
Thanks for reading. The VIENNABallhaus is available for your legendary occasions: from weddings to birthdays to bar mitvahs, you can stage a reception in the summer courtyard and a gala dinner in the showstopping dining room (inquire about catering options). For more info, contact booking@viennaballhaus.com
xxx
Glenn Belverio