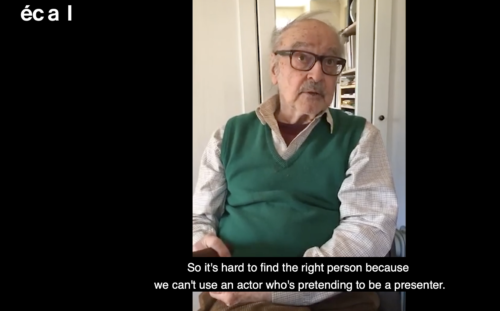 ECAL Instagram Live: Jean-Luc Godard, filmmaker, Rolle (Switzerland)
In conversation with Lionel Baier, head of the ECAL Cinema Department, on the theme "Images in Coronavirus Time".
Tuesday, April 7 on @ecal_ch (instagram.com/ecal_ch/?hl=en)
Jean-Luc Godard made his critical debut at La Gazette du Cinéma and then at Les Cahiers du Cinéma, making short films before shooting his first feature film in 1959: "A bout de souffle". This film became the flagship work of New Wave cinema, of which Godard is now one of the emblematic representatives. The 1960s were marked by a prolix work ("Le Petit Soldat", "Le Mépris", "Pierrot le fou", "La Chinoise"…).
The events of May 68 confirm a change in his way of conceiving cinema and his films become political standards. The advent of the video engenders the creation of great essayist series, "6X2" and "France, Tour, Détour, Deux Enfants".
Metamorphosed, the narrative, the professional actors, the myths and archetypes return from 1979 with "Sauve qui peut la vie", "Détective" and "First name Carmen", film for which he receives the Golden Lion at the Mostra of Venice in 1983. This was followed by a period of experimental investigation of historical forms such as "Germany in the 90s" or "History(ies) of Cinema".
Since the 2000s, Jean-Luc Godard has continued his tireless exploration of the seventh art with "Eloge de l'amour", "Film Socialisme" or "Adieu au langage" (Jury Prize at the Cannes Film Festival in 2014). Jean-Luc Godard received the special Palme d'or from the jury at the 2018 Cannes Film Festival for "Le Livre d'image".
(Biography published on the occasion of "Jean-Luc Godard – Parcours Livre d'image" at the Théâtre Nanterre-Amandiers in 2019)
ECAL/Ecole cantonale d'art de Lausanne