Dear Shaded Viewers and Diane,
Themed around the question of possibilities – احتمالات literally 'the odds' – the third edition of Amman Design Week offers the over 200 designers involved, exhibiting in 55 spaces all over the Jordanian capital, a broad enough brief to flex and flaunt their individual talents and skills. And yet, just as much, a clear enough and comprehensive direction to exercise them towards at the same time – which will distinguish this showcase from comparable ones around the globe, perhaps for years to come. From design as resolute, as a remedy such as it's often conceived, the organisers thought instead to reframe the participating practices and crafts, as well as their outcomes, in more visionary terms: less symmetrical, more courageous. As Rana Beiruti, the co-founder and director of Amman Design Week puts it, 'possibilities' as a mantra "breeds excitement", at the same time as it instils "a cautious feeling of alarm for what may come". It is intended, according to Noura Al Sayeh-Holtrop, as "an opportunity to talk about design not just as a tool for communicating and reflecting on the world, but also as a tool for creating new worlds altogether", a speculative, liberating endeavour. Head of Architectural Affairs at the Bahrain Authority of Culture and Antiquities (BACA), Al Sayeh-Holtrop is also the curator of the exhibition at the Hangar, a 1930s building in Ras El Ain and a landmark that serves as something of the core of Amman Design Week. It once housed the electricity generators of Jordan's blossoming capital city, and now, until Saturday, it houses over 50 designers from the Middle East and North Africa, aiming "to draw a map of shared interests and potential synergies across the Arab World".

Several strands of sub-themes emerge among them, crossroads of sorts. Along the furthest wall opposite the entrance spans a personal highlight: founded by Palestinian architect Dima Srouji, Hollow Forms is a project comprised of glass replicas of archaeological vessels from the Levant region, currently displayed in western institutions such as The Metropolitan Museum of Art, Penn Museum, The Royal Ontario Museum. As a vitreous ghost of the original, blown by expert glassblowers in Jaba' and shown now at Amman Design Week, each uprooted artefact symbolically and transparently returns home. Omar Sartawi's sculpture, by the entrance on the right-hand side, is also a replica – this of a statue discovered in a Neolithic archaeological site near Amman, and currently located at the Louvre in Abu Dhabi. A chef by trade, trained in molecular gastronomy, Sartawi reproduced the Ain Ghazal statue in jameed, a local Beduin food consisting of salted and dried ewe's or goat's milk yogurt. We were offered to try it later at a lunch organised by the Jordan Heritage restaurant in The Crafts District – jameed is an acquired taste. Visually similar to stone, Sartawi's edible statue challenges our taste buds as well as it defies the point of effigies of all kinds. Local, nutritious, and ephemeral, it questions what we've come to expect from art and design.
Other participants as well were drawn toward the interpretation of احتمالات as transitory forms, indigenous and intentionally fragile. The Atlat Collective presents a series of nine columns, each made from a different type of soil found in the region. Other than promoting the diversity of Jordan's landscapes, a sustainable ethos inspires their work. "If we build from the earth we're standing on, once we're done with the building, after hundreds of years, it eventually returns to it" tells me Ibn Talib, architectural photographer and a member of the group. To speed up the process, visitors are invited to rub and nudge the columns as they please, to "feel the different plasticity, the different weight and gravity" of them. "Hopefully by the end of the week we'll have nothing but mounts of soil under the table" he says. Like the human body of the myth that's made out of clay, any building that might come to be made out of these crumbling soils, any building that has been made, in fact, out of them though the ages of Jordan's deep history, best fulfils its purpose when its consumption is complete.
Outside the Hangar, the waterless garden by studiolibani, in collaboration with Civil Architecture, shares similar sensibilities. "We looked at the Jordanian landscape and recreated this miniature landscape" Leah Sarkissian and Dima Rachid, landscape architects and the founders of studiolibani, confirm. The project takes its cue from land art, and Isamu Noguchi's California Scenario in particular. "We used local materials – three types of sand, two types of gravel – to create this visual but also interactive experience". These hills of lightweight sands, without borders to keep them in place, embrace and welcome the garden's own transience. Under the fiery midday sun, nothing else would make sense. "This region is one of the most water-deprived in the world" Sarkissian and Rachid add, "we think that this notion of green being the representation of beauty in the garden is adopted from the colonial times". Their Minor Paradises garden sets out as a provocation against aesthetic preferences that long have gone undisputed. Idyllic renditions of imagined gardens also feature in Village by the Nile and Egyptian countryside two wide tapestries by Nagla Farouk and Ali Seliem, woven sideways and spontaneously without the aid of a preliminary design. Lush but almost surreal in their fictitious nature, they are coloured with natural dyes from the plants fund in the gardens of the Ramses Wissa Wassef art centre in Egypt, and took ten and five months to complete respectively.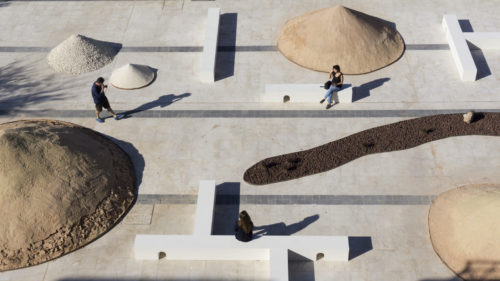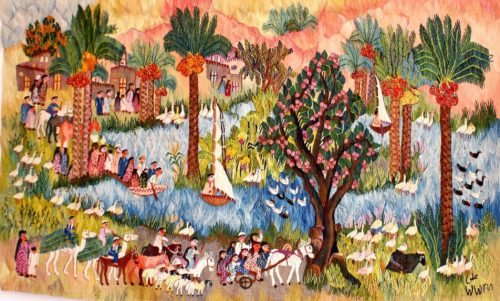 Still the challenge of working sustainably with local materials, be these gravel or jameed, which shouldn't be underestimated anywhere, is all the more taxing in this region, where most designers' supplies are sourced from abroad. At the Material Innovation exhibition in Jabal Amman, surrounded by colourful samples, I spoke with Sahar Madanat, who leads the Twelve Degrees product design consultancy and studio. "We started off with the frustration that Jordanian designers and makers can only start producing products with materials that are imported – so wood, glass, even ceramics. We felt that no matter what we do we're working at a disadvantage" she explains. "So we've started exploring other raw materials that exist in Jordan. We've looked at clay, we've looked at dead sea mud, we've looked at goat hair, olive mill waste" out of the latter, the Twelve Degrees team have made a bench. "We wanted to create a material that could eventually become a substitute for wood, potentially" Madanat says.
Out of an urge for independence, in a country that gained its own only in 1946, whose treasures still are scattered across the world, stem innovative exercises toward sustainable futures that lack the pretentiousness – elitist at best and condescending at worst – that sustainability as a design value might suffer when pursued elsewhere. Here, it is almost inevitable. A consequence of local designers' renewed appreciation for the traditions and resources of a land upon which humans, against all odds, towards all possibilities, have lived, imagined and built for thousands of years longer than they have in most other places on Earth.
Later,
Silvia