The city of Gaziantep, located in the Southeast Anatolian region of Turkey, once stood at the intersection of Mesopotamia and as an important destination along the Silk Road, hosting many of the world's earliest civilisations, cultures and religions. Situated close to the Syrian border, the city is the home to an ancient craft called Kutnu, which was brought to the region by Syrian migrants and in time made its way into the palaces of the Ottoman Empire.
Kutnu, one of the most well-known fabrics of the Ottoman Era, was often regarded as "Royal Fabric" by locals. It was preferred by the royal family for palace furnishings and caftan gowns, as well as reaching popularity amongst the high-society for its beautiful colours and motifs. Taking its name from the Arabic word "kut'n" meaning cotton, the art of weaving the semi-silk fabric dates back to 16th century Syria, where Kutnu was first invented. It was later brought to Southeast Anatolia to be adapted by craftsmen in Gaziantep, who were able to introduce the fabric to a wider geography.
Made of pure (floss) silk and cotton, Kutnu is a breathable fabric that does not contain any synthetic materials. The weaving consists of coloured vertical lines made of silk called warp and horizontal lines made of cotton threads called weft. Using a shuttle weaving technique, it is woven on a wooden whip-drawn loom and dyed in beautiful colours using traditional dyeing methods. As its history dates back to 16th century, during a time when there were only few examples of printing in the world, the silk for Kutnu was dyed several times and woven with different motifs to create eye-catching patterns. History records that there are around 80 different patterns for the fabric, with 3 most famous ones being plain, floral and binding. Depending on the number of wires and patterns used during the production, the yarn also brings forward a variety of choices for the customers to enjoy.
In modern day, Kutnu is used primarily in folkloric costumes and as an upholstery fabric in traditional homes. Several Turkish designers have taken the initiative to bring the ancient technique to contemporary fashion with the most successful example being Bora Aksu's spring summer 18 season, who paid homage to the craft and its masters during London Fashion Week. Inspired by the true story of 19th century Irish doctor Margaret Ann Bulkley, the designer integrated Kutnu with tulle and cotton in contrasting shades, to blend femininity with masculinity, history with modernity.
But that hasn't stopped the craft from dying out. While most households in the past knew how to weave Kutnu, today only a handful craftsmen remain in Gaziantep who carry on the generational knowledge and skills to practice the craft. Understanding that the traditional techniques are on the brink of disappearing, one brand has come forward, determined to defy time and protect the fabric by modernising the artisanal weaving technique to make it suitable to fit the contemporary fashion and textile scenes.
KUTNIA is a lifestyle brand founded in 2017 whose mission is to preserve, promote and secure the prized traditional fabric of Southeast Anatolia. Established in Gaziantep by Jülide Konukoğlu, the brand has taken the traditional weaving method of Kutnu and strengthened it by developing new hand looms, producing 14 meters of hand woven fabric a day. Without disrupting the DNA of Kutnu, the brand has made the fabric more suitable for sewing and every-day wear. The creation of new sophisticated production technologies and the training of next generation of craftsmen, has transformed KUTNIA into one of the strongest social sustainability brands in Turkey.
From ready to wear collections to home textiles, KUTNIA offers a wide range of products for customers looking for slow and sustainable fashion. I had the pleasure of interviewing Jülide Konukoğlu on her brand's mission to bring Kutnu back to life and re-establish its importance in the global market.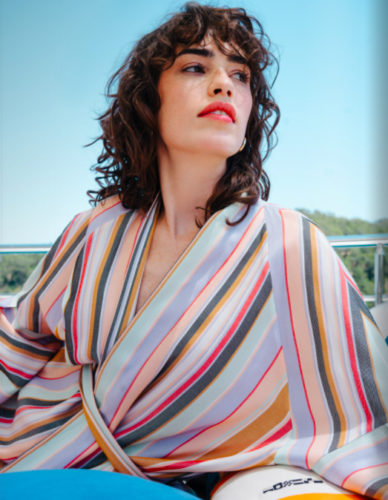 – Thank you so much Ms. Konukoğlu. As a result of the initiative you started with Kutnia, what kind of developments do you observe in both production of Kutnu and customer awareness? In what ways does Kutnia contribute to Gaziantep's economy?
While establishing our brand, one of the most important elements for us, was to ensure the continuation of the artisanship and profession. I can say that raising new Kutnu masters and transferring this knowledge from one generation to another, have both kept Kutnu alive and contributed to the social sustainability of the city. As for customer awareness, there was a perception that traditional Kutnu fabric was difficult to sew, but I think by developing and adapting the fabric to our modern day, we were able to change the image.
– Do you find the fabric competitive within the global textile and fashion industry?  
Kutnu is a very special fabric. It is hand-woven and breathable, made of silk (we use floss silk) and cotton. In today's changing world, especially in the fashion industry, fast consumption is gradually decreasing and customers are paying more attention to whether the products they buy can be worn for a long time and whether they are valuable or not. We wanted to continue the production without disturbing the DNA of Kutnu. Hence, our fabrics are woven on hand looms, staying faithful to their history. That's why Kutnia's place in this sector is next to the brands who meet conscious and sustainable buyers.
– Did you encounter any difficulties while modernising Kutnu? Are there any limitations that the fabric imposes on your work?
While developing Kutnu, we found business partners who held the necessary global certificates to prove that our production does not harm human health. In the finishing process, after the Kutnu was woven, it was necessary to make sure not a lot of chemicals were being used, in order to prevent the damaging of the natural form of the fabric and we succeeded to stay true to the original structure. Afterwards, we received the necessary documents of the fabrics we produced. While making our designs, we consider fabric and collection designs together. We have built the capacity to be able to produce endless colour and line variations. Working with a young and creative team, our designers are always inspired by the infinite possibilities.
–  Your brand offers a wide range of products from ready-to-wear clothing to home textiles, what kind of products do your customers mostly lean towards?
In terms of our collections, our customers mostly prefer timeless pieces which are colourful, comfortable that can be worn at any time of the day and pieces which carry our brand's aesthetics. As for home textiles, they lean towards our pillows and placemats with our vibrant colours and elegant designs.
–  How was the fashion world's reaction to Kutnu? Especially after Bora Aksu's Spring/Summer 18 collection in London Fashion Week? 
When we met with Bora Aksu, Kutnia fabric was still in production. Bora created the collection by purchasing fabrics from Kutnu masters. Watching the Kutnu fabric in his fashion show made us proud. One day, we will be pleased to have Bora work with our fabrics. From apparel to home textiles to upholstery fabrics, Kutnu was accepted very quickly in the world. Our aim was to make people feel this movement. I'm happy.
– Do you have any plans for the future for Kutnia?
Kutnia has so far reached a large market share in Italy and has taken its place in many leading showrooms and stores in England and United Arab Emirates. Our online sales continue on our website and other platforms. We have America and the Far East in our future plans. We are determined to continue working with the same passion along with our entire team.