Dear Shaded Readers,
"Household Chores" introduced me to Miss Meatface. The startling portrait of a homemaker wearing a full-body latex jumpsuit and hood while cleaning the toilet with a bowl brush suspended from her mouth left an impression. It was a different communication of feminism, reparenting the future.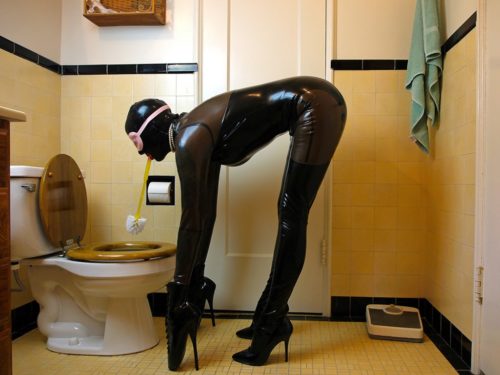 A year and a half later, the piece discovered at The Untitled Space's group exhibition, "A Year of Resistance" returns to the gallery by way of a solo show. On view through Saturday, July 19th works, including "In the Parlour," "Grandma's Roses," and "Working from Bed," share sights of the dominatrix-dressed homemaker in various moments around her suburbia residence. Whether taking calls from her rotary phone in bed, having a smoke in the garden fenced yard or drinking tea in the family room, Miss Meatface lives by her own rules.
The unapologetic masked personality was formed out of a need for expression. A hysterectomy procedure subsequent a battle with cervical cancer motivated photographer Kat Toronto to explore her feminity. As does any lifechanging event, Toronto began searching, and led her to examine the female objectification of beauty and roles in society. In time, Miss Meatface has become a conduit for the feminine spirit. The artist explains, "In the world of Miss Meatface, the role of homemaker is not the stereotypical ideal of feminine domestic submission, it is one of control and ultimate power over her domain." In conversation, Toronto was direct, Miss Meatface subsists as Toronto experiences life.
A zine release party at the gallery earlier this month celebrated Toronto's latest collection of work. Titled 'Prurient Apparitions' a limited edition of 300 copies, features 24 polaroid shots satisfying Victorian culture's interest with the orchid flower. That was, a misunderstood obsession — a  'Prurient Apparition,' according to Art Critic John Ruskin. Nude images, S&M suggestions, and orchids in full bloom overwhelm the pages with explanation. Miss Meatface ghostly appears in images among the sequence of blossoming flowers. From dark exposure, these subjects emerge, manifesting a temper for beauty and vulgarity. Mother Nature has her own language.
History tells of orchids and lilies as icons of feminist marking; Miss Meatface's interest towards these symbols occurs without coincidence. Photographs of flowery wallpaper and voluminous bouquets arranged on the dinner table for entertainment, Kat Toronto shared that she has always been obsessed with kitsch things. We look to where Gallery Director Indira Cesarine displayed the collection of antique dishware refashioned with images of Miss Meatface holding a rose, and standing beside MeatMaid. She reaffirms, a salute to her interests alongside her culture's recreation for tea time. Traveling across the pond and unveiling the mask behind Miss Meatface, the photographer vulnerably shares her world. The Untitled Space exhibited the perfect platform for breaking down barriers to convey feminist agenda.