It is sweaty as if it were the end of a holiday, where the sun of an Indian summer still shines through or a warm breeze caresses the skin. In the aftermath of the flirtations and the heart full of memories remains the outdated charm of the seaside resorts of our Mediterranean coasts, whose utopian architectures rival each other in ingenuity and stylistic audacity.
Shane Lynam's pastel photographs are the faded memory of an ambitious urbanist project initiated by Charles de Gaulle in 1963, at the time of the Trente Glorieuses. The "Mission Racine" aimed to promote tourism in the Languedoc-Roussillon region and to enable the middle classes to afford holidays. A colossal development and sanitation plan for the territory was implemented over nearly 20 years, with cities within the cities emerging from the sand from Port Camargue to La Grande Motte, via Cap d'Agde, Gruissan, Port-Leucate and Port-Barcarès. The ideological challenges then stirring Occi- tania, which feared losing its soul by becoming a "New Florida", are now taking shape in a French landscape labelled "Heritage of the 20th century", since 2010.
Fifty years later, the Fifty High Seasons series (produced between 2010-2017) embraces the ideals of a social policy that has revolutionized the face of the coastline and the regional economy, with the crystallized affects of summer visitors. The sun has faded into bright colours and avant-garde architecture with facades undulating like waves or inspired by distant lands such as the pyramids of the Mexican site Teotihuacan or Greek houses, seem to have married a territory that is forgotten as it was composed exclu- sively of ponds, marshes, dunes, vineyards and mosquitoes that spread a large number of diseases.
Thus were born seaside resorts, where the ideals of the suburbs were transposed to the development of tourism. Built in a few decades, concrete resorts took the place of fishermen's huts and welcomed, for a summer, new flocks. Since 2003, while still a student in Dublin, the young Irish-born has been travelling the coast in the dual position of tourist among tourists and surveyor-archivist. While projecting a picturesque vision of the region, he discovered an artificial and functional world, attractive and playful, but whose already worn patina feeds his imagination and nostalgia for a bygone era.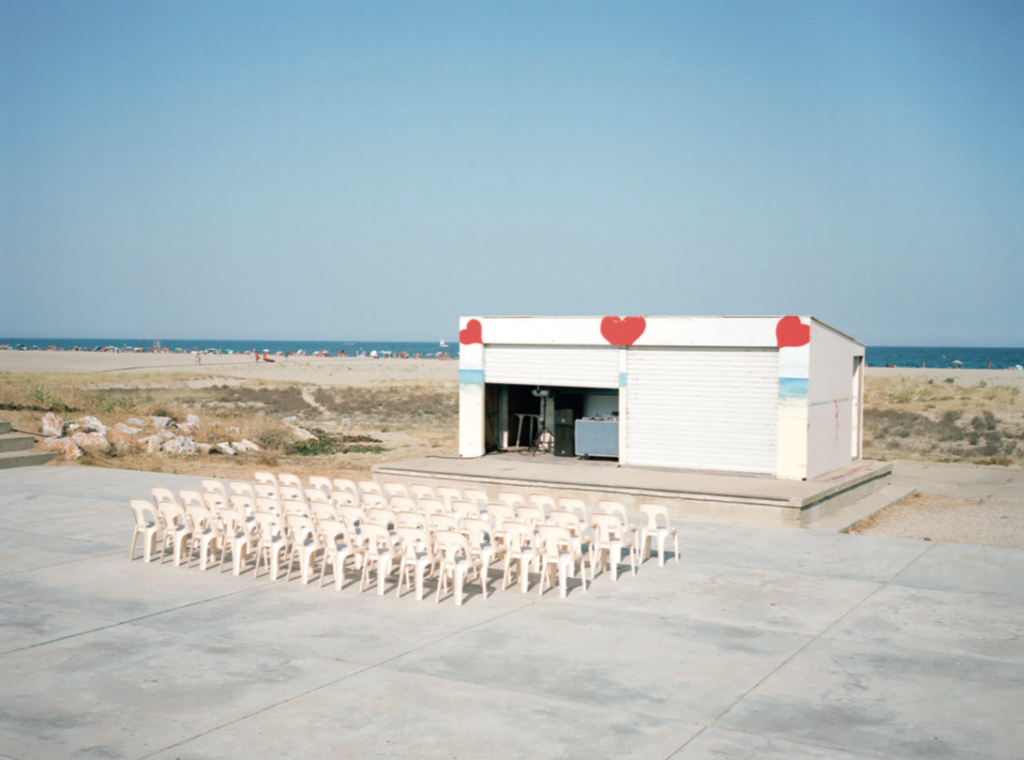 From these cities close to non-places, with interchangeable spaces and where ano- nymous people pass through, Shane Lynam retains the promise of an escape, if only because it is thought that resort has its origin in French "ressort", meaning to bounce back, flee or withdraw. Therefore, unlike the consumer relationship that usually takes place in these places of passage – airports, supermarkets and other motorway areas -, resorts embody more vividly than anywhere else the crystallized memory of our child- hood, adolescence or parental projections, like a moment suspended between leisure and rest.
Paris May 25th 2019
Texte by Marion Zilion
FIFTY HIGH SEASONS BY SHANE LYNAM  is open until JUNE 8TH
at GALLERY BERTRAND GRIMONT  42-44 rue de Montmorency 75003 PARIS
info@bretrandgrimont.com
www.bertrandgrimont.com