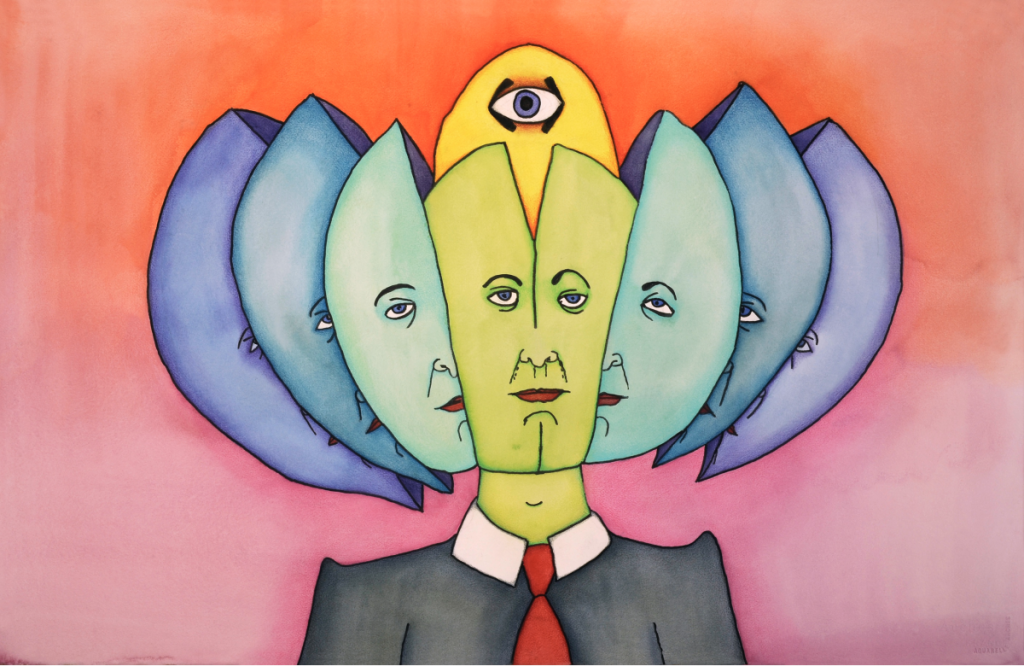 Dear Shaded Viewers,
pascALEjandro Alchemical Love will have their first major US exhibition at Blum & Poe in Los Angeles. pascALEjandro is the creation of Alejandro Jodorowsky and Pascale Montandon-Jodorowsky, ten years in the making. This existential and artistic project is the love child of Pascale Montandon-Jodorowsky and Alejandro Jodorowsky, you can say this is the love child they produced as there is an age difference of 40 years between them and creating art knows no age. The work merges the masculine Jodorowsky's illustrations with the feminine Montandon-Jodorowsky's vivid colors.
Pascales Montandon-Jodorowsky is trained as a painter, before she met Alejandro Jodorowsky she painted in shades of grey, they met and colors exploded. She paints, photographs and directs films and does costumes. Jodorowsky exploded on the scene with The Holy Mountain (1973) which was produced by Allen Klein and John Lennon and the film was the beginning of the genre "midnight movies" which was coined after his 1970 film El Topo. In fact it was when Lennon saw El Topo that he decided he wanted to produce the next film of Jodorowsky. His unrealized film Dune has been acknowledged as the "most famous movie never made," and was the subject of an award-winning documentary in 2013.
The presentation will include a selection of the artists' creations over the past two years.
In celebration of the exhibition, the Hammer Museum will host a screening of Jodorowsky's recent film 
Endless Poetry
 (2016) on Tuesday, January 16, 7:30pm in the Billy Wilder Theater, followed by a Q&A with the artists. This film is a continuation of the autobiographical story Jodorowsky began in 
The Dance of Reality 
(2014)
, 
both films for which 
Montandon-Jodorowsky realized costume design, and as a collaborative entity, pascALEjandro designed the distinct colors. 
Endless Poetry 
is an ode to the quest for beauty and inner truth, as told through Jodorowsky's uniquely surreal and psychedelic visual language.
Endless Poetry
 is distributed by 
ABKCO
.
More info about the film 
here
.
Tickets to the screening are free and open to the public,
available on a first come, first served basis. 
More info 
here
.
Later,
Diane