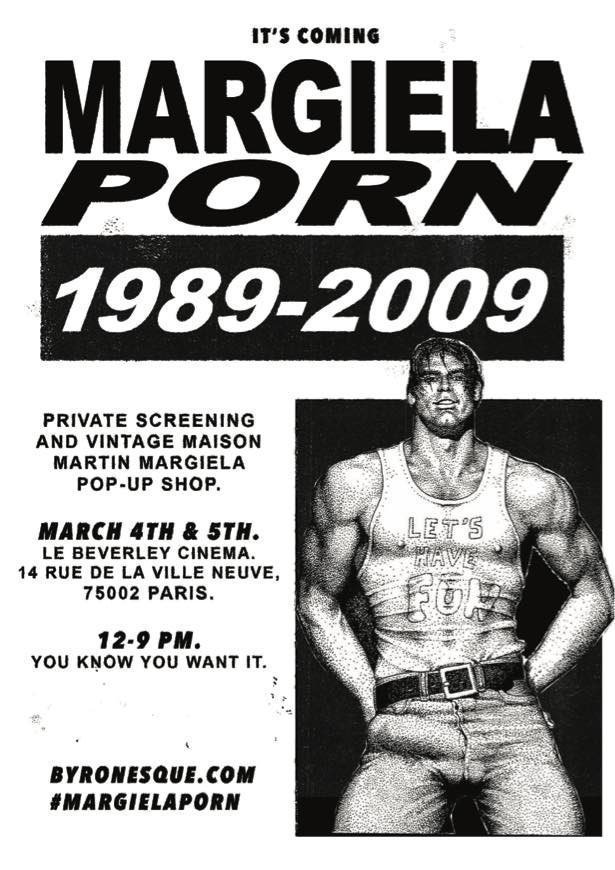 Dear Shaded Viewers,
Here is a little teaser for all of you lovers of vintage Margiela (1989-2009) that will be showcased and sold at a pop-up during Paris Fashion Week.
In true Margiela style Byronesque is doing something unorthodox and provocative with seductive anonymity and taking over the last remaining porn cinema inParis for 2 days on the 4 & 5 March.
While screening footage of vintage Margiela shows along with a special fashion film that they have created for the event, Byronesque will be playing onthe idea that you're in a secret place seeing something taboo that is not for everyone. Nothing else makes people want something more.
In keeping with the porn theme and in true porn pimp style, Byronesque has created a campaign using repurposed vintage porn movie posters with reviews by Cecilia Dean, Visionaire,  Suzanne Koller, Le Monde, Julia Jamos, i-D Mag, and Tara St Hill, 10 Mag.
Private Screening and vintage Margiela pop-up shop. Le Beverley Adult Cinema, 14 rue de la Ville Neuve, 75002 from 12h – 9pm.
www.byronesque.com  #MargielaPorn