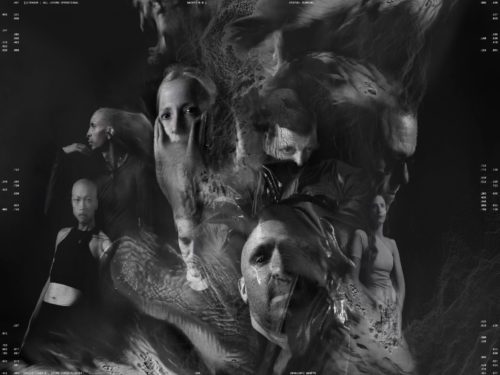 Image by Mischa Fanghaenel
Presenting NACHTS: A Captivating Glimpse into Berlin's Techno Tapestry, Captured Through the Lens of Mischa Fanghaenel
In a groundbreaking convergence of art and technology, photographer and illustrious Berghain bouncer, Mischa Fanghaenel, unveils his visionary series, NACHTS. With an immersive collection of over 175 portraits, this opus unravels the intricate threads of Berlin's pulsating techno realm. Each portrait, an evocative testament to the city's electrifying nightlife, comes to life through an exclusive auditory dimension – bespoke soundscapes meticulously crafted to the beat of the scene.
As the night descends, NACHTS sets forth as a multipart NFT saga, intricately woven by Fanghaenel's lens. These digital artworks, borne of innovative AI models, enshroud each subject in a mesmerizing symphony of pixels and soundwaves. The culmination of this artistic endeavor is set to grace the digital realm of Beatport.io this month, aligning seamlessly with the crescendo of Berlin Art Week in September, a harmonious prelude to a visual sojourn like no other.
Within this captivating trove of NFTs, a panoramic vista of imagery and motion unfolds. Fanghaenel, a confluence of roles as both lensman and sentinel at Berghain, transforms his oeuvre, offering a peerless sensory odyssey. Amid the specter of COVID-19, he grappled with a profound question that resonated throughout the scene: "How can the essence of the scene's experience be documented when their spaces no longer exist?" To surmount this enigma, he devised a digital lexicon, enabling his frames to dance and intermingle with luminaries of the music cosmos. Photography metamorphoses into kinetic verse, immortalizing techno's verve in every pixel.
The pulse of NACHTS resonates in harmony with the rhythm of music, a tantalizing pas de deux between light and sound. Fanghaenel's subjects, once static, embark on a transformative journey, dissolving into kaleidoscopic geometries, molding into ethereal forms, culminating in masterpieces that transfix and inspire. With each NFT, a unique symphony of three variations emerges – the WARDROBE EDITION, the DANCEFLOOR EDITION, and the coveted COLLECTOR'S EDITION – each an ephemeral window into a world beyond.
As dawn breaks over the digital frontier, NACHTS emerges as a revelation, beckoning admirers to partake in a groundbreaking union of visual and auditory realms. The inaugural release, an ode to collaboration, intertwines with the aural genius of DJ and producer Len Faki. As a sonic cornerstone, Faki's exclusive bonus track, culled from the opus "Fusion," pulsates within the NFT's core, an enduring melody to echo through the ages.
Prepare to embark on an experiential pilgrimage, as Mischa Fanghaenel's NACHTS thrusts open the door to techno's enigmatic heart, illuminating the night with a symphony of pixels and soundwaves. Your journey awaits, a dance of light and sound, an ode to the ineffable energy that ignites Berlin's nightscape.
See our exclusive interview below with Mischa Fanghaenel:
What first inspired you to start this project with Alexandra Preusche from A.P Studios and beatport.io ?
This project started with a thought at the first lockdown in 2020. Is this it? What if we will never get together like we used before? What if this culture and this community lost it's most important places to get together? How can i preserve something of this culture?
I never liked how this culture was presented in media. It was always the focus on how dirty and not normal everything was. But who is to define what normal is? Alex brought the right people together and jumpstarted everything. Have to mention Define Creative here, too. And Beatport understood the importance of this project in an early stage and was very supportive.
How important is Berlin techno culture to you, especially knowing you have been submerged in the scene for the last 12 years as a bouncer for Berghain?
Berlin Techno Culture changed me as a human and as a man. The adjustment of my definition of normal was the most interesting that I learned in live. Everybody got their own normal and to see that put together peaceful and so joyful was amazing.
What was the process you went through when choosing your subjects?
I 
let
my subjects choose me! All I did was asking who wanted to participate and if I recognized them as a regular i invited them.
How much of your upbringing shapes your way of seeing and the way you take pictures?
Everybody is beautiful and I want to show that. And I'm not talking model attractive beautiful! I just love the smile and the emotions in peoples eyes when they see themselves the way I see them.
What do you think about the power of images, their impact in our daily life?
Pictures can work directly with our emotions so images are very powerful. And we are surrounded by them like no other generation before us.Images can manipulate in all directions, I just love the positive aspects. Joy, love and happiness. And maybe a bit of cool.
Event photos by –
All colour images by George Nebieridze @nebieridze.de
Black & White images by KANE HOLZ @kane