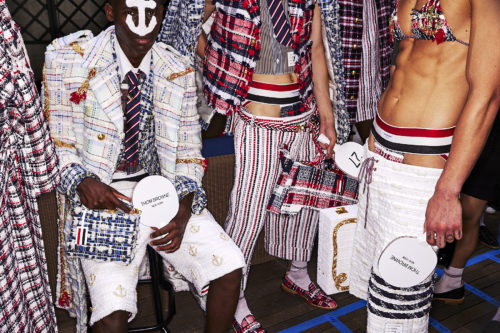 photo by Sonny Vandevelde
Dear Shaded Viewers,
Nearly a year ago, Thom Browne sent shockwaves through the fashion world with his audacious display of tweed jockstraps under micro skirts and tailored shorts, accompanied by Madonna's infectious beats at his spring 2023 menswear runway in Paris. However, while the absence of the American designer and CFDA chairman from the upcoming menswear season in Paris may have raised eyebrows, it is certainly not the end of the narrative. In fact, Browne seems to have surpassed his own viral jockstrap moment with an exciting new development. It was just announced that Browne will present his latest collection during the illustrious couture calendar in Paris, albeit with a date yet to be announced.
This extraordinary couture offering, unlike any other seasonal collection, will encompass both men's and womenswear, marking the inception of Browne's 20th-anniversary celebrations. Reflecting on his decision, Browne shared, "Having showcased my collections in Paris for 12 years, I have always considered couture to be the pinnacle challenge in terms of quality, construction, and design. As this year marks the 20th anniversary of the brand, I felt it was the perfect time to celebrate in this remarkable manner." Notably, the ensembles will be available for purchase as couture pieces, allowing guests to revel in the meticulous craftsmanship. Browne expressed his anticipation, stating, "I eagerly await visitors to the showroom post-show, where they can witness the impeccable artistry firsthand and share the story of our beautifully crafted creations."
As the fashion world eagerly awaits further details and the grand unveiling of Browne's couture spectacle, it is evident that the designer's innovative spirit continues to captivate and push boundaries, solidifying his reputation as a true visionary in the industry.
Browne has always approached his collections from a pure design standpoint. While acknowledging the precedent set by designers like Daniel Roseberry at Schiaparelli , who previously worked under Thom Browne, and Ralph Rucci, both Americans that have shown during couture, Browne emphasized the true craftsmanship and creativity inherent in American design. This commitment to quality and innovation is a key aspect that he aims to embody in his forthcoming couture collection. Regarding specific details about the collection, Browne remained discreet, leaving much to the imagination. However, he did share his excitement about reaching the milestone of two decades in the industry. Looking towards the future, Browne expressed gratitude for the groundwork laid in these 20 years and the limitless possibilities that lie ahead. Referring to his own experience, he emphasized the importance of a long-term perspective in creating a legacy for the next generation of designers. As Browne donned his chairman hat once again, he offered valuable advice, stating, "For anyone embarking on their own collection, it is crucial to approach it with a forward-thinking mindset, envisioning what the future of design holds. This is the foundation I have laid over these 20 years, paving the way for what is yet to come."
Top of Form
Regenerate response
Bottom of Form