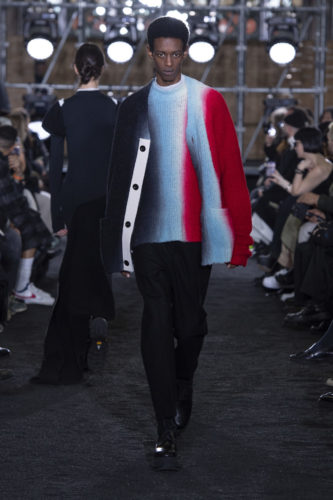 Red beams shone across an ocean of black sand, creating a new mound following each step and the trail it left behind signifying the passing of time. Guests walked into a space simultaneously heavenly and earthly, where the chrome seatings functioned as stars faraway. On the set of Chitose Abe's FW23 Collection, "Interstellar" was a central theme, manifesting in every aspect of the show – including the soundtrack which featured "Time" by Hans Zimmer. 
The designer's famed design language has been reinterpreted through her various collaborations with Moncler, Carhartt and Nike. A myriad of colors were seen that signified the various colors of planets in the solar system. Overlaying Carhartt workwear parka with a longline military inspired shearling parka, trench coat over sleeveless double breasted jacket and puffer jackets layered pleated skirts in dramatic silhouettes drove a strong narrative for garment hybridization. 
Looks such as double-layer buttoned cardigans, workwear jacket turned knitwear all gave tribute to her signature mash-ups and design approach to experimenting with singular pieces. Aligned with the theme, few looks feature layered graphic garments such as the overcoat and shearling collared puffer jacket, pleated dresses – all included scenes from the film that had the closest association to "time" and its propensity to express a notion of irregularity. 
Distinguished for the brand's numerous iterations of the Nike sneakers, this collection also introduced few color variations of its new collaboration. With designs that shared similarities to the structure of "Footscape" –  it's particularly known for its asymmetric lacing. 
At first glance, the idea of "time" could denote regret, but in actuality, it's evident that this is a celebration of her design DNA – tinkering with the past to create the new, "It was never meant to die" (as seen printed on various graphics).