Laura Albert: First tell us about yourself and your family.
Dot Forrester: I'm an 18-year-old filmmaker, actress and writer. I grew up as an only child in the beautiful countryside of Dorset, England. It was a very peaceful childhood, with lots of days roaming through nature and reading Roald Dahl. My parents are both musicians and they're in a band together called 'The Gravity Drive'. It was a very creative household to grow up in, a lot of band rehearsals, recording studios, and late-night gigs that were followed by late-night service station trips – which were an absolute childhood favorite of mine. I'm very grateful to have been brought up in a household where pursuing a creative path was encouraged and very much accepted. It was also a huge benefit seeing my parents work so hard at a creative career, as it did teach me that being creative takes dedication and determination as well as just passion. For a while I was hugely passionate about cooking and studied fine dining at the Michael Caines Academy at Exeter College. However, I found my love for documentary film, which led me to transition into studying film and TV production instead. Film is my passion and my aim is to create, direct, and act in films that bring light to unique life situations, the world and the unheard sections of society. I wish to be able to create in a way that enables individual's stories – from the most saddening to the most beautiful – to be told and transformed into creative, moving and cinematic films, both fiction and nonfiction. I love how acting enables us to explore the uniqueness of humans as individuals and deep-dive the feelings and emotions that we all collectively feel and can relate to. I believe cinema can create change and insight into the world, and my goal is to create films that leave people thinking and reflecting on themselves, as well as how they can make a positive impact on the world around them, even if it's as small as complimenting a stranger.

LA: What inspired you to create your film Blue, and is there a takeaway you'd like to leave folks with?
DF: I was initially inspired stylistically by films like Amélie, Taxi Driver, Annie Hall and some of Wes Anderson's work. I suppose the writing was also inspired by those films too. For example the use of an inner monologue in Taxi Driver to get an insight into the character's thoughts and mindset was very intriguing to me and something I wanted to attempt. I started off making the film knowing that I wanted it to be a film that was based upon analyzing one character and her existence solely. In terms of the plot, I decided I wanted to show the change from a pessimistic view of the world to an optimistic view. I wanted it to feel like a diary entry, very intimate and at times intrusive. I found myself surrounded by many lost and somewhat hopeless teenagers and adults who were looking at life through quite a cynical and downbeat lens – myself included. In a way, I made a film that promoted a message that I needed to hear, and therefore I hoped that others might want to hear it too, and that it might help someone feel understood or less alone. I took up self-discovery, journaling over the last year or so, and I noticed a huge change in my mindset towards myself and towards others. I made the film hoping to enlighten and inspire others to make the effort to understand themselves and care more for their inner child, the version of yourself before any trauma or innocence was crushed. The key to happiness in my opinion is making the conscious effort to understand who you are and to seek out compassion and love from within yourself rather than relying on external forces to provide it, which would therefore make you a compassionate person to others. Once you accept your issues, you can be more accepting of others. There is a way for all of us to create our own happiness through nurturing ourselves and by being able to transform the way we see the world around us – transforming our own view of existence into one from more compassionate and curious eyes, taking ourselves back to the way our minds admired the world when we were children. This film really is about healing, hope and discovery – the beauty and freedom of choosing to make a change within our lives, the new and improved outlooks we can all achieve if we first look inwards to find and love and forgive ourselves.
LA: How long did it take to create?
DF: The writing definitely took the longest. I was writing for a month or two, trying to perfect the plot. A good story is the backbone to an enjoyable film, especially as the film I was planning on creating purely revolved around the inner monologue of one character. So I had to ensure that the words were gripping and amusing, as there wasn't going to be a lot of onscreen action or drama, no dialogue with other characters. The filming was done in just under a month. I spent quite a while planning out the scenes I wanted to shoot during pre-production, which made the production process a lot smoother, and I felt confident going into it. The editing process was fairly smooth too and only took a week.
LA: Can you talk about the film's award nomination?
DF: I was nominated for the National Youth Film Awards and got Long listed, Blue has also been recently selected for the Lift Off Sessions that are based at Pinewood Studios, as well as being selected for the Student Work Impact Films Festival which offers some really exciting opportunities. I've been submitting my films to many more film festivals such as the BFI Future Film Festival and The New York Short Film Festival but the wait on those is a bit longer.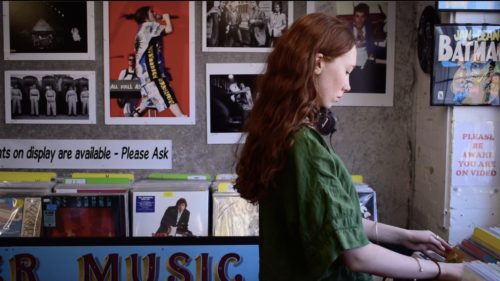 LA: What is your creative process, did you improvise or did you have everything set?
DF: It was in many ways a mixture of both. I think the school I was in at the time encouraged being super on it with the pre-production side of things, and in many ways that was helpful – for example, creating shot lists and ensuring your equipment list was organized for filming. But in terms of creating, I like to have basic structures to begin with and then have the freedom to switch it up, if I get the urge to. For example, with the writing, I knew the narrative arc before I began. However, I then let myself write whatever I was feeling on each day, depending on the things I had seen around me, the subjects I had heard someone talking about that day, or a memory of mine that had been dug up. I find that observing your surroundings and studying people, their conversations and their actions in day-to-day life, can really get the creativity flowing. In many ways, this is what makes the film relatable to people. With the filming I ended up improvising a lot of the time rather than sticking to the shot list – I had decided to film it as well as star in it, so I had to be a bit more flexible with the shots that I could achieve. That flexibility also allowed the film to improve in many ways. The spontaneity of just taking a camera with me everywhere and filming what I could find meant that I was able to get shots that worked really well but were not originally planned, which is always fun.
Follow Dot on Instagram