The much anticipated Yeezy Gap Engineered by Balenciaga collection is finally here. The complete 25 looks made of cotton, denim, nylon and leather outline rapper Kanye West's (now known as Ye) and designer Demna Gvasalia's (now known as Demna) vision to democratise fashion and make it accessible for the masses.
"This is a very different challenge, I've always appreciated the utilitarianism and the accessibility of Gap. I share some of the same sensibilities in my creative language. This project allowed me to join forces with Ye to create utilitarian fashion for all." Demna said in an interview with Vogue.
The military inspired collection which consists of power shoulders, recycled nylon puffers, black cotton hoodies, Gap t-shirts, knee-high boots and oversized raincoats, all modelled by masked figures, come as an extension of the dark cyber-punk aesthetic West has been sporting for the past months. The looks are stripped from all decorative details with minimum use of zippers, buttons, logos and colors… kind of like the Iphone. The products may look simple, but the mission is far from it. By bringing together Demna's design abilities and the accessibility of Gap, West hopes to bring the masses a new line of well-made popular designs, a new wardrobe of essentials.
But apart from the products (and there is more to come apparently), what was Ye's marketing strategy leading up to the collection?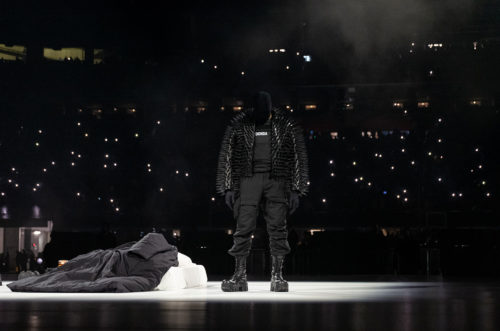 As brands try to come up with new ways to create engaging content and excitement over their products, Ye's unorthodox marketing strategy begins with pulling spontaneous PR stunts (in other words content) to create a momentum around his life, values and artistry (that makes you feel as if you are watching a reality show happen in real time), that he injects with careful product placements. Once he gets you on the Ye train, he releases an exclusive range of products without a warning and the next thing you know, you are rushing to your computer, trying to pre-order the nylon round jacket from Gap.
The product, whether a Yeezy x Gap hoodie, a new pair of Yeezy sneakers or Donda merchandise, no longer stays as a product but becomes a symbol of a pop-culture moment in time, a visual representation of specific values which Ye formulates, an item which says "I shop, therefore I am".
The key word in Ye's marketing strategy is dialogue. The media buzz he creates around his life, not only wins the interest of his followers but also catches the attention of the masses, resulting in a dialogue that he directs the message of. Suddenly, you start wondering who Julia Fox is, what they wore to Paris Fashion Week, whether he should have been invited to his daughter's birthday party, why he is arguing with Billie Eilish… People are hungry for stories and West never disappoints in that field.
While you are trying to keep up with Ye, which feels like a somewhat online experience into the personal life of a pop-icon let's say, each time you see a piece of information about him (and he creates a ton), he makes sure you also see the product. Today a picture is worth a thousand words, a video perhaps even more. As he dominates the media outlets with stories about him, he carefully infuses the brand, dressing himself and those around him in sneak peaks of what's to come. Wearing a full mask during fashion week, sporting a nylon blue jacket in hot LA weather, dressing Julia Fox in head-to-toe Balenciaga, featuring the black Yeezy x Gap hoodie in his Heaven and Hell music video… Each event, public appearance, paparazzi shot and even girlfriend is associated with the vision of the 'product' and if you are someone who uses social media, it's hard to escape the images Ye wants you to see.
The final punch of his marketing strategy comes from the illusion of accessibility. Ye has a lot of experience in this field, let's not forget the listening events he held for the Donda album, when he sold tickets to people so that they could listen to unfinished songs with Ye himself. The illusion here is to feel as if you can be part of his creative process, experience it in real time and get an exclusive peak at what's happening behind doors.
Ye tries to create the same sense of personal dialogue around the Yeezy Gap Engineered by Balenciaga collection. Covering the Gap Chicago store in a handwritten message to celebrate the partnership, tweeting design inspirations, wearing a mask during public appearances, experimenting with styling on Julia Fox, releasing a documentary about his life on Netflix days before the collection… you feel part of the journey. But that journey starts tumbling down once you realise that the designs you rooted for, are actually not easy to get a hold of. Instead you are hit with waitlists, pre-order options, geographical limitations to sales, small releases of some products and unknown dates for others. Therefore, no matter how much Ye expresses to broaden the accessibility of well-made products and the democratisation of fashion… for now his formula seems to end on a familiar note: if you want to make popular clothes that people want, you need to make sure not everybody gets them.