Dear Shaded Viewers,

The Bluemarble fall winter 22-23 show took place in a colorful hangar on the opening day of the Paris men's fashion week. 

A soaring music set the atmosphere from the beginning on which the models would parade, a winter journey across borders. The projectors turn on, the music becomes electronic, the first silhouettes arrive. Men, fresh complexion, wear clothes born from the "dream to connect cultures, to celebrate and share them" says Anthony Alvarez, the designer. Floral undershirts, Aztec technical parkas, sunglasses with orange and red lenses … True to the DNA of Bluemarble, we find tropical shades, and obviously the blue of the sea and lavender.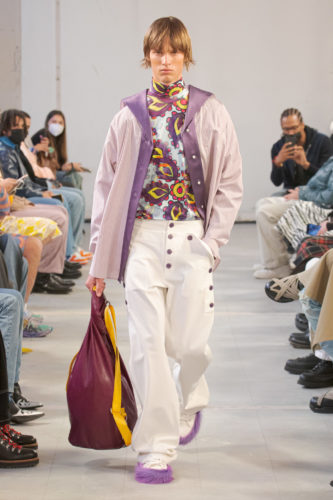 In the designer's imagination, he crosses the Pacific Ocean on a vinta boat. Parade then spencer, bombers with narrow cut, both with collars or adjustable pockets, extra-large pants, shirts structured by several panels.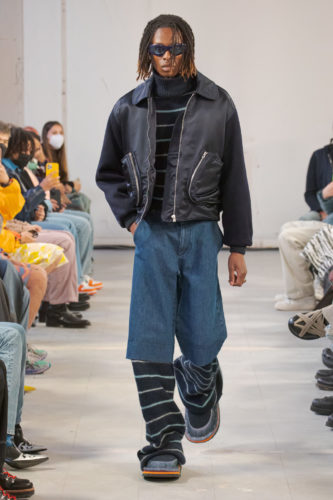 And a bit of glitter to be seen off, embedded in jeans, embroidered on a vest or sewn onto a coat collar. But the piece of the collection, is the pair of sneakers with its multicolored foam sole.
"The clothes assert the flamboyance of youth through sportswear shapes and embellished details. They are casual hybrids developed with artisanal techniques. They channel the New York vibe, honor Parisian craftsmanship and exude Filipino warmth" says Anthony Alvarez. Accessories are just as playful and original as the aforementioned palette of silhouettes, like the hats with long knitted scarves that could wrap more than one neck, which are made in France. As well as the functional bags by their size, made from materials of end of series.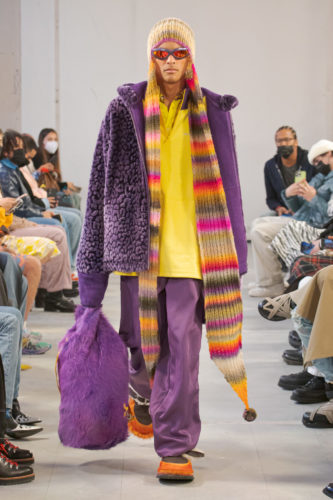 The models set off on an adventure, dazzling us with their flamboyant colors and taking us with them for the duration of a fashion show towards a winter that will be light and sparkling.

Shop : 6 Rue des Arquebusiers, 75003 Paris
www.bluemarbleparis.com