Dear Shaded Viewers,
January 14th starting at 18h30 ORLAN will take part in Artists at Risk curated by Ivor Stodolsky and Marita Muukkonen.
210 rue Saint Denis, 75002, Paris
NEWS FLASH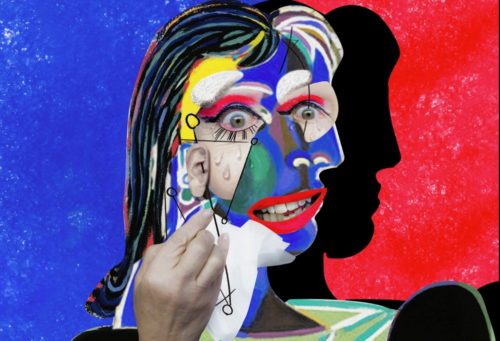 ORLAN represents France at the Pavilion of the European Union "The Spirit of Europe", 9th Biennial of Art of Beijing China, 2022
January 18th – March 1, 2022
ORLAN represents France in the EU pavilion at the 9th Beijing Biennale with her new series of hybrid photographs created to showcase women in the shadows: the inspirers, the models, the muses. They have played an important role in the fame of our great masters. Les femmes qui pleurent sont en colère is composed of fragments of ORLAN's face mixed with Picasso's paintings of Dora Maar in tears and is a destruction-reconstruction creating the female figure that kaleidoscopes the world in which she mingles in a posture of emancipation. From crying to anger, from object-subject she becomes subject-actor.
In November ORLAN was awarded the Medal of Honor by the Minister of Culture, Roselyne Bachelot-Narquin.
Later,
Diane