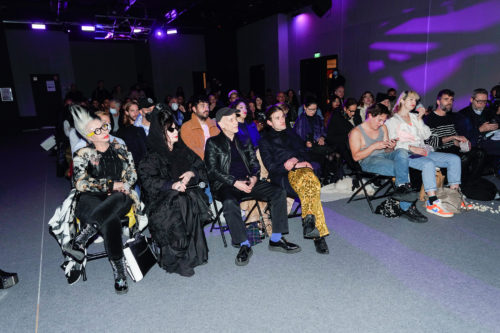 Dear Shaded Viewers,

After two years of online only, ASVOFF 13 was back IRL at 35/37. 35/37 is the latest venture from Comme des Garçons' founder and creative director Rei Kawakubo and company president Adrian Joffe. Founded in 2021 and installed at the Hôtel de Coulanges on the rue des Francs-Bourgeois in the Marais, the space is dedicated to creation, community exchanges and cultural conversations, serving as a venue for fashion, art, dance, music and film events among other attractions. As the hub for the Paris-based brand management arm of the Dover Street Market fashion concept store, 35/37 curates intriguing collaborations and experiences across the creative industries and from  December 1-3 presented ASVOFF 13.
The 3-Day celebration of the best emerging voices in the Luxury and film industries included 34 films in the official competition from France, UK, Italy, Mexico, India, Australia, Canada, Singapore, China, Brazil, Ghana, Pays Bas, Argentina and beyond. Antonio Contreras's homage to the first fluid gender model Tanel Bedrossiantz had its Paris Premiere as did  ASVOFF 13th President, Bruce LaBruce's 'Saint Narcisse'.  In addition there were 16 Student films, 5 Documentaries, Decentralization at ASVOFF included   4 external curations.
Fashion Moves: curated by Alex Murray Leslie. The theme is an exploration with filmmakers, artists, and scientists on how fashion moves societal challenges. What are the possibilities of where critical fashionable bodies can take us, new imaginaries, better worlds? Within Fashion Moves there are 3 curated sections: 1- films that reconsider production, consumption, and waste in our current complex moment. Speculative representations of better worlds for the fashion industry to imagine and work towards. 2- films that present a lively moving fashion body that encounters a world of many worlds from microbial entanglements to more than human spirit animals to biohacking. 3. DIY Feminist & non-binary self-expressive fashion films mad through spontaneous socially mediated ways of pop music, styling, and choreography such as Tiktok, etc.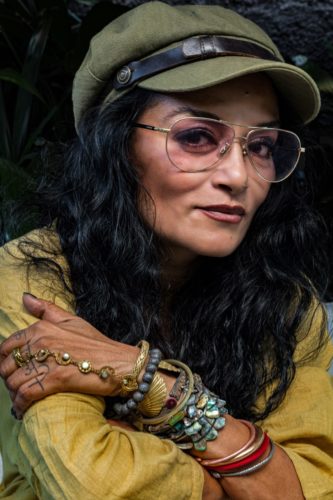 Conscious Fashion: curated by Sustainability Activist Bandana Tewari. What does change look like? And where can we expect change to inspire us? While education on sustainability may have yet to yield tangible and long lasting results, the importance of visual narratives cannot be underestimated when it comes to uniting publics around the values that need to eclipse the waste and excess and exploitation of leadership solely concerned with profitability. People's engagement and motivation to understand and protect the world around them has made industries like fashion, for instance, come under extreme scrutiny, and this program explores the "green wave" of filmmaking that is playing a role in shifting how we perceive these industries.
 Digital Fashion: curated by Co-founder of The Fabricant, Amber Jae Slooten. The past years digital fashion has been rising from a mere blip to an entire industry set to change the preconceived notions of fashion forever. In the digital age, how is it possible fashion is still so physical and hardly explores itself beyond the physical realm? What does it look like in the metaverse, how can we dress our digital bodies and how will this take shape in the near future. Fashion does not need to be physical to exist and this category we ask to go beyond the obvious into the endless possibilities that the digital world brings.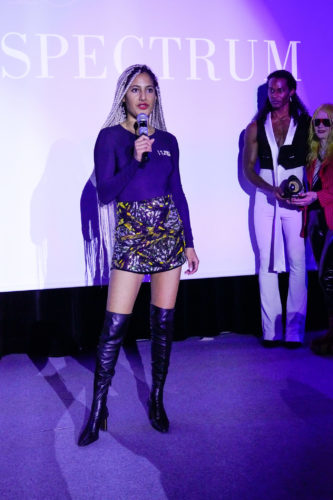 Black Spectrum:  curated by Melissa Alibo. The representation of Black people in cinema is often perceived as ambivalent, altered, and shaped by common prejudices. How does it translate into the construction of the Black identity? A program sublimating the creative vision, narrative and perspective of Black filmmakers. Marketing consultant and PR, Melissa Alibo, curated a program unveiling the narrative of Black artists from different backgrounds, cultures, and horizons.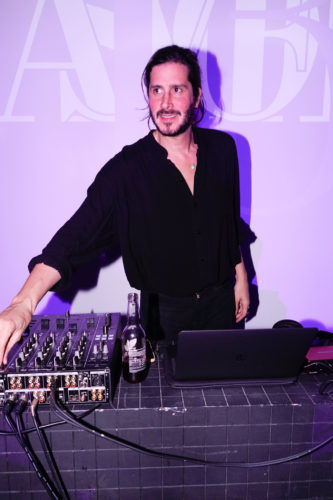 Nearly 100 films were screened for this edition and were punctuated by conversations: Antonio Contreras discussed the making of his homage to the model Tanel Bedrossiantz, Exuberance.  Creating Your World For The Metaverse was a panel discussion with the Fabricant, Amber Jae Slooten, Dr. Alex Murray Leslie, Melissa Logan and was moderated by David Herman.
Pam Hogg and the grand jury President,  Bruce La Bruce provided a lively duo as Master of Ceremonies. The complete jury and awards are listed on www.ashadedviewonfashionfilm.com click ASVOFF 13.
RUNNER UP STUDENT PRIZE – ADAGE BY MATHILDE DELLI
BEST STUDENT PRIZE – CHILDREN OF THE SOILBY SABRINA ELMAN
BEST STYLING – BURN IN HEAVEN BY OMAR PERINEAU
BEST PERFORMANCE – C P Company Next Landscape BY LUKE ALEXANDER, REX MCWHIRTER
BEST ADVERTISING – BIRD OF PARADISE FOR KOCHE BY SUZIE & LEO
BEST ART DIRECTION – THE HAIRY NOTION OF A GREEN AFTERNOON BY SUSANNE DEEKEN
BEST EDITING – PARTS OF ME BY AKINOLA DAVIES JR
BEST CINEMATOGRAPHY – MISTRESS OF THE INNER WORLD BY LILLI MOORS
THOMAS GERARD – BEST SOUND DESIGN – LA MALLE – DIRECTED BY THOMAS GERARD – MUSIC LOUIS GINS
BEST BEAUTY – BIOMIMICRY FOR IRIS VAN HERPEN BY RYAN MC DANIELS
BEST DOCUMENTARY – VALENTINO DES ATELIERS Stories of Tailors and Painters DIRECTED BY MAURIZIO CILLI
BEST DIRECTOR-  IF THE PLAN DOESN'T WORK YOU'RE INSANE, IF THE PLAN WORKS YOU'RE A GENIUS
FASHION MOVES – DANCE PARTY BY MELISSA E. LOGAN AND NIKOLAS MULLER
DIGITAL FASHION X THE FABRICANT – KHOMANTA BY FIORELLA POMARINO
CONSCIOUS FASHION – COTTON FOR MY SHROUD BY NANDAN SAXENA AND KAVITA BAHL
BLACK SPECTRUM – DIMENSION BY EBENEZA BLANCHE
GRAND PRIZE – WHAT DO YOU WANT TO DO BEFORE YOU DIE ? BY KIDSUPER COLM DILLANE
This year's trophies were handcrafted by Robert Mercier, leather sculptor and artist.
December 10-12 ASVOFF 13 was presented at Casa del Cinema in Rome. The three day event included a talk with Amber Jae Slooten and Clara Tosi Pamphili on Digital Fashion and the Metaverse. Gianluigi Ricuperati and director Maurizio Cilli discussed the documentary "Valentino Des Ateliers: Vite Di Sarti E Di Pittori" moderated by Alessio de 'Navasques.
You can re-visit ASVOFF 13 Industry Tea Talks on the A Shaded View on Fashion Film Channel on FNL Network. https://linktr.ee/fnlnetwork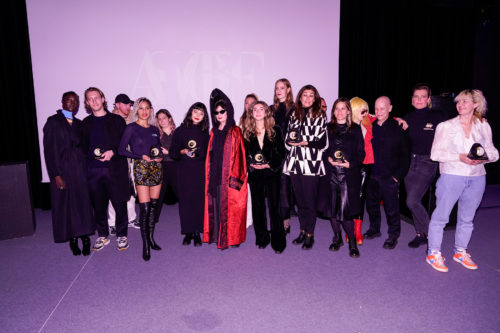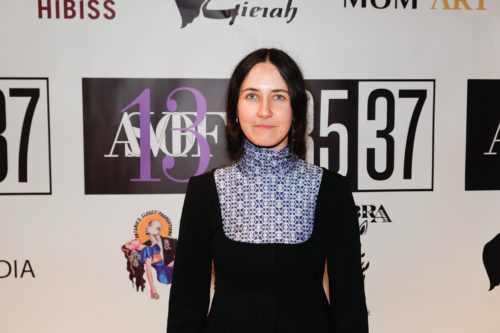 Clara Daguin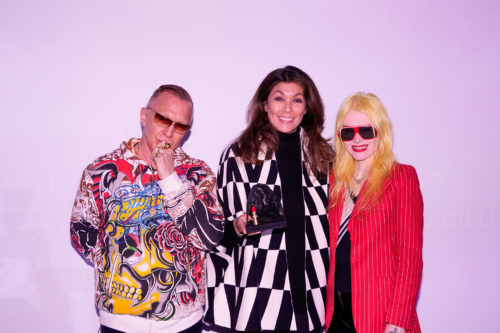 Best Documentary -Bruce LaBruce Olivia Berghauer for Valentino and Pam Hogg ©Christian Tarro Toma
Camille Mervin-Leroy, Sabrina Elman and Raphael Lecomte ©Christian Tarro Toma
ASVOFF 14 will return to its new home 35/37 next edition. A huge THANK YOU to Adrian Joffe and his Dream Team.
Dec 10-12 ASVOFF took place at Casa del Cinema in Rome.