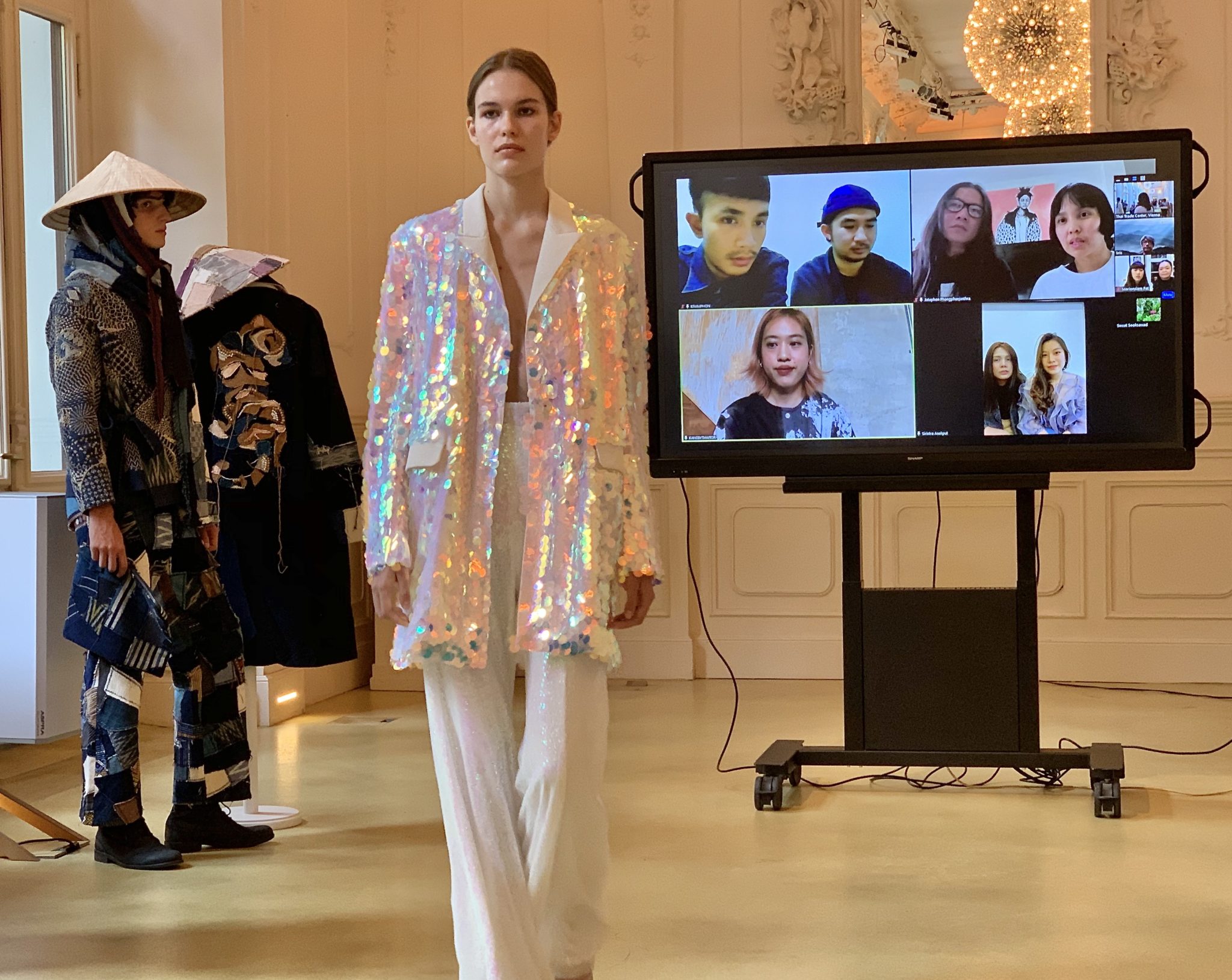 Dear Shaded Viewers,
We've been hearing a lot about events and experiences "looking a little different right now" for the past 18 months, and the latest edition of Thai Fashion at MQ Vienna Fashion Week was one of them. Due to the lockdown in Thailand caused by the Delta Variant, the designers were not able to travel to Vienna—but lucky for us, the clothes did!
Before you say, "Oh no, not another Zoom meeting!", consider that this one was conducted on a large screen in the gorgeous Vienna Ballhaus and accompanied by an informal and in-person catwalk show, champagne and a delicious Thai breakfast for members of the press and other invited guests.
Waiting to join the designers in Bangkok via Zoom. The day after the press breakfast, a runway show was held at the MQVFW tent, followed by a Thai feast.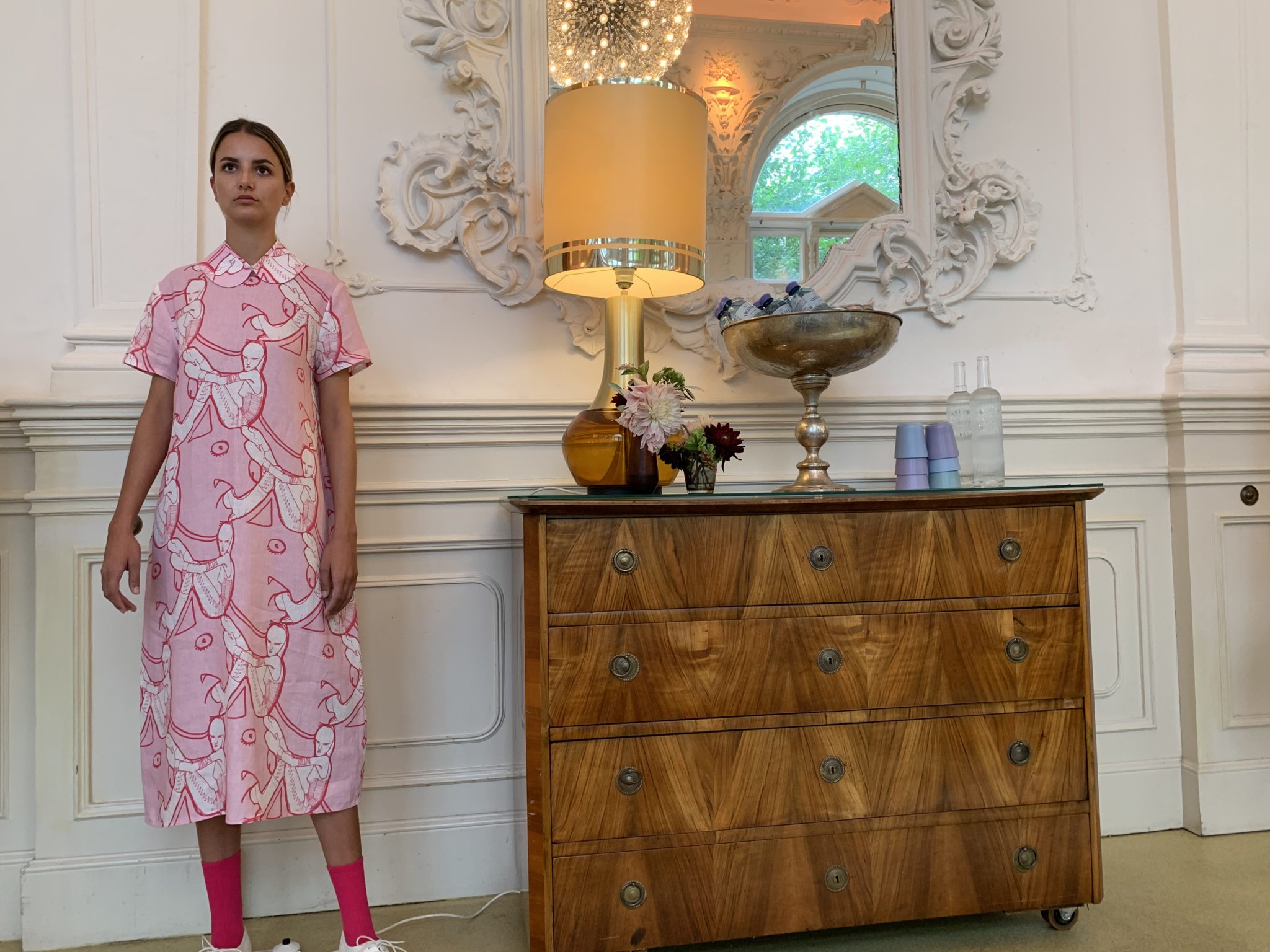 SIMONSSISTER
Designed by Melada Charonying and Chatuphon Phongphunchuntra presented their Spring/Summer 2022 "Popcasso" collection for their brand SIMONSSISTER (named after their dog Simon). Some of the clothes featured prints that looked like a mad meld of artworks by Roy Lichtenstein and Pablo Picasso, with a little bit of melting Dalí thrown in for good measure.

SIMONSSISTER

A look from KRAMPHON, narrated by our delightful host, Onanood Phadoongvithee, Director of the Office of Commercial Affairs, Royal Thai Embassy.
KRAMPHON
Designers Wucharaphon Kampromma and Rattapol Thongdee upcycle discarded fabric off-cuts combined with hand-woven cotton materials from local craft makers in Bangkok to create their patch-worked menswear. The designs are inspired by urban legends from the northeastern parts of Thailand, concerning "sacred animals who protect humans from bad luck and evil spirits from eight directions using embroidery techniques." (I love an animal who knows how to embroider.)

Sirintra Anekput
Designer Sirintra Anekput learned her craft at Kasetsart University in Bangkok and Istituto Marangoni in Milan. The collection she showed in Vienna was inspired by the treasures of the sea: waves, reefs, coral, seaweed and, in her standout coat of paillettes, the gauzy, glittery movements of jellyfish in the sunlight.
Kanz by Thaitor
Designer Kansiri Pittayaprechakul was inspired by a large pile of rags in her studio which were destined for a landfill. Instead, she upcycled the pieces to create this collection of arty, elegant clothes. She employs batik-dyeing techniques, working with local craftspeople in Thailand's Rongsor Village, who earn a living wage producing these handmade designs.
Marionsiam
For her brand Marionsiam, designer Tayida Ounburanawan strives to minimize waste by creating clothes made from dead stock materials. She employs the traditional technique of batik dyeing that is generally used for clothes worn by members of high society during formal occasions in Thailand. "My idea is to bring the charm of batik to everyone, for everyday wear," says Ounburanawan.
Doi Tung
The Doi Tung brand is a social enterprise by the Mae Fah Luang Foundation under Royal Patronage, which was set up 30 years ago by HRH Princess Srinagarindra, the Princess Mother, to carry out economic and social development work for hill tribe communities using the Sustainable Alternative Livelihood Development (SALD) approach.
"This collection is inspired by one of Thailand's most significant fabrics, Kaoma," state the designers of the collective. "Kaoma is a multipurpose textile that has been a huge part of Thai's way of life for centuries. The graphics on our handwoven fabrics are derived from Kaoma's original aesthetics, which are bold, and colourful checkered images. We have decided to use PET recycled yarns as the protagonist throughout the collection as it embodies sustainability concept in modern day fashion, whilst fitting into the philosophy of Circular Economy."
Before the runway show began, a troupe of dancers gyrated slowly on the catwalk in Doi Tung's clothes. They resembled living sculptures at a tai chi class.
MQVFW organizer Zigi Mueller-Matyas models one of Doi Tung's hood-scarves at the press breakfast.
After the official runway show, we were treated to an outstanding feast of Thai food—a yearly MQVW tradition!
Thanks for reading.
Love,
Glenn Belverio