If there is any name worth remembering from New York Fashion Week, it's without hesitation: Rodarte.
Rodarte was founded in 2005, by Laura and Kate Mulleavy in California. The two sisters, descendants of Latin immigrants in the United States, named their label after their mother's maidens name. Establishing a certain sense of romanticism, both extremely intimate and uniquely American, at the very core of their label. The Mulleavy sisters, now a cult duo in the American fashion scene; made a name inside New York fashion thanks to their unique approach to dress making, the -mostly made by hand and without any pattern- garments naturally stood out in the crowd, within a Fashion Week mostly dedicated to office wear and conservative city wardrobe, Rodarte was making draped and destroyed mini dresses inspired by horror movies and geek culture.
The Rodarte we talk about today is not the same one from 2005. The brand has remained alive in their ongoing quest for the place of their message within fashion speech. The Rodarte spring summer 2022 collection is an entirely new alphabet, full of new ideas and interpretations of the brand's universe. First of all, this is probably the collection where easily constructed pieces really dominated the line up, impregnating the collection with a big sense of minimalism; new for the Californian sisters! In the end, even this hyper minimal nude look felt romantic and dramatic, which is the bones and flesh of the Rodarte message.
A few major highlights are the asymmetrical pants, the embroidered alien cape, and capes in general as the main silhouette of the collection -what should we think? Is this a seasonal theme or a search of a new brand code?-.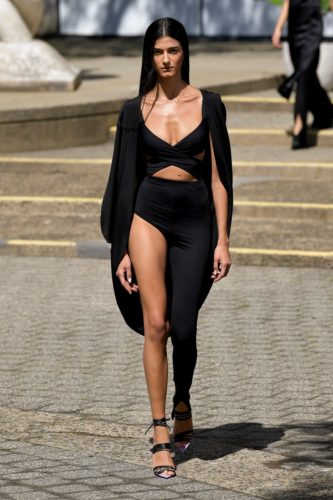 The skinny, asymmetrical pants, exposes one of the legs, it could seem so obvious as a design gimmick, yet the execution of the idea is achieved with such expertise and sophistication that it makes the piece absolutely desirable, both in the plain version the embroiderd one.
The alien embroidered cape is viral on social media. I personally liked the fact that the embroidery is made out of sequins, it gives a certain sense of naive, sensitive nostalgia; another Rodarte classic.