Dear Shaded Viewers,
Gucci unveils its latest campaign for the much anticipated Aria collection, featuring Europe's rising rock and roll band Måneskin and supermodel Kristen McMenamy in an erotic and seductive short film set at the Savoy Hotel.
Going back to the roots of Gucci, the short film created by Mert and Marcus, pays tribute to the Italian luxury house's founding father Guccio Gucci who worked as a lift boy at the historic hotel, operating elevators for the bourgeois guests.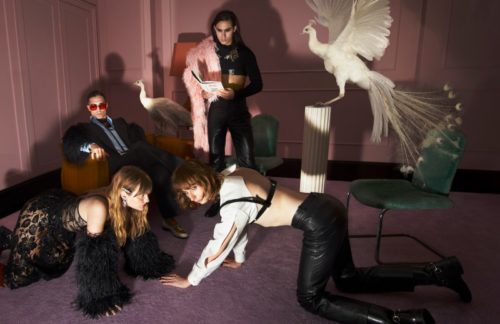 Under the vision of creative director Alessandro Michele, a seductive and mysterious story unfolds at the Savoy, as each room is layered with new pleasures and desires guests can explore. The hotel's residents include none other than Eurovision's winning group Måneskin, the gender-bending rock and roll band who has won the heart of Italy with their camp looks and rebellious music.
"It's the birth of Eros, ancient and primigenial force, that drives the desire through the attempt to mend a separation. The myth, in fact, identifies in the relationship with the Other the vital impulse that obliges each of us to restore a lost unity." Michele expressed in the campaign notes.
The models hold Sigmund Freud's essays on "Three Contributions to the Theory of Sex" in their hands, illustrating the power of Eros, as clothes are perceived as an extension of the body in Michele's world, like a second skin… exploring its surroundings and tying "mind and body in an erotic weaving that connects us to the flesh of the world".
Campaign credits
Creative director: Alessandro Michele
Art director: Christopher Simmonds
Photographers and directors: Mert and Marcus
Make-up: Diane Kendal
Hair: Paul Hanlon
Video music credits
"I WANT YOU"
(Leon Ware, Arthur Ross)
© 1974 Almo Music Corp./ Jobete Music Co., Inc.
Licensed by Universal Music Publishing Ricordi Srl.
Artist: Madonna, Massive Attack
℗ 1995 Universal Music Italia Srl