This is a delicate one! No other fashion shoe challenges opinion, the way that the Converse x PLAY Comme des Garçons does, maybe that's why they are introducing more exciting and different colorways, to soften the field after a couple of years of massive exposure, memes, haters, and yet an unprecedented fandom. In any case, last week the two powerful brands launched a new chapter in the iconic collaboration;  the Converse x PLAY Comme des Garçons Chuck 70 in two new colorways: Blue Quartz and Steel Gray.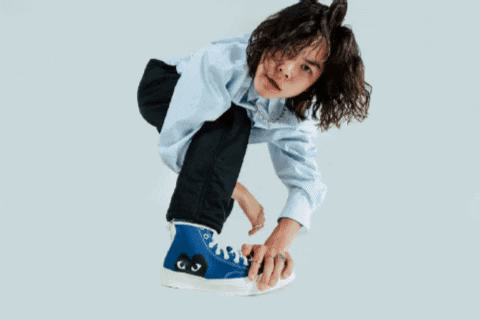 This is what you should be thinking about the Converse x PLAY Comme des Garçons shoe: It's basic to think this shoe is basic. Maybe it makes you feel all iconoclastic to make or like memes against the shoe, and maybe it makes your little nerd incapability to date the cute girls from school itch when you see the cool guy everybody likes wearing the heritage heart. But instead of letting this type of resentment paralyse you and turn you into a bitter, angry boy, attacking all the wrong fashion houses, (because honestly, Comme des Garçons is rather the one we nerd boys should be supporting) take a deep breath and let's celebrate the meaning of this footwear essential: The history of a woman and her team* who managed to create their own codes, her own codes, the individual versus fashion, the one versus the mass, and yet such codes have become an institution, a symbol of hope that reminds us that passion and hard work can make you or me, the individual; shine and help our culture move forward.
*For the ones who don't know the history: the Japanese fashion designer Rei Kawakubo arrived in Paris to show her prêt-à-porter collection in 1981. Kawakubo's style, defined by Europeans as minimalistic, (I don't like the word minimalism and I don't think it is pertinent to define the early Comme des Garçons collections) where black was a predominant color as well as silhouettes that liberated women from sexualization. Anti-fashion, people like to call it. PLAY Comme des Garçons is one of the many lines that orbit around the main brand, it was founded in 2003 as a diffusion line. The motif of the heart, the most recognisable code of the line was created by New York artist Filip Pagowski, who was commissioned by Rei Kawakubo to create "a symbol that would represent punk for girls" (Honestly, queen!). The first Converse x PLAY Comme des Garçons would then appear in 2009.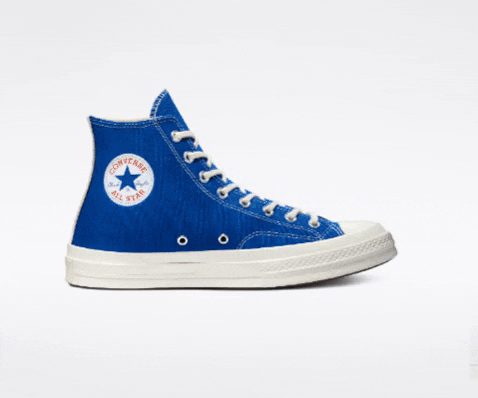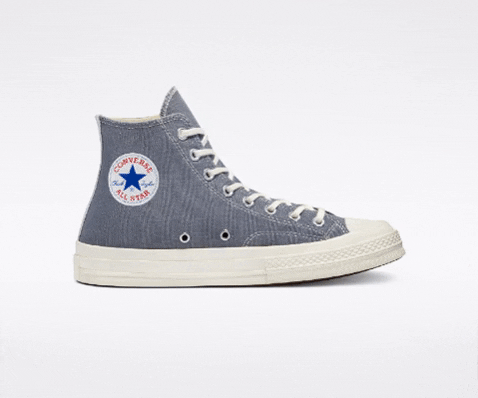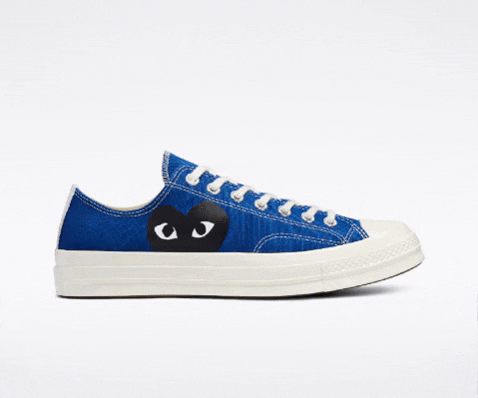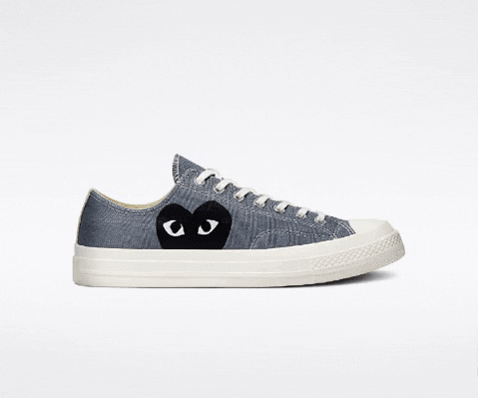 The new colour ways are dope, the blue is fresh and the silver one is really chic, really beautiful, there's a certain air of nostalgia to it. It makes you think of the early days of Rei Kawakubo and Comme des Garçons in Paris when the capital of fashion shaken by an earthquake of "minimalist" neutrals.
The sneakers are available at Comme des Garçons and Dover Street Market stores globally (excluding Japan), as well as select retailers and also online at doverstreetmarket.com and converse.com. The pair retails for 140€.
Sean Lew film and photo credits:
Directed/Performed by: Sean Lew (@seanlew)
DP/Edited by: LikeRomeo (@likeromeo)
Gaffer: John Kim (@hellojohnkim)
Music By: Randy Tchik (@randytchik)
Still Photographer: Chad Brady (@cbradyphotography)
Stylist On-site Supervisor: Andrew Pedro (@andrewpedrostyles)