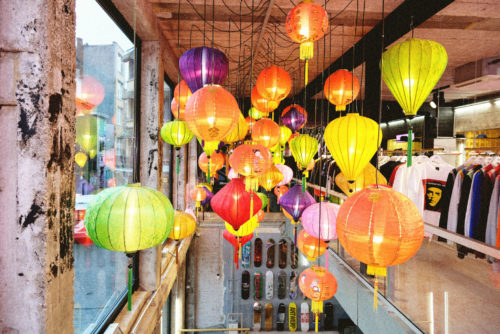 Dear Diane and dear Shaded Viewers,
Happy to let you know that earlier this month that fashion store VIER moved from their old location in the Kammenstraat to a new wide and open two-floor space at Theodoor Van Rijwijckplaats in Antwerp.
Founded by Bob Follens and Giancarlo Angeletti back in 2010, the store made a mark with its unique selection, offering the best of both worlds from up-and-coming streetwear brands to high end designerwear. With brands ranging from Rassvet, Casablanca, Dries Van Noten and Walter Van Beirendonck, but also their own collection of t-shirts and sweatshirts. In 2016, Raf Simons named them his favourite skate-shop, when he said his VIER sweatshirt is the only thing he always travels with.
Why relocate?
If something good came out of this awful year, it was the opportunity to move to our new location. We felt we couldn't miss out on this one. We're confident better times are coming, and when this crisis is over, we expect things to explode and we are sure we will benefit from the fact that we took a risk when times were bad. The first day since our move already show that this will probably be one of the best choices we made since we started VIER.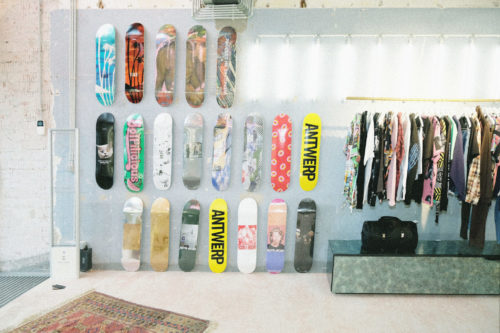 How much bigger is the new space compared to the previous location?
Approximately 5 times bigger: it allows us to show our products in a more open way and give them the space they deserve. For our customers as well it offers more space and tranquility.
Any new brands you'll present in the store?
We won't make any drastic changes in our brand mix: it will be a continuation of what we have been doing for many years, which is bringing a mix of skate- and street brands with high-end designers. It can Always be that we take in or leave out a brand, but basically we will try to do more with the brands we are already working with. As the space is bigger, we are thinking as well of working together with other brands in a pop-up or permanent way. As is already the case for the furniture where we are collaborating with Goldwood, for our vintage pieces with Vintage 17 and in the next few weeks we will do something with a new motorcycle brand. We also added a small selection of natural wines, which is a thing that will be permanent. But we could do anything really, it just has to be something we like or are passionate about.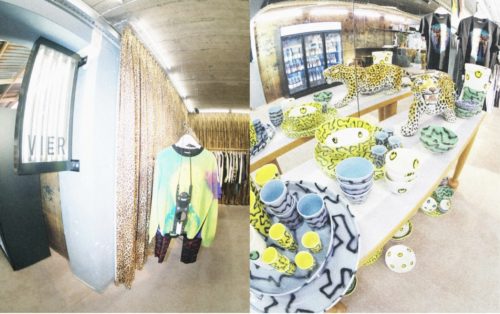 Who did the interioir of the store?
Actually this was all done by ourselves. We wanted to create a space that still felt VIER, but at the same time would have a more luxurious touch. We wanted to create this space that felt that once it was a fancy place, but got trashed over the past years. So we kept elements from the space as they were without touching them, and for some areas to do the exact opposite. We wanted to bring many influences from around the world without sticking to one style in particular: it basically is a space filled with stuff that we like. From the colours, materials, wallpapers, lighting, furniture, mannequins, etc…; everything is based on a certain vibe that I can't even describe, but we believe it's a good representation of what VIER stands for.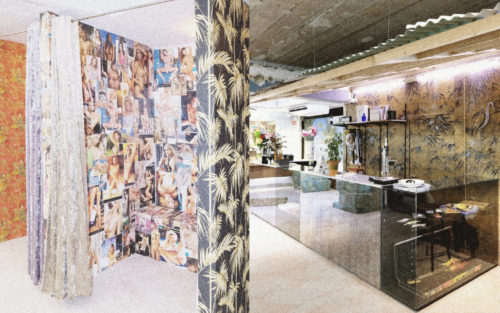 You did many collabs before, what's your favourite one and why?
This would be the collab with ACC (Antwerp Casual Crew), Belgium's most notorious hooligan firm, our spin on the releases for the FIFA World Cup. This was a thing that was kind of unexpected and provocative at the same time. We were a bit scraed of the reactions, but all in all these were mainly really positive.
VIER Antwerp is now located in Theodoor Van Rijwijckplaats 4, 2000 Antwerp, check them out on www.vierantwerp.com