Dear Shaded Viewers,
Polimoda, Italy's most beloved fashion school, celebrated the graduation of their fashion design students with a fashion movie entitled Human Poetics at Milano Fashion Week. After an atypical year, Polimoda taps into film for the first time, telling the story of the next generation of designers through a visual story, spotlighting their collections around 20 cultural spots in Florence… hoping for a new Renaissance to emerge once again from the city. The result is a fusion of fashion, art and architecture… a celebration of individual creativity that draws inspirations from the past, in order to lead the future.
Polimoda's new Director Massimiliano Giornetti explains, Human Poetics "is about images that blend and overlap, expressing the fears, aspirations, emotions and visions of a brilliant generation of young designers grappling with the aesthetics of a new decade at a fast pace. It is a dialogue between heritage, present, future, technology and craftsmanship, binding it all together in un unprecedented metissage and giving life to a unique project that is human-centric and innovative."
Leaving behind a devastating year brought by the pandemic, the short films share an honest and intimate portrayal of the students' personal visions. The psychological and sociological complexities of their experiences are reflected on their collections… a reaction against the disruption.
Designers such as Ginevra Allegri and Benedetta Mandoli express their concerns on the consequences of information technologies on the upcoming generations by exploring the increasing dependence on smartphones and the overtake of algorithms. Other designers convey their messages with psychological undertones; emphasising the importance of accepting imperfections and understanding anxiety and distress… drawing inspirations from their memories, like Lucia Garofalo whose collection started with a panic attack she had at her grandmother's house.
For some designers, fashion becomes a political tool… an exploration of political identities as seen by Robert Fioschi who delves into the depths of his inner conflicts as an Italian and Karel Martinez who creates powerful silhouettes through analysing Latin immigrant rebels. While other designers find their comfort in approaching fashion as a unifying force… a creation of a tribe, a retire to family, a collective return to nature.
To find more information about Human Poetics, visit: https://www.polimoda.com/human-poetics-fashion-movie
Ginevra Allegri: Happy In Jail
"Happy in Jail denounces my generation's addiction to smartphones through textual prints on garments that inform you about the side effects of their overuse. Big, comfortable and genderless clothes with a childish aesthetic: the topic involves everyone, but especially children, as their brains are more affected than adults."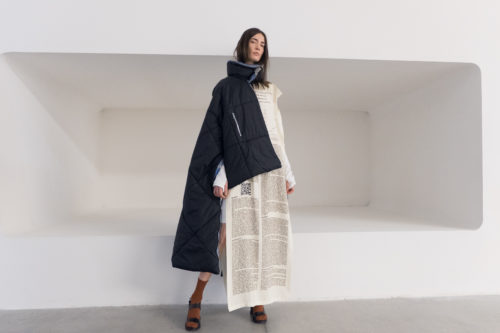 Alice Baggio: Di Nuovo Adolescente
"The inspiration for this collection started from adolescence and was expressed ironically and sarcastically. I revealed the embarrassing aesthetic sides 0f this age to create new "uniforms". These new uniforms express my vision of this generation. I compare the teenager to a puppet, a person gesturing unnaturally and using the school world as inspiration for prints and details."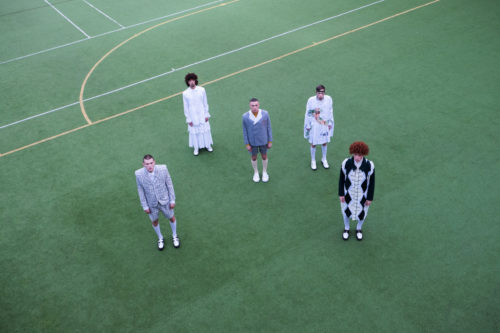 Ilaria Bellomo: Endless Stories
"I always thought a fabric could have a soul, an intrinsic story where each garment is as unique and unrepeatable as we are. I decided to look for unique black vintage garments, giving them a new life by transforming them into precious and elaborate textiles. Between each layer of fabric, each woven yarn is hidden within infinite stories that we cannot only imagine but feel on our skin."
Nicolas Bollinger: Free Flowing Creativity
"My biggest desire was to express myself without restrictions. I found inspiration from the Rorschach inkblot test. I wanted to create an interactive collection; when you look at it, you do not see something clear or that you recognise immediately, you have to look at it closer and go someplace far away with your imagination. It is a vision that is not the same for every observer."
Zhanna Diakonenko: Drjoma
"Drjoma means slumber or drowsiness in Russian. This is a story about how great it is to be at home, a story for those who like to sleep and roll themselves up in a blanket. It is about me and those who love peace and quiet in their lives. My project is a window into the intimate details of our home life."
Yi Ding: The Emotions Under the Persona
"A lot of people like to hide their real emotions but are driven by curiosity. They have a little bit of interest in being a peeper, hiding behind windows and watching the lives of others. For this collection, I expressed abstract emotions with different techniques. My design explores parts of a mental phenomenon in society, encouraging people to accept the faults they find in themselves."
Robert Fioschi: Hardcore Alcore Alcuore
"What worries me is not Berlusconi himself but the Berlusconi in me. My father told me this growing up. Silvio was the embodiment of our conflicts; right or wrong, reality or fiction and the eternal indecision of choosing the easiest road from the complicated one. If this is Italy, this is me. I reveal my reflections, but I prefer not to judge. I let others do so by observing my work."
Lucia Garofalo: Only in Your Mind
"The starting point of my collection was a panic attack I had at my grandmother's house in Naples.The collection's fabrics and materials are linked to the upholstery and details in an old southern Italian house. I would like to convey a sense of anguish and anxiety. It is a constant movement becoming harmonious, with a glance at the past and a step into the future."
Emma Gini: Emozioni Distorte
"My collection is about repressed feelings and the accumulation of objects. Having objects around us is a way to be reassured and protected by repressing feelings. I am one of those people. I wanted to give objects a new meaning and purpose, creating accessories or making them part of the garment itself. It is unique, beautiful in its context and a way to express yourself."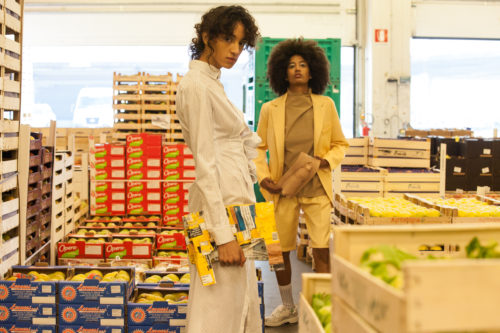 Carmen Luengo: …Me Dirijo A Ustedes Con El Corazon Roto
"Nature is represented in the collection by the old traditional costumes original from Asturias, which were used by the peasants in the small mountain villages, rich in materials, embroidered with precious stones from the region and meticulously worked by hand. The figure of an alpinist also appears, the modern man who returns to the mountains to reconcile himself with Nature."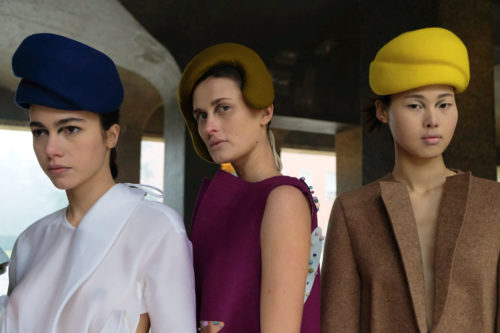 Benedetta Mandoli: ERROR: System Has Failed
"We find ourselves naked in front of the giants of artificial intelligence (AI) without a shield to hide from all of the algorithms capable of processing data and information. We must camouflage ourselves in the city background to escape, keeping our identity, privacy and weaknesses hidden.With these garments, you can hide your real identity from AI while expressing your soul."
Karel Martinez: Latinlover
"The concept comes from the quote "the survival of the fittest." I've developed this feeling into a shape that shows protection and power as well as pride and oppression. I focused on Los Cholos; Latin immigrant rebels who were not accepted for their background, roots and skin color. The language of tattoos, attitudes and a dress code represents the macho figure of Latinoamerica."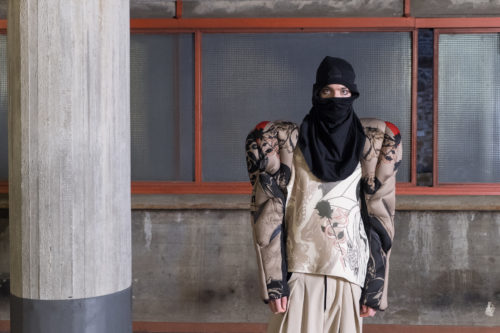 Thomas McGovern: 99RTS68
"The collection starts from my growing up between England and Italy. When I moved to Italy as a child, I missed connecting with nature and open spaces. Having lived in London when I was young, I had an idealized image of the city in the 90s. During the famous RTS years, outdoor spaces were places of leisure and protest where people from all lifestyles gathered for the first environmental street riots."
Francesca Monaci: Wearing Attitudes
"The collection is about being disarmed, starting with each of us and developing empathy to combat selfishness. I have reworked a classic men's tailoring suit, giving it the attitude that a person who wears it must have. I created this by modifying the tailoring patterns, unarming, opening and using reverence positions. Clothes must convey the fundamental attitude of a person of value."
Diane Oscos: Rizoma
""Reconnecting our mind, soul and body to our true essence." Rizoma expresses a reflective and elegant model of the connection of nature within humans, as being both one and only. It's about going back to our origins and remembering the importance and meaning of our natural world."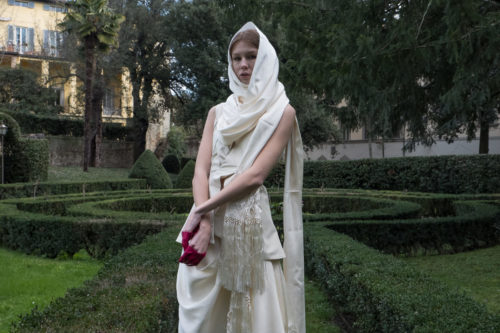 Gianluca Padula: My Beautiful Dark Twisted Fantasy
"A collection of nightmares, thoughts and real situations that I'm experiencing. It was raining, I could see young life dying on the grass. Numb youth with broken hearts wanted to die in the night time.Who's gonna save those youngsters? Trapped in their cars, all they have left are crumpled wet garments and the smell of exploded airbags on their skin."
Polina Popova: Painted Veil
"We tend to forget what matters most in life. What we believe to be life is a veil painted with illusions, hiding what is real and true, like a bride hidden behind layers of tulle. It takes courage, but when we're ready, we lift the veil and we kiss the bride as a promise that we will cherish her and that we won't ever leave her.It's a promise to live life remembering what matters."
Serena Schettino: Twelve Pairs of Linen Sheets
"Filtered glare through the laundry of an ordinary day. It is twilight, the scent of wet cotton spreads in the air. Yesterday's thoughts between the embroidery, today's thoughts among the corners of these contemporary shapes. The collection is the development of an idea. It is the journey of a past day that crosses old fabrics, memories and shapes to become a day of today."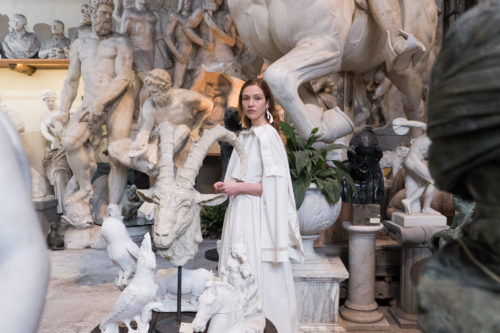 Francesca Zangrillo: TR(I)BE
"During a road trip with my best friends, I had a strong and authentic feeling of a tribe. The tribe that makes you feel part of an inexplicable connection. What are the connecting threads? Electronic music that, through its tribal beats, manages to melt together different bodies and souls. Humanity is a mutual tribe."
Yixuan Zhang: How Do I Know the Real You
"A collection on how people communicate with each other and obtain information within a slow life.It is different from modern life surrounded by electronics where people are used to spending more time and energy expressing emotions. While we prefer to communicate online, we never know if the information and emotions are real. Here comes the question: how do I know the real you?"