This is the brand you, me and all need to start talking about: it's name, his name is KIDSUPER.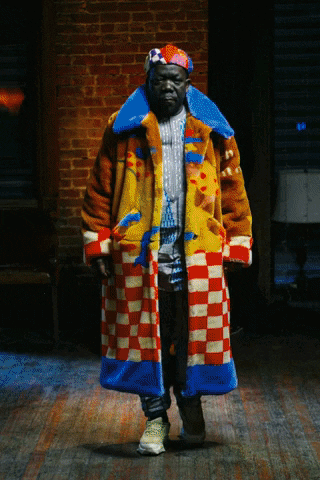 KIDSUPER was created as a sort of alter ego by Colm Dillan, a hero who wishes to convince you of using like him, your innate creativity, to inspire others maybe, or to do good, to do things really, really good.
As for me, I'm convinced today. It shouldn't be a surprise to have such a marvelous fashion film presentation coming from the winner of the 12th edition of A Shaded View OF Fashion Film, but KIDSUPER puts you right on the edge of your seat, you watch carefully as his film starts, you keep in mind not only his prize winning fashion film but also the  history of the genre, and that's the measure, that's the previous goal that has been reached before. Then, in a graceful move you watch KIDSUPER get-over-himself and  fashion film all together, in a 7 short story film featuring his AW21 collection worn by each character.
The collection is full of prints of very-notoriously-hand-made illustrations, a very rich color palette and extremely desirable pieces, ranging mostly from street-wear and impeccable yet exiting tailoring.
If Paris fashion week was the Olympics, KIDSUPER won a gold medal tonight.