The OUVERTURE OF SOMETHING THAT NEVER ENDED film, presented at the GucciFest platform instead of a classic fashion show within the Milan Fashion Week calendar became really complex conceptually as it advanced. This is my final analysis, in which I want to go in detail through the episodes 5, 6 and 7; paying attention and unraveling the meanings of the characters and scenes.
I originally decided to make a semiological analysis of the series because I wanted to share something other than a redundant recap of what we see on the screen. I also felt that in this particular case, my opinion, individually speaking was not so relevant in the context of the platform for which I write for. Neither is it relevant to say things like "this is in, or this is out" for A Shaded View On Fashion, I personally interpret Diane Penet's A Shaded View On Fashion as fashion seen with another set of eyes, as eyes who look for something new, more creative, more intelligent, a different perspective on fashion. Therefore, I thought it would be interesting, fun and useful to try to see through the film for Overtire OF Something That Never Ended. I wanted to put on some sort of philosopher-Xray-shades and see the bones and veins that compose the mini series. I have also noticed as a fashion designer myself that fashion practices remain considerably hermetic despite the pop nature of the industry. Maybe the reason fashion is so hermetic comes from the fact that the design of clothing is one of the most unprotected disciplines in terms of copyrights, so successful brands need to keep their own discoveries on "how to make fashion" secret. I personally believe that anything that wants to grow needs absolutely to open up intellectually and allow other participants to play and experiment with whatever concepts are already developed. (Nowadays the collaboration from big fashion players works the other way around, small designers fight the world experimenting with new ideas and aesthetics and big groups and designers just copy or jump in, once the idea has been established socially).
Now, I don't say that the meanings I describe in my series of articles about the Gucci presentation are malicious or manipulative. There is no kind of moral statement in my ideas, I don't even state that my ideas are absolutely right. I also don't say that some of these actions or meanings are even conscious, I also don't say they're not. You, the reader, can think of my analysis as a behavioralist's one. I am just articulating things that we act, that we make and receive and understand, but we don't know why.
MODESTY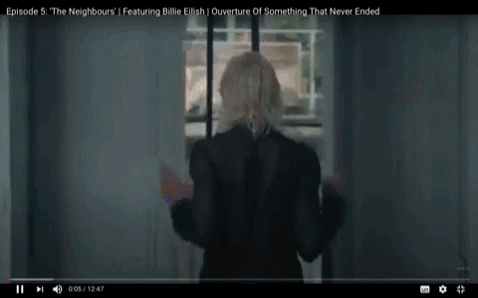 Episode 5 is my personal favourite. The Neighbours, In this Episode Silvia, the main character of the mini series is at her home, observing the neighbours in their daily life. I recently read an article by Tim Blanks exposing a conversation he had with Alessandro Michele  where he talks about the voyeuristic theme at the very birth of the idea for the film. If episode one is a voyeuristic view on Silvia's intimacy, in episode 5, Silvia becomes the voyeur.
I decided to start paying attention to all the information that surrounds the episodes that I am analyzing and I started collecting the Youtube descriptions of each episode, written of course by the brand. The following is the official caption for episode 5:
'We return to the apartment where the day began, but this time meet characters in the homes surrounding, gaining a voyeuristic view into their lives, fantasies and unguarded private moments – including a painter intently cleaning her fake eyelashes, played by artist Ariana Papademetropoulos. Someone in a bathtub watches television, as a music video starring Billie Eilish fills our screens, playing in its entirety. These vignettes captured through the frames of the windows ultimately combine into a reversal of perspective, as Silvia once more takes centre stage.'
If you watch the episode and then read the description written by Gucci, you can very easily abstract the most important elements inside this fashion film: The space, this so called house surroundings, "the artist" and Billie Eilish. I would like to add the band, even if it's not mentioned in the Youtube description, the band is an important character inside the film.
The neighbourhood is modest, because it's important to remember that even the most bourgeois has to take a bow of populism, to take a picture with the poor, to wear a little something that keeps them connected to its collaborator, to avoid revolution, the modest neighbourhood of episode 5 is that little antidote to an excess of luxe, an antidote to tell the hungry people to eat cake.
"the artist" is actually a figure of venus, born from foam, as the foam we see her washing her eyelashes in, she is the mother of inspiration, beauty. We need her to appear to show her good faith towards a Gucci collection, something bigger than human, an artist, a goddess, something bigger than fashion.
Billie Eilish is a celebrity, people know her and know what she represents, she's creative. You can think of her as the mundane form of the Venus I mentioned above. The band is a pictogram of authenticity, coming straight from Michele's world, an imaginary Joy Division…
I know I said I didn't want to involve my personal opinions into these articles, but I have to say on a very personal note that I absolutely love the robot dogs in Eilish's video clip. The dogs became viral some months ago on social media. They were fun, I think it was genius to include them into the Gucci film. It also gave excitement to the rhythm, the visual rhythm of the entire series. It added a texture of new to the very homogenous Gucci universe.
INITIATION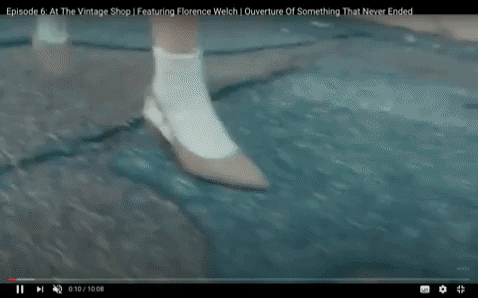 Episode 6 is both the most straightforward yet very cryptic of episodes. The episode is called "At The Vintage Shop", and as the tittle describes it. It is all about Silvia and her experience inside a Vintage Shop. The Youtube description read as follows:
'On the streets of Rome, Silvia discovers a vintage shop with a neon Gucci sign in the window. As she and a diverse cast of customers begin to try on clothes from the racks, an enigmatic woman walks into the store, played by singer and songwriter Florence Welch. The visitor writes out fragments of a poem on pieces of paper, and tucks them away inside the garments.'
The so called vintage shop is no such thing, again, just like in the post office or the café, we found ourselves inside a non metaphysical space. The vintage shop is almost something more like a church, a temple, an oracle. In that context, Florence Welch is a muse, she carries a message like angels in christianity. She is here to bless the Gucci collection. shown inside a delimited space to a delimited amount of people, within a figure that is relevant to the Gucci universe: a vintage shop, it's just a set, like a runway , but we can imagine very well Michelle's collection existing inside this fictional place. I have noticed, this season more than ever, the initiative nature of fashion collections. As if they have to be introduced of baptized socially in a sort of way before they can exist into the world. I think this episode serves that propose mainly for the series, a concentrate of that idea…
A very interesting aspect about the clothing collection is the fact that the brand is putting a bet into a non seasonal idea of collections. It makes sense. To think that a luxury object shouldn't only live optimally for 6 months, that we demand a luxury item to be more timeless than that.
ITALY
Episode 7 is the final one, it's actually very direct, it's all about Italy. The episode is called "Nightly Walk", in the beginning Silvia recites some sort of poem through a door inter phone and then rides on a motorcycle as she gives us a tour around a quaint Rome. In the end of the film, Silvia stops staring at us and as the camera gets further from her, it reveals Silvia standing on a stage. Proof in my opinion, intentional or not, of Silvia's mythological existence, her role as character inside a comedy or a tragedy, a hero. Youtube caption:
In the final episode, featuring a cameo from Van Sant, Silvia wanders the phantasmagoric streets of Rome at night, and is drawn into a dreamlike moment involving a dress. As she reads a poem through an intercom in a street doorway, a gentleman inside the apartment, played by singer and actor Lu Han, listens while he irons and shortens a dress with a pair of scissors. After a spontaneous ride on a scooter through the nighttime streets of Rome, Silvia returns to where she began, and a walk into the night reveals the underlying nature of her reality.
I discovered through The Business Of Fashion, some months ago, that most of fashion, luxury fashion's business is based on tourism. Mostly eastern tourists who purchase western luxury brands when they travel. Of course, under this realization, big groups (especially) have been implanting their presence in some of the most important eastern markets. 2020 has been a hurricane for tourism in Europe, which leaves us wondering: How do we still make people travel? How is Gucci still a western, Italian product even if you purchase it in China? The final Episode of  Gucci's Ouverture Of Something That Never Ended might be like a rehearsal answer to that. Nothing new in fashion, after all Gucci has been presenting their collection within Milan Fashion Week for decades now. But as shows become digital and almost nationless, how do you keep a Chanel Parisian or a Gucci Italian? Might this be an even better question: How to make something more valuable than classical constructs of value, power and geography?