Dear Shaded Viewers and Diane,
ArtEZ's Fashion Design Arnhem premiered its 2020 graduates on the big screen this year, a master file if we consider the barriers that these eighteen fearless students went through.
We must consider the question of how essential it was to live through the intense, pre-diploma months of their studies without ever looking directly into each other's eyes. Each of these capable students was able to achieve directional results even when working from home alone. It is also worth mentioning the efforts of teachers and professionals who had to monitor both collective obstacles and the individual struggles of each student via video call. With all of that behind us now, the autonomy of creation combined with nearly four years of camaraderie in the same class prevailed. These designers united together until their dream "show" was documented– a feeling that launched them beyond fashion leaders. They are the ones DESIGNING RESPONSIBILITY on behalf of a better world.
Congratulations to this new category of professionals!
This unforgettable year may be coming to an end, but these youth, designing fashion's responsibility, are able to reset it again.
Having fun while sugar milling is easy to track in the almost 30 minutes of school joy that make up this film. Each talent individually delivers a mini-campaign demonstrating their final work. From Iris van Rens putty-like take on plasticine framing for her sculptural sunglasses to Nemo Cheminée's "Off To Slumberland," which urges us to chase the year 2020 into happiness with no thoughts as to whether the future will even be there. The result? The sweetest compilation ever before produced by ArtEZ.
The fact that a few of these designers are headed to national and international competitions won't dissolve the power of this glorious moment of being superstars in front of the same, white projection screen. Their awarded category is and always will be the only justifiable one: ArtEZ BA 2020!
Please enjoy our highlights!
Best,
Marcelo Horacio Maquieira Piriz.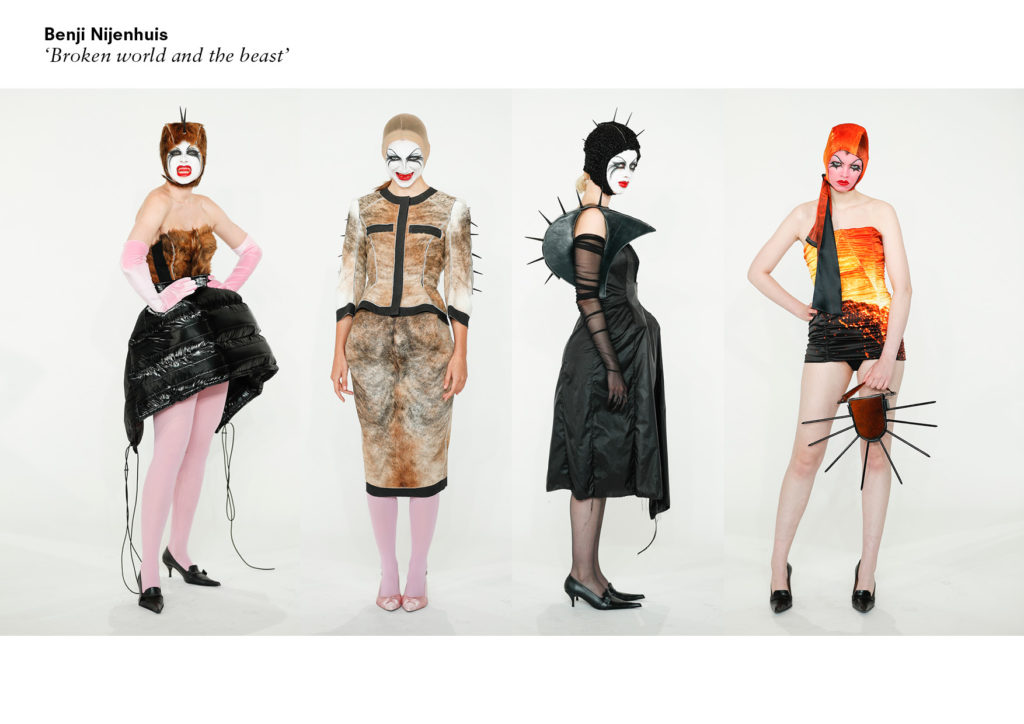 Benji Nijenhuis: A wider catwalk (the bigger the better!) would have served Nijenhuis's performance and his super lassie-girls, with all of their confidence, to act even wilder. Behind their masks lurk characters that now imply danger, influenced by 50s couture. We have no alternative but to think of London here, in particular when Carla Bruni wore a faux fur thong for Westwood for fall-winter 1994! This time, however, it was Benji in Arnhem who took the freedom to make an urgent call for "fabulosity in fashion" again, bringing the whole off the hook thing to new levels.
Elodie Cazier: Cazier's cuteness could not get deeper under our palates with her risky combination of pastels, satins, prints, checks and tulles. This would still not give us reason to be judgmental of a girl who might look; at first, fearful, especially when her suggestive way of selecting what she wears makes her the street icon we all want. It seems quite easy to imagine her creations belong to someone extremely meticulous and, perhaps, with a security code to open her wardrobe's doors.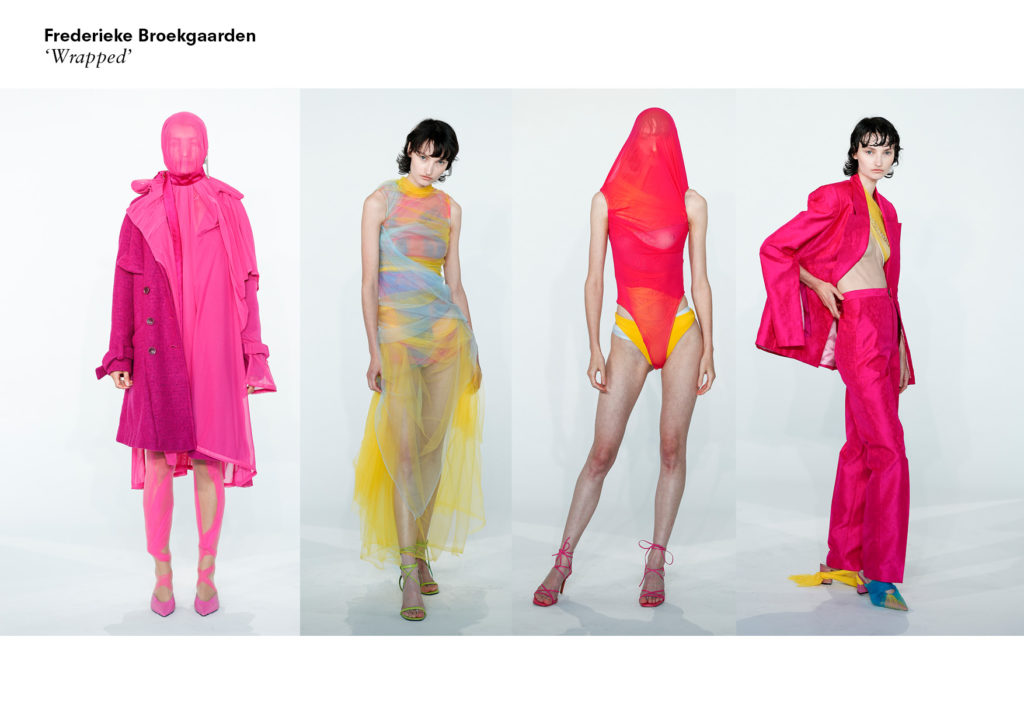 Frederieke Broekgaarden: Broekgaarden's minimal approach to materials and shapes created the profile of a woman whose satisfaction is very close to her skin. Through her eye we see how levelheaded she is, which is not to say that sustainable thinning limits her when selecting colors and textures. The same effect created by a plane's bright trails of colored smoke during an airshow seems to have impregnated all of these garments. This is the perfect example on how to look sensual and contemporary, by cleverly wearing tricks on your skin (folding tulles and overlaying could make endless color combinations)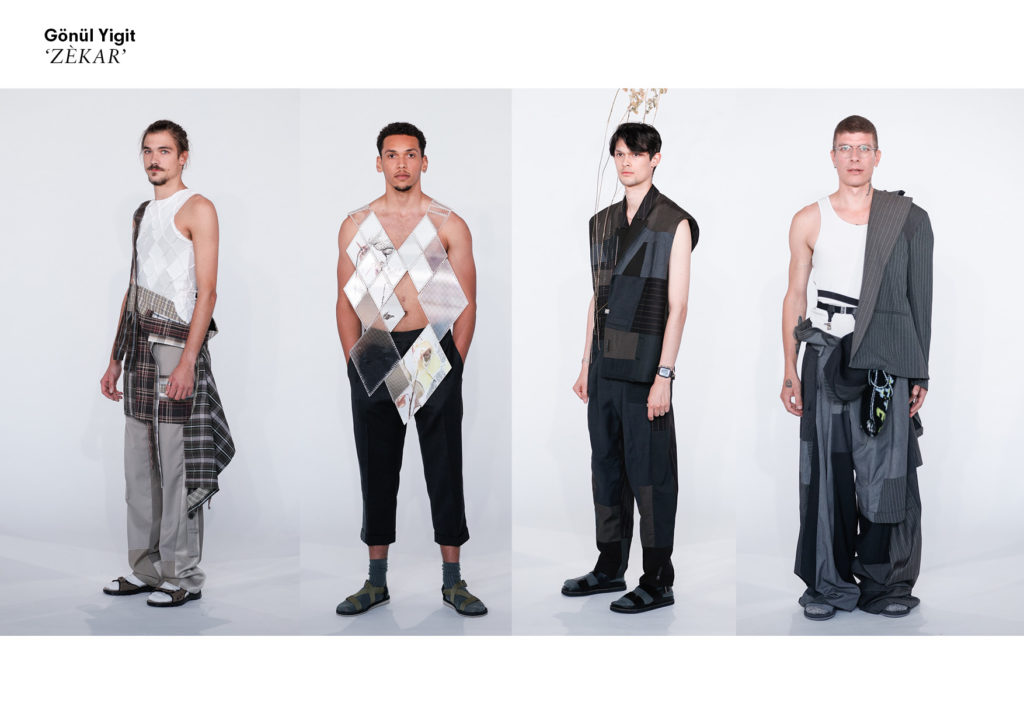 Gönül Yigit: While fabric's tailored and traditional combinations often have the effect of making you look older, were treated here to an outdoor patchwork. This begs for a wilder life than just standing stiffly in a proper suit and by making it all look cool-as-a-cucumber, a young man was able to bring these traditional fabrics beyond their traditional clichés. The oversized pants and blazers worn with bare shoulders made you want to live in what Yigit suggests: a perfect daytime outfit to sit upon a relaxing, leather chair, which could only be made to look better by such a pretty boy.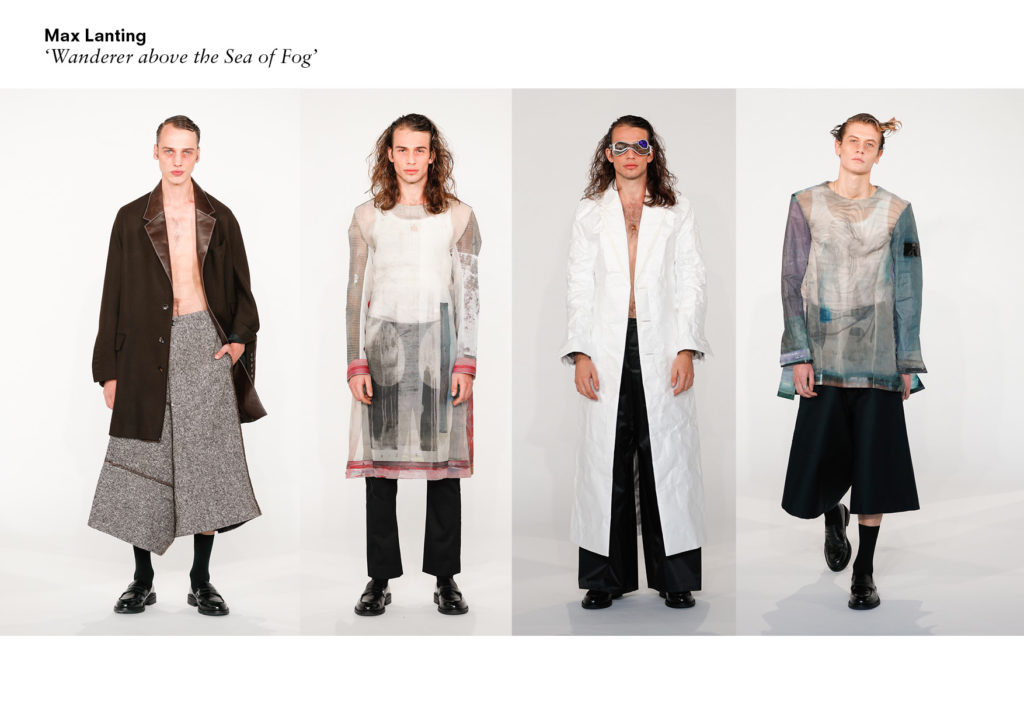 Max Lanting: Virility and delicacy (especially in the science fiction, transparent silk prints) were never so perfectly fused as they are here to dress up a man whose body reflects the serenity we all desire more than ever before. What really took over Lanting's supreme silhouettes was the unisex nature of nearly all of the pieces, created undoubtedly for women who constantly reject feminine clichés. Semi-shaded in artisanal, plain, silver-framed anaglyph 3D glasses (red/cyan/yellow), his mysterious men were acting out their own solo moments, undoubtedly laced with psychological themes.
Silvy ten Broeke: An agreement was signed by intelligent women colleagues at the office to renovate the rather corporate and unshakable work look. They were sick of it! And, mercifully, ten Broeke was in charge of designing the answer of the following question: will working office women ever change their dress options? Yes! Her action against male conventions through the promotion of lingerie, moulaged corsets, etc.; was what enhanced the inner dominating feeling to finally impress.
ArtEZ Fashion Design – @artezfashiondesignarnhem
Video © @teampeterstigter
Artworks © Ulises Chamorro
Lookbook photos © Peter Stigter