Paris, Third district; an understated gallery called "Topographie de l'art" achieves the ultimate goal of art… Artists are the brave creative heroes who often go the unknown and bring to us, into the light of culture, new ways of seeing things, sometimes they might even define something that has not yet been articulated. That is the feeling you are gifted with after you have seen this gallery's latest group exhibition "Epaisseur du Temps – Photographique".
The exhibition turns around the reflection of time as an imminent tool of photography; how time, or a fraction of it, is captured as an image trough photography. However, the subject of the exhibition seems to be really photography-as-a-tool. A tool to create precious objects. In an age where almost every person in the world carries a tool to make photographs on their pockets (A.K.A. your phone) and where the attention to exhibited images lasts on average two seconds, talking about the medium as something of greater, more meaningful value might seem unimaginable. Nevertheless this is how a group of artists solved this problem:
1-) Carole Benitah lets images be re-born as she intervenes on them by embroidery of thread, beads or painting with ink. Most of her photos are actually found photographies from her family which adds another dimension to the aesthetics of her work and makes it come together as a whole universe, completed by Benitah's contemporary intervention.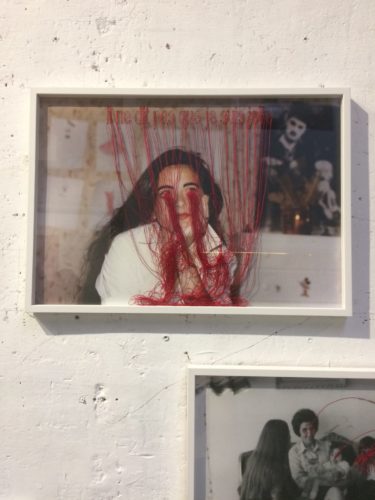 2-) Gaëlle Choisne creates entirely new objects from photography, the prints or printing techniques are often mixed or realized over unexpected materials. The results are almost sculptural and very exciting to watch.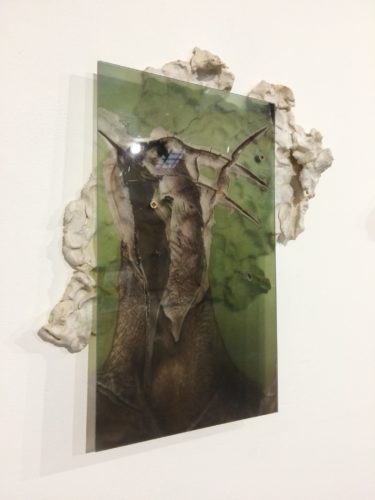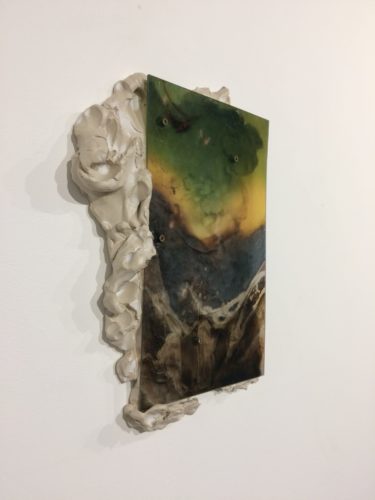 3-) Georges Rousse intervenes by painting optical illusions on the spaces that are the subject of his photography, he defines the practice himself as a sort of "redrawing of time". The conversation created between his interventions, which optically read as very sharp geometrical figures, and the organic almost dusty original space teaches us how the idea of contrast can be thought in every possible abstract way and still serve the purpose of contrast as a visual tool which is to direct the attention of the eye.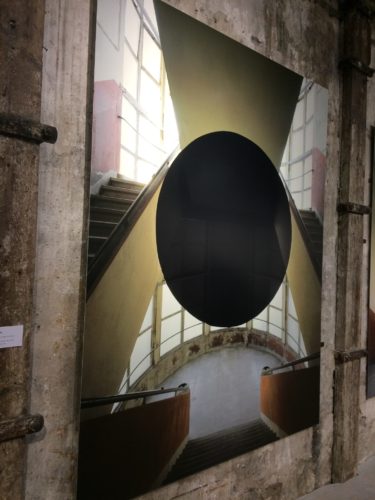 4-) What is intriguing about Sophie Ristelhueber's work is the tension between almost very ordinary documentary images presented in a scale and in a way that honors their unique existence. There is something about the way she looks up for the trace of existence that reminds of the ready-made, or at least to the conceptual idea of it, seen and practiced in a vey unique and new way.
5-) Catherine Rebois plays with the idea of repetition and representation. The way her works are presented is very simple in appearance, the prints being layered on top and next to each other, but very effective in how they communicate emotion and create a beautiful set up for the concept of seduction which is also a main theme in the presented work.
The complete line-up of the exhibition includes:
Julien Benard
Carolle Bénitah
Katrien De Blauwer
Juliana Borinski, Gaëlle Choisne
Oleg Dou
Gabriela Morawetz
Catherine Rebois
Sophie Ristelhueber
Georges Rousse
Danila Tkachenko
Corinne Vionnet
The exhibition is hosted at 15 rue de Thorigny 75003, Paris  and will run from September 5th 2020 until November 7th 2020.