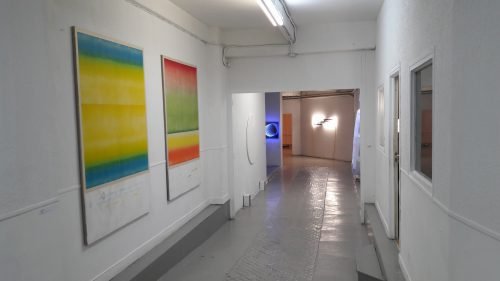 Galerie Episodique is a new art space in Paris 11th curated by Gaya Goldcymer and Jonathan Taieb.
They opened with a curatorial project articulated on a series of exhibitions running over a year long program entitled « Art and its Object(s) » which started last October.
With this freshly painted garage ramp, an elevator, a couple exhibition spaces,  their exhibition « L'Im-matériel » (the second show at Galerie Episodique), is adding a new pulse on the East of Paris.
When asked about their position in the art world they are modestly describing Galerie Episodique as a young upcoming project space that is only starting to make itself heard, simply trying to create their own lane. For them, it should be first and foremost about curating coherent shows, with works they love and believe in. They don't really care about labels and have chosen to launch their Parisian experience in a one year long curated session.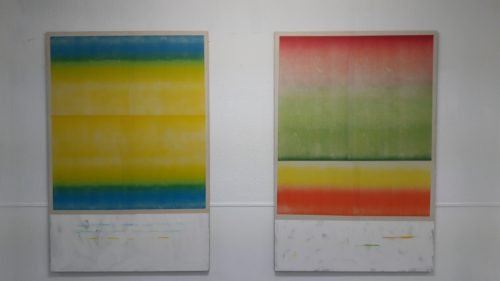 Entry : Paintings by Terencio Gonzales 
How are positioned  artists and pieces  – in relation to each other ?
The theme of this exhibition is the immateriality of the artwork.  After the first show «Choséité», inspired by Heiddeger's notion of the «Thingness of Things», questioned the onthological nature of Art, we wanted to take another radical approach by questioning the dimension of the impalpable, the elusive and the intangible of the work of art. By unrolling this thread and pushing this reflection we have imagined to set in motion and in space, light, sound, energy, movement. Here, the viewer experiences an interactive wandering from sensitivity to thought, from emotion to concept, from rhythm to contemplation.
What is your motivation behind this curatorial project?
We want to support and put forward emerging artists we believe in, by integrating their work with more post emerging, mid-career or established artists. We would like to take and bring a more anglo-saxon approach to the curation space in the Parisian scenery and overall, to think outside the box.
What are your projects for the near future ?
We are preparing our next exhibition of January, which will be around the Urban landscape, architecture, interconnectivity, and so on.
We are also working on a series of small publications that follows the gallery's program in collaboration with a selection of artists from each show. We want to create a book in pocket format, with small works made especially for the occasion. A reminiscence/memory of the exhibition and the artists's practices. We will also publish a final catalogue that will cover all of the programmation at the end of year.
More to see throughout 2017…
L'IM-MATÉRIEL is open until January 7th @ GALERIE EPISODIQUE
1 rue des Nanettes Paris 75011
List of the artists  : Mounir AYACHE – Miguel CHEVALIER – Jérôme COGNET – Jonathan COTANT-WOŁKOWICZ – EMMAT – Quentin EUVERTE – Terencio GONZÁLEZ – Patrick HÉBRARD – Karen LUONG – Nathaniel RACKOWE  – Amo VACCARIA – Florian VIEL – ZIRKONN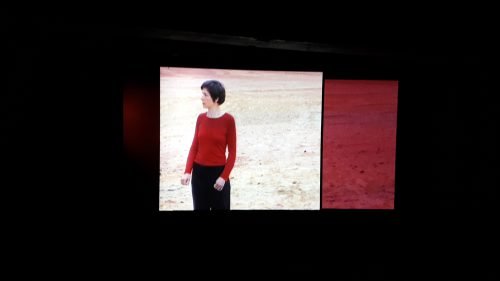 Patrick HÉBRARD – video installation