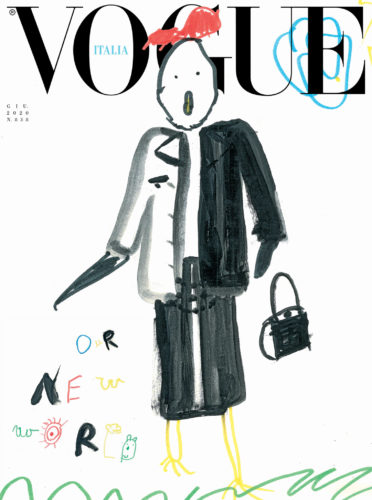 Dear Shaded Viewers,
For the first time in the history of Italian Vogue children have designed the eight covers and the edition is dedicated to them.
"There's a simple and fundamental reason why this issue of Vogue Italia is dedicated to children, to their new world. It's because we think they are the most overlooked and least obvious victims of the pandemic that is affecting us all. Without even considering the infringement on their right to play and socialize, it is simply incredible and unacceptable that in many countries, Italy included, nobody yet knows if and how schools will reopen in September," says Emanuele Farneti, Editor-in-Chief of Vogue Italia.
The children are ages 2-10 and are from around the world: Thomas W., 4 years old, New York; Nori T., 5 years old, Amsterdam; Tadzio D.M., 6 years old, Paris; Violetta T., 5 years old, Milan; Camilla C., 2 years old, Dakar; Rachele T., 5 years old, Bologna; Pietro R., 6 years old, Milan and Giorgio P., 10 years old, Parma.
This is great an exchange of letters from Luca an 8 year old, proposing a collection of outfits equipped with superpowers and Giorgio Armani answering him. Photographer Steven Klein worked with his 4-year-old son Ace to shoot an editorial during the lockdown at their ranch near New York. Also for the first time Klein opens up about the process which, through surrogacy, allowed him to become a father.
The launch of the issue will also be accompanied by a series of special collaborations. In partnership with Fisher-Price – which is celebrating its 90th anniversary this year – and LuisaViaRoma, a special range of toys will be available to buy: the "Thank You Heroes" series of Little People, figures created by the US company as a tribute to the professionals who have bravely manned the front lines in the fight against COVID-19 (doctors, nurses, delivery drivers, shop assistants, etc.). In Italy it will be possible to buy the series exclusively for this project and all proceeds of the operation will be donated to Unicef Italia.
Vogue Italia and Superga have also decided to pay homage to all the children involved in creating the issue with a pair of white Superga trainers, along with a box of Carioca felt tips pens to personalize them, giving them a new and exclusive space to exercise their creativity. Furthermore, the magazine has collaborated with the Milan office of the European Parliament to dream up a fairytale about Europe to explain the importance of collaboration between different nations to its younger readers.
On Vogue Italia's Instagram channel, which has 7.6 million fan followers (total audience), children from all around the world will be asked to design the clothes of the future, and a series of mums and kids from the fashion world will feature in dedicated makeovers.