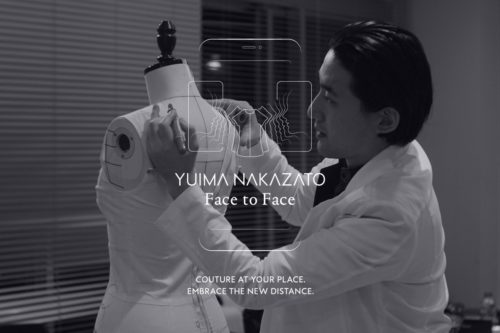 Dear Shaded Viewers,
The following is a direct message from him to you:
The program enables customers to get their hands on made-to-order garments without physically going out shopping. A client can access YUIMA NAKAZATO's website at store.yuimanakazato.com.
This is a project where a designer and a client co-create a one-and-only garment that truly belongs to the client. Yuima himself will communicate with the client online at the beginning. A client will then ship a white shirt of her or his own to YUIMA NAKAZATO's atelier in Tokyo. Yuima will use the dialogue as an inspiration to reimagine it, redesign it, and return it to them as a completely new garment.
We hope that the new garment we create together makes the client feel cheerful, or helps someone close to them feel more positive, even if the interaction with that someone is only through a video screen. We will offer this service in limited numbers, at no cost to the client.
Yuima Nakazato's Message
"In this time of uncertainty, and with the world entering into an entirely unknown era, I kept asking myself what we, as a fashion brand, can do for our society.
I have come to the conclusion that we should start delivering one-of-a-kind garments to people around the world in a new way. We will make this happen by changing the traditional made-to-order process, from offline face-to-face interactions to online face-to-face conversations between designer and client. To me, the essence of couture is personal interactions between a designer and a client. The dialogue used to take place in physical settings, but we will bring it online to make it available for many.
The current situation—where we have to keep physical distance from one another—made me realize the importance of building emotional connections among us. "Garment making through dialogue" may appear to be an inefficient process, yet it is a very human and primitive one. At the same time, I believe that this process will provide hope for a richer and more sustainable future by giving us the opportunity to re-examine the way garments are made today, where the act of making and that of wearing are cut apart.
This project is an experiment for a new era. I hope that it inspires many of you as it did for me."