Dear Shaded Viewers,
In this period of reflection Milosh Harajda and I go through our past together diary style.
TELL ME, DIANE,
MH: One of the lessons you taught me at our very first coffee in Paris was: "id there's synergy, let it flow, if there's not, let it go".
Do you still operate by this motto?
DP: Absolutely, decades ago in New York I used to have a psychic come visit me on a weekly basis reading my tarot cards. At one of our readings she gave me these wise words that have turned into my personal mantra "if there is harmony let it flow if not, let it go."
MH: For those who don't know you, you might project a very serious and distant attitude, but I was surprised how much fun you are to be around!
When did you create your "stage persona"?
DP: I don't believe I have a "stage persona" . I don't change my personality depending on who I meet. I look the same when I go food shopping in the morning as I do when I attend a fashion show or present my festival.
MH: Do you remember your first idea when we offered you to be a part of Fashion Film Festival Bratislava? Why did you say yes?
DP: I am always open to new opportunities and since I met you through our mutual friend, the director Julien Landais, I thought, why not?  I felt comfortable with you and I'd never been to Bratislava.
MH: What is the most memorable moment for you during our journey? I'll never forget how you said in a LIVE TV interview that you loved the amount of striptease clubs in the downtown of Bratislava!
DP: We had fun walking around the city in the freezing cold. We did not stay out that long and what I did notice was an abundance of strip clubs… Probably the most fun was all the time spent with you, Jozef and Marketa.
MH: How did you decide to approach the 12th edition of ASVOFF this year? I think fashion film will play a greater role in the industry than ever.
DP: I think fashion films will be far more important than catwalks which I doubt will even take place in September but let's see. I initiated a special section #LOCKDOWN HOME MOVIES to document this sci-fi moment we are experiencing all around the globe. I'm enjoying the proposals. Deadline is May 14th so hopefully some entries will come from Bratislava?
MH: I must say I admire the way you cultivate your relationship with talents you discover along the way. Julien Landais was always incredibly fond of you and we plan to screen the short film he dedicated to you in AUPARK  during our festival this year.
How did you enjoy working with him?
DP: He is a beautiful man inside and out. I was introduced to his work through Daphne Guinness, she had produced his first short film. He presented his films at ASVOFF Centre Pompidou. I loved the film we made in Jardin des Tuileries, Jean Claude Jitrois made a beautiful leather skirt for me for the shoot and he designed it with a very long train. Thing is if you really want to wear it and walk…you have to lose the train… Jean Claude Jitrois modified the length but I have to admit that I do miss the train but I wanted to be able to wear it and still walk.
Dolls by Jakub Gulyas
MH: Why do you think Jakub Gulyas won the first edition of our festival?
DP: Clearly it was the choice of the jury. His film won best styling and we all appreciated the beauty of his work.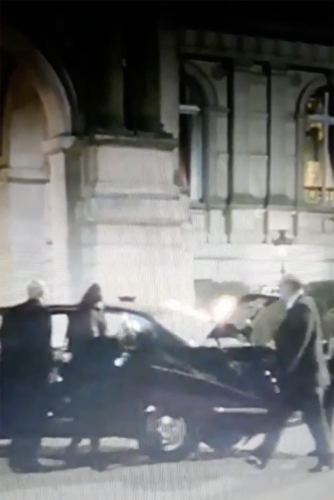 The Ninth Gate by Roman Polanski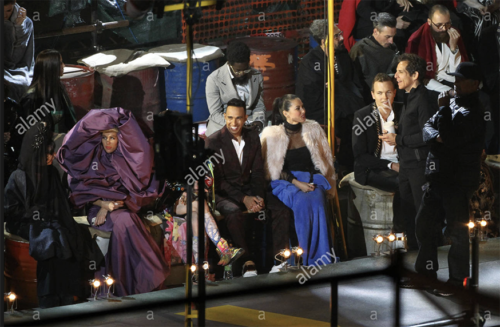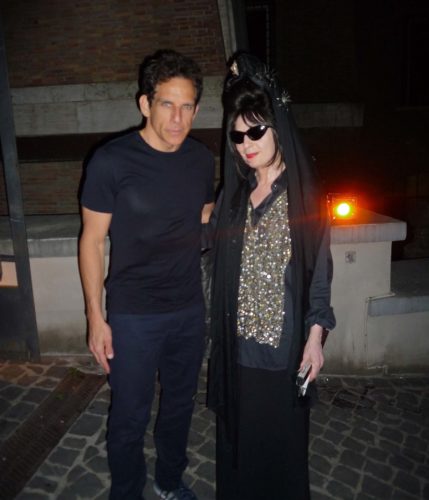 Ben Stiller at the Zoolander 2 wrap party in Rome
MH: And this brings me to a question – what was your favourite cameo of all times? (I think it could be Roman Polanski, but that's my humble guess)
DP:That was fun for sure and I really enjoyed meeting Roman Polanski, despite the ongoing discussions about his 1977 scandal. He is brilliant and he articulated his directions with one perfect sentence but I also loved meeting Ben Stiller he was a wonderful man and very appreciative of his cast, even the extras.
MH: I'll be honest and say, that I was pretty surprised of the volume and quality of young talents we discovered together in Slovakia last year. How did you feel about it when you were watching the short list?
DP: I was very impressed and would love to see more entries from Slovakia for ASVOFF 12.
MH: What would you say about Slovakia to your chic Parisian friends and collaborators?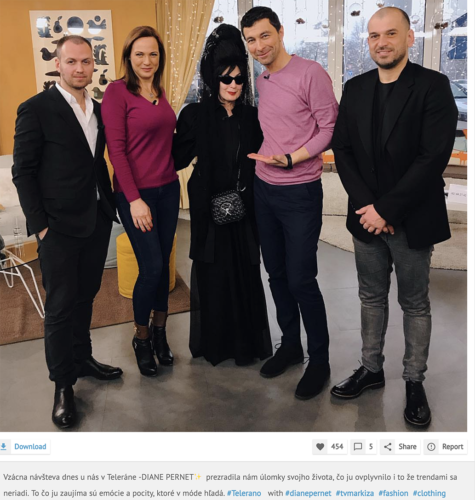 DP: I passed a wonderful time there and am looking forward to returning. I had great fun with your team and all of the tv presenters that I met . I enjoyed the press conference and just getting to meet more of the "locals".
That was fun Milosh.
Later,
Diane