Dear Shaded Viewers,
I just had the great pleasure to watch the documentary Martin Margiela: In His Own Words after hearing about it ever since it screened in New York at the New York Film Festival. The film was directed by directed by Reiner Holzemer. "I don't like the idea of being a celebrity. Anonymity is very important," he explains. He wanted to direct all his time to work not giving interviews and showing his face. His interest as we all know is that the light be on the product not on his face which he protected to the end. Watching the film is both relaxing and inspiring and now I understand why he was not happy with the previous documentary that focused more on him and what people thought of him rather  than shining the light on his process. It was wonderful to see and hear Jean Paul Gaultier reflect on Margiela.
I loved the fact that his father was a hairdresser and his mother introduced wigs into the barber shop that she could sell after closing time. "I thought that was very extravagant, a night shop with wigs." said Margiela. He made his decision to be a fashion designer at the age of 7 when he saw a Paris show on tv. Surprisingly, for me anyway, was his start with Barbies and his first success with her doll clothes was a YSL jacket that looked similar to what became a signature in his house. It was also quite nostalgic for me to watch his defiles as I had attended every one of them from 1991 to the last one at 104, he had just turned 50,  none of us knew it was to  be his last for his house. As Carla Sozzani says in the film: "He dressed women that did not want to be objects but real people."
"Do with what you have and what you don't have fake it or you make it, do it." advice from Jean Paul Gaultier to Martin. You don't realise Martin that you have a style and a taste and you should stick with that for your future." said JPG.
In the end he felt like he was being pushed into something that he was not interested in he was a fashion designer that liked to create not an artistic director giving direction to his assistants. At the end of the film he was asked "Do you think you have told everything in fashion?" his response…"No."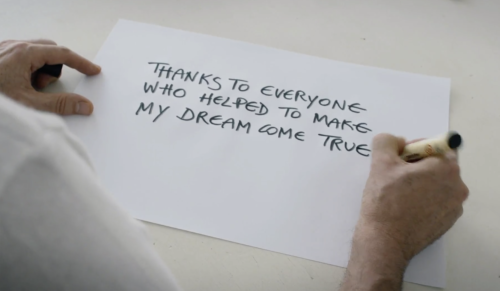 Martin Margiela: In His Own Words  was produced by  Dogwoof and with music by dEUS,
Martin Margiela: In His Own Words is available on digital platforms from 10 April.
Later,
Dian e