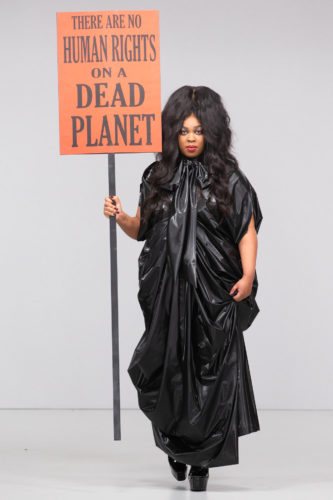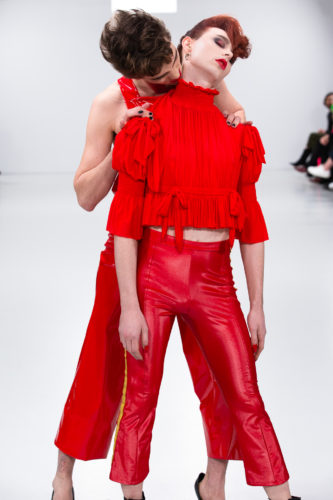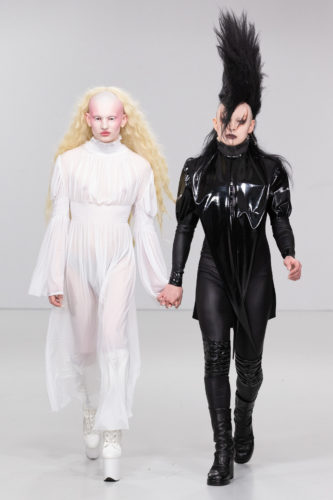 Dear Shaded Viewers and Diane,
Showing at Victoria House in Bloomsbury to a crowd of illustrious devotes, and dedicated to all outsiders, Pam Hogg's comprehensive fall 2020 collection had to it the scope and flare of a retrospective. Some of the designer's favourite themes were revisited here: the sacred and the profane met and married on the runway, from skin-tight lace catsuits, to papal canopies as towering headpieces. Hogg's playfulness took centre stage – the pastel pom-poms, a homoerotic vampire act – but so did her political stance. The show began with a model holding a placard stating that: 'THERE ARE NO HUMAN RIGHTS ON A DEAD PLANET' and later on, two young women holding hands walked in with matching Extinction Rebellion shirts. It's a necessary conversation which sits difficultly in fashion circles – yet again, we fault those who don't speak up. And Pam Hogg doesn't cater to impressionable sensibilities, especially those of this industry's professionals. Partitioned in red, black, and gold core chapters, the show didn't shy away from poking at those who didn't believe in her. A model decked in strategically placed epaulettes, green ribbons and little else, held a sign embroidered with the words: 'THEY SAY I'LL BE RECOGNISED WHEN I'M DEAD'. Still, if the famous faces in the front row were anything to go by, as well as the guests climbing over one another  to get a glimpse of the show from the back rows, Dr Hogg's fame is alive and well.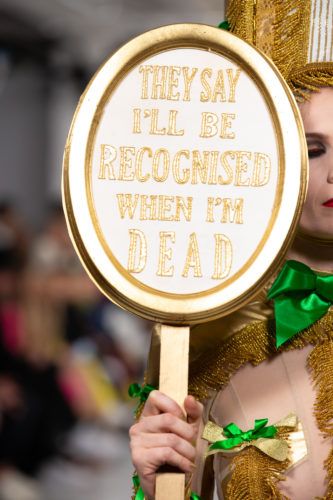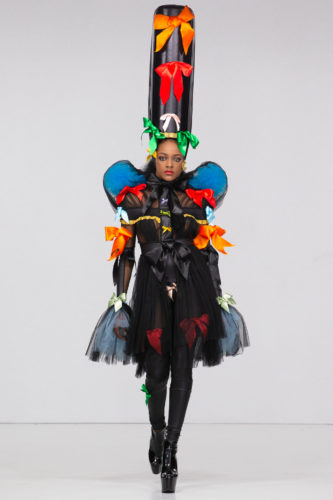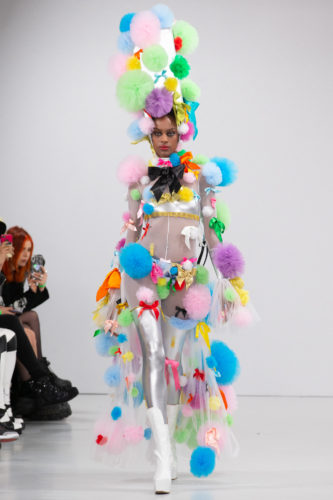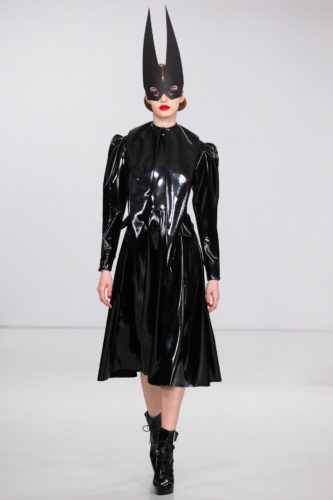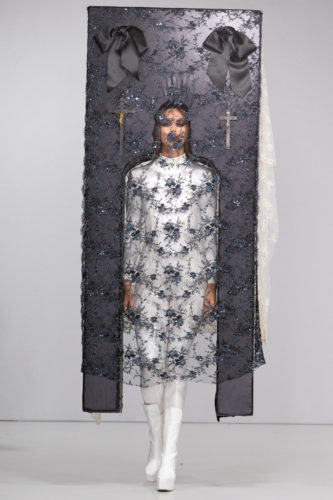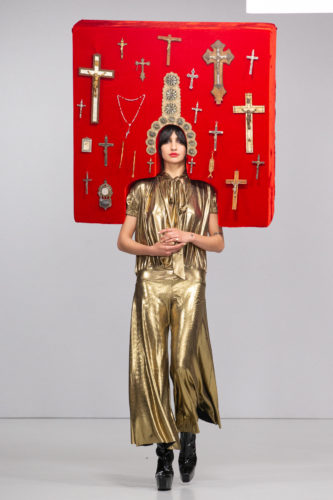 Later,
Silvia
P.S. A note from Pam Hogg:
re the embroidered plaque..
"my show was dedicated to the outsiders and notably the famous shoe designer Terry De Havilland. We used to always joke about how many times people would say this to us.. You'll be recognised when your dead… you've probably had this said to you to Diane ?
And there he was .. a photo of him came up alongside all the people who died last year at the BFC fashion awards… yet they had never recognised him in his lifetime."