In New York City, word of mouth is its own creature. It voices restaurant recommendations, beauty rituals, and celebrity gossip. For better, or for worse, word travels fast, and the power of creation is in the tongue.
Beneficial for Good Naked Gallery, talk around the town has been advantageous to the up-and-coming gallery space by artist Jaqueline Cedar. Concluding it's third exhibition to date, HOME ALONE explores the life among the spaces we inhabit. As the Gallery attributes, "The objects in this exhibition speak to architecture and body. They conjure nostalgia and distance in their sensitivity to the psychological hauntings of place."
The first work to experience, Corydon Cowansage's wall painting, is a trippy maze of pink-colored bricks recolonizing form, and artistic design, in the entryway. Colors of watermelon pink and sapphire aren't the only character in the piece. The building blocks of this art piece come to life as the observer beholds an introduction to a gathering of work in mix mediums and diversity of artistic talent that playfully considers intimacy, communally.
Go figure: the exhibiting room itself brings to mind a personal space, where the installation exists. Bill Staten's "Listen" engages an audience to interact with a wardrobe dresser that plays instrumental music as each storage chest is drawn. Past the windows in the room hangs a painted bath rug turned into a canvas of acrylic patchwork of orange, teal, and floral print. Artist Manuela Gonzalez, left her work "Untitled," summons domestic culture into the space. Personality is considered and assigned to the conventional objects of the home.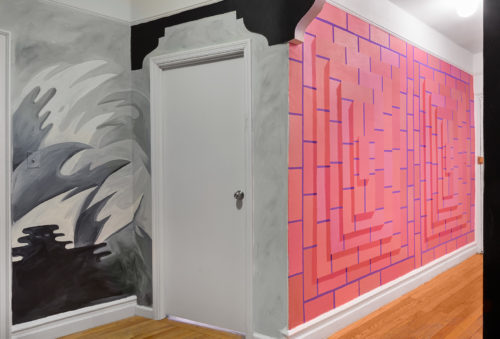 Tonight's closing engages with an Art Market, work by contributing artists become available for purchase. This is one of several community events hosted in the space. Previous exhibitions, LIGHT SWITCH introduced Drawing Club, and ROMCOM, 16mm screening. LIGHT SWITCH and Drawing Club illuminated the desire for meaning through objects that transport light, experiences that bring revelation, or embody human existence, and express of our artistic being. Then showed ROMCOM, which supported female comedians in conjunction with articulations that yearned for a happily ever after. Art, in varied forms, voice a statement on human existence, no matter how awkward, or private we convince ourselves of siloed experiences.
Without a doubt, word of mouth is the sexist practice of New York City culture. Perhaps its a creature of habit to New Yorkers. Though it never ceases to excite. To inquire a visit to Good Naked, see the gallery's website, https://www.goodnakedgallery.com/.