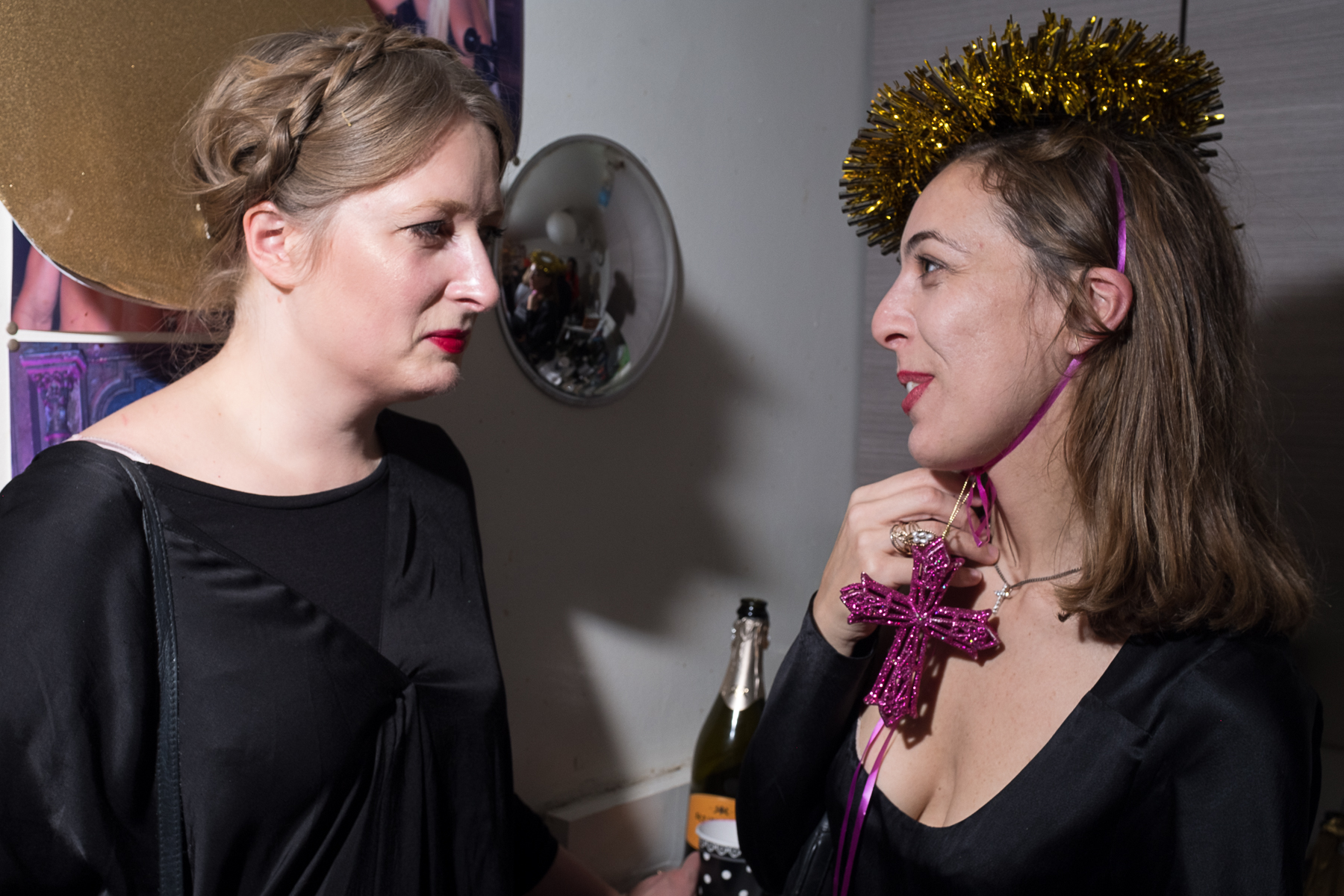 Ellen Sampson & Alexis Romano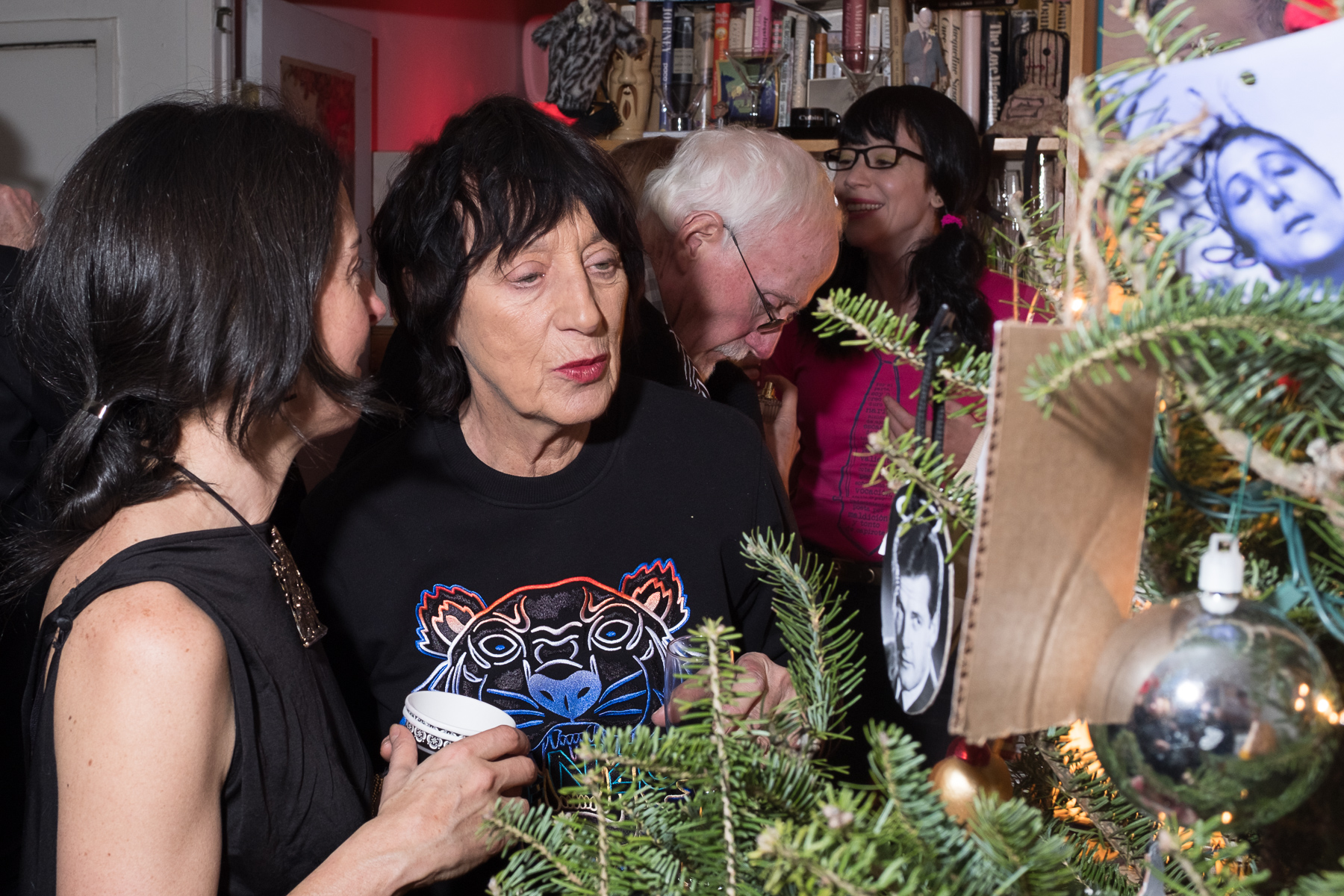 Photographer Catherine Talese, lesbian rock icon Carole Pope, Terry & writer Katie Degentesh as Saint Scholastica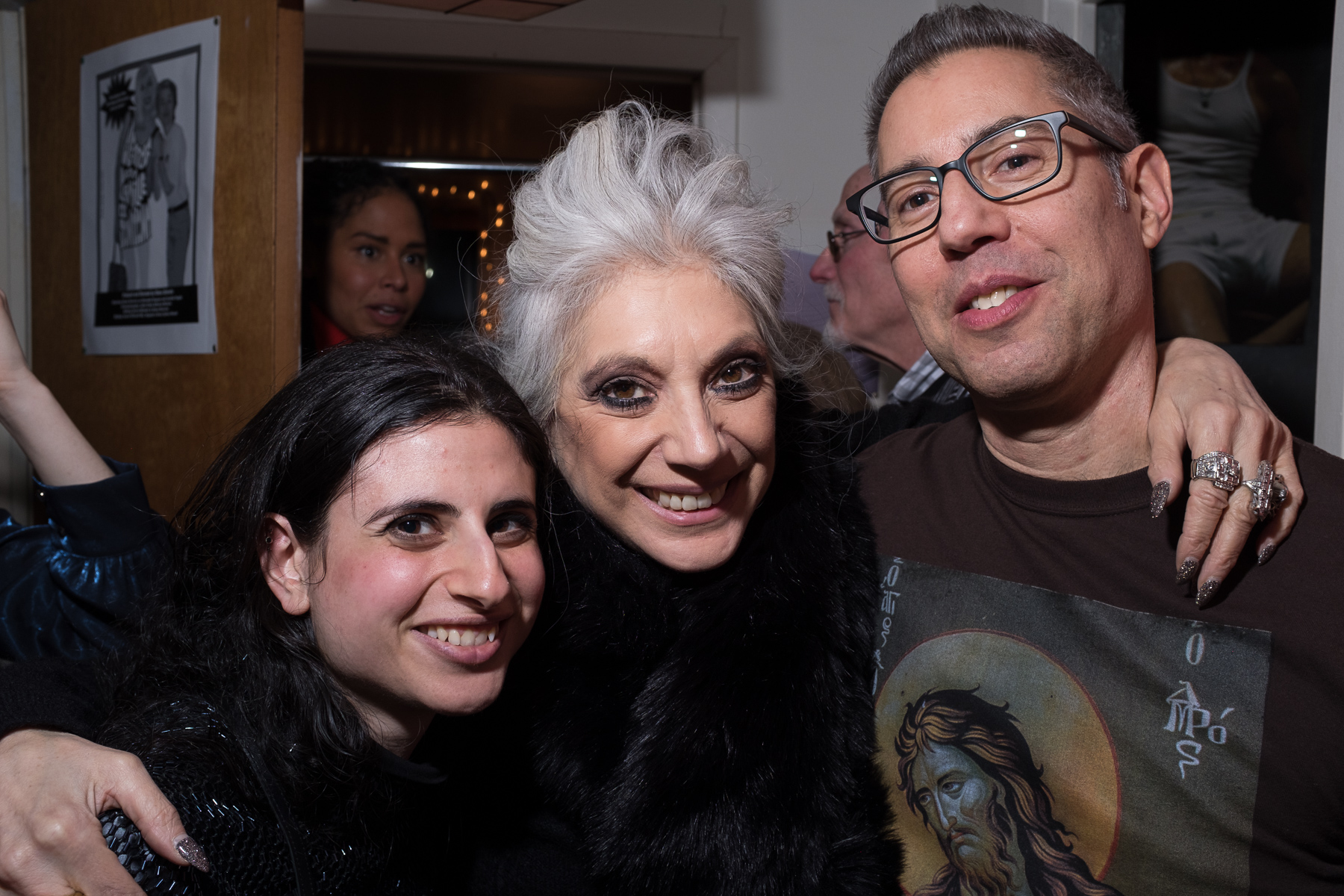 Fashion designer Ela Erdogan, fashion icon Lauren Ezersky & your host, Glenn Belverio (wearing my John the Baptist tee)
Living saint Chay Costello, Swiss artist Nives Widauer & makeup artist Virna Smiraldi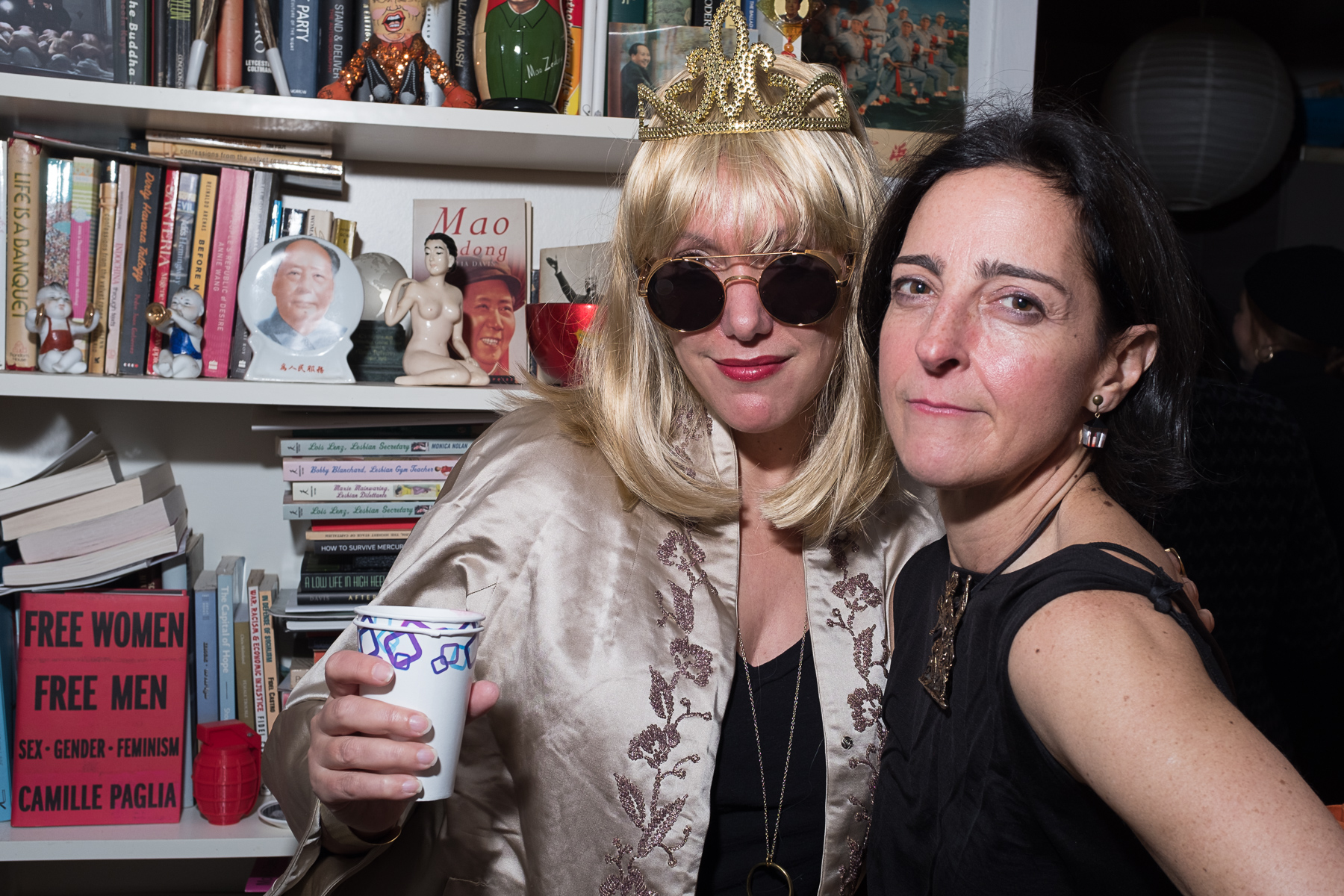 Filmmaker Allison Berg & Catherine Talese
Moi holding court in the Mao Room. Above photos all by Drew Gardner
Dear Shaded Viewers,
What do you get when you combine halos, Catholic accoutrements, a Biblical flood of prosecco, sacred and profane gossip, sanctified hors d'oeuvres, beautifully rendered ornaments and an international crowd par excellence (the most important ingredient)? Answer: a party far more interesting than the Met Gala for Heavenly Bodies—it's the latest edition of my annual tree-trimming bash!
The theme for this year's already-legendary fête, Saints, was chosen by my MoMA colleague Chay Costello. We collaborated on the dress code:
St. John the Baptist headless couture, sexy Saint Sebastian arrow accessories, Joan of Arc melting hearing aids, Buñuel surrealist saint and Jodorowsky Holy Mountain acid trips, Saint Nicholas and Krampus mud wrestling, Danny Kaye Saint Jude cocktail attire, nun looks a-go-go: Anita Ekberg killer nun, Sally Field flying nun, The Nuns punk-rock DIY ready-to-wear, Nina Hagen Nunsexmonkrock runway realness, Saint Dolly Parton real Christianity Opry glamour, Edna St. Vincent Millay boozy melees, Padre Pio stigmata realness, Saint Lucy eyeballs worn as earrings, brooches or pasties, Lili St. Cyr non-stop burlesque action, Vatican Swiss Guard uniforms for butch lesbians, reliquary zombie re-animations, 1980s S&M leather looks from The Saint club, halos, wings and harps for holier-than-thou attention whores, and Saint Teresa multiple spiritual orgasms.
Now, onto the party….(below photos by Glenn Belverio)….
A mysterious flapper accompanied by her patron saints: writers and curators Ellen Sampson and Alexis Romano.
Chay Costello was inspired by the stigmata of Saint Padre Pio, a distant relative of hers.
Billy Miller of Straight to Hell fame.
Legendary East Village artists Peter Cramer and Jack Waters of Allied Productions and Naked Eye Cinema fame.
Louis Armstrong by Dana Schein
North West Kardashian by my MoMA colleague Miranda Lim. My prediction from the get-go has been that he will one day launch a fragrance called North by North West.
r
Virna Smiraldi's ornament was inspired by the Blood of the San Gennaro Miracle in Naples. On the feast day of San Gennaro, believers gather to pray and follow specific rituals, to bring about the miracle that is the liquefaction of the saint's blood. The "miracle" of liquefaction takes place inside the Duomo, when the substance in the cruets dissolves into a vivid red liquid. The event is celebrated on the first Sunday of May, then again on the 19th of September, and also in December.
Eerily, a few days after my party, Virna's ornament leapt from my tree and landed on the kitchen floor with a loud POP. The dark "blood" slowly spread across the shattered glass and glitter, forming a large viscous pool. It was very Dario Argento art direction.
A couture-clad Barbie with a Jesus brooch. Ornament by Kyle P. Wagner of the National Arts Club.
St. Elmo's Fire by my cousin Kathy Garrigan.
Saint Andy by Corey Sabourin.
My MoMA colleague Lisa Carr brought this owl ornament because "Glenn is wise." Aw, shucks!
Creator unknown. (Meaning, I can't remember!)
Another Saint Andy, this one by writer Janice Eidus and her husband John Kastan.
Creator unknown.
Two views of an ornament by Janet Rosen that celebrates the 1960s TV series The Saint starring Roger Moore.
Another Roger Moore Saint ornament with a young Yves Saint Laurent on the flipside.
Ornament by Vienna-based Swiss artist Nives Widauer.
Two views of the Saint Catherine of Siena ornament created by Cathy Citarella. Yes, dolls, the severed, mummified head of St. Catherine is on public view at the Basilica San Domenico in Siena. I saw it with my own eyes during a day trip to Siena back in 2003, during a press trip in Tuscany which involved a multi-town tour of Chianti Classico vineyards, punctuated by a lavish dinner party at the 12th-century Castello di Brolio, to celebrate the 1000th anniversary of Brolio, land of the Ricasoli Barons.
"Next we are off to Castello di Cacchiano's wine tasting room that is housed in a former 18th-century prison," I wrote while living and working in Hong Kong as a guest editor for WestEast magazine. "As I noted the day-counting marks on the wall left behind by assorted criminals in 1781, we sampled Cacchiano's incomparable vin santo ('wine of Saints,' known also as 'wine for meditation'), a nectar so sublime that I would, if I could, bathe in it daily."
Creator unknown.
Which saint is this? "Whichever one you want to be," said this ornament's creator, fashion designer Ela Erdogan.
Terry Brown created this ornament as an homage to his alma mater.
Another St. Elmo's Fire ornament, this one by Christy Nyiri. And now it's time for me to admit I have never seen St. Elmo's Fire—however, I did meet Judd Nelson (and Anthony Michael Hall) in the Michael Todd Room at Palladium in 1986.
Saint Elvis by Allison Berg.
That's gotta hurt! St. Loempius by painter Scott Neary.
Angel collage by Ellen Sampson.
More Catholic torture porn! Saint Agatha by Suzanne Batmanghelichi.
Santo Orgasm by Peter Cramer and Jack Waters.
Ornament by Alexis Romano. Apparently there's a pannettone inside there—I guess I better eat it soon before it descends into reliquary decrepitude!
Saint Nicholas Cage by MoMA colleague Olga Nemtsov.
Saint Padre Pio by Chay Costello.
Creator unknown.
Another Saint Nicholas Cage ornament? How on earth does he get to be a saint? Snap out of it!
The following photos are by Drew Gardner (my official event photographer):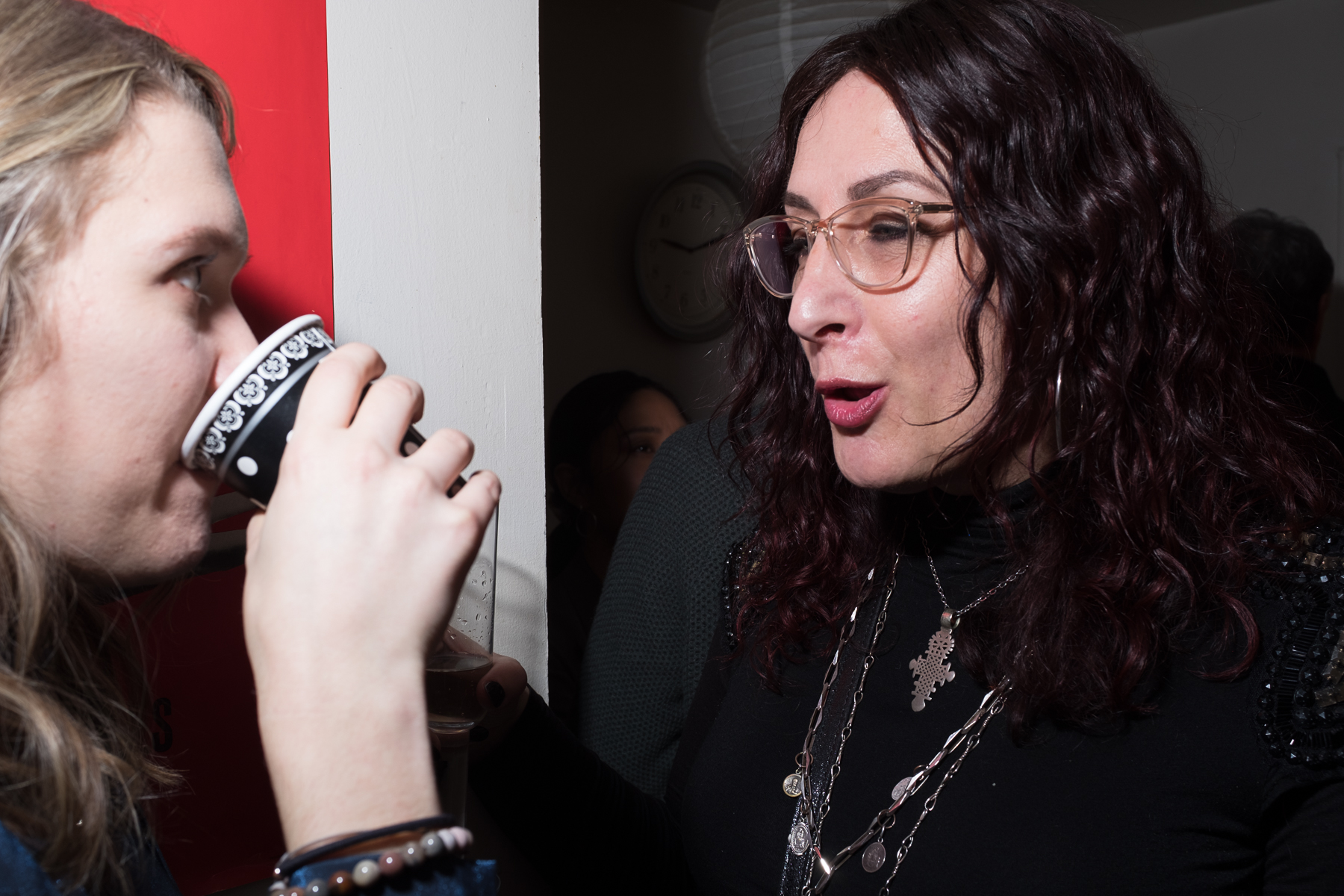 My MoMA colleague Audrey Gascho and Virna Smiraldi
Katie as Saint Scholastica looks on as Nives Widauer shows off her pussy tie.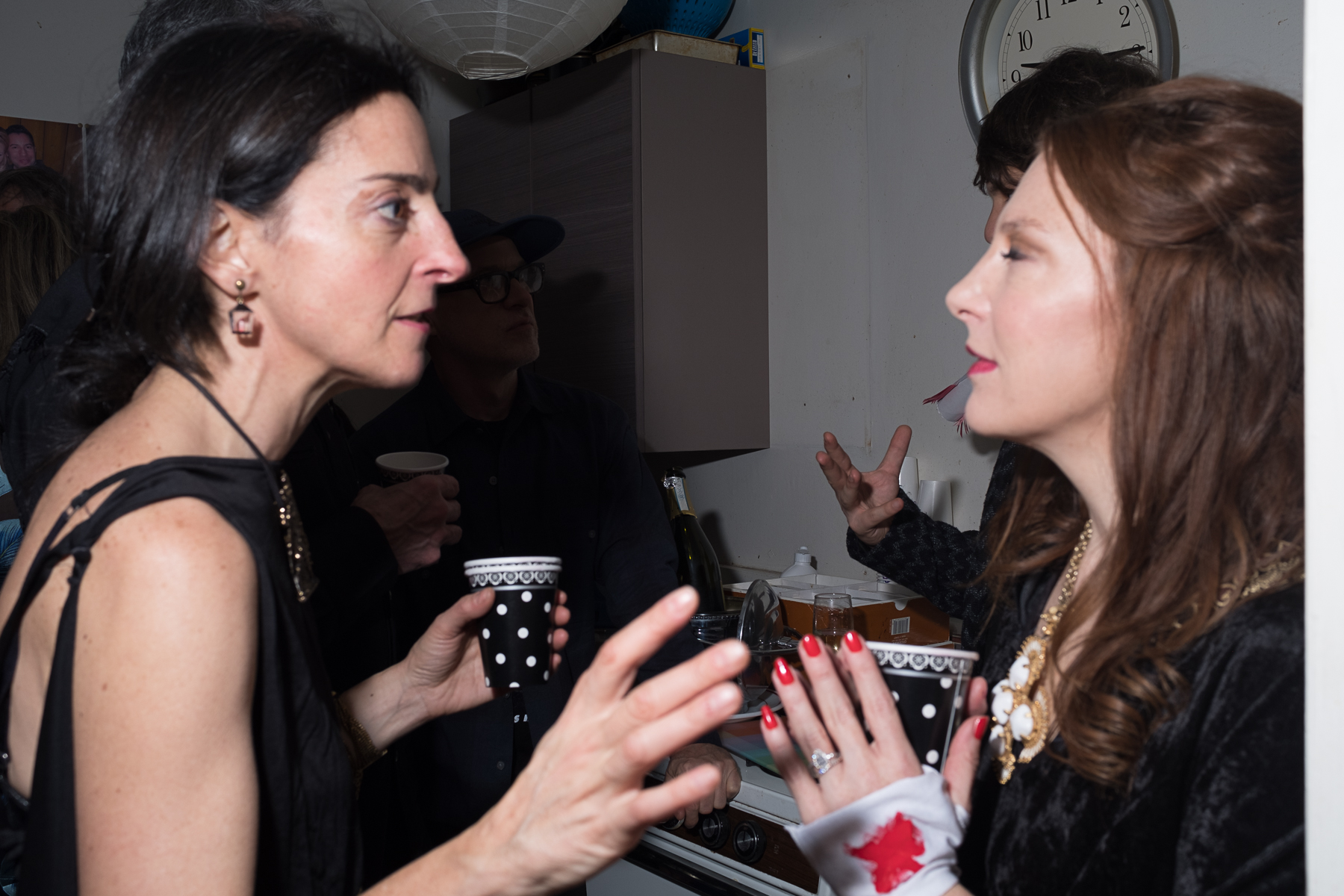 Earth angels: Catherine Talese & Chay Costello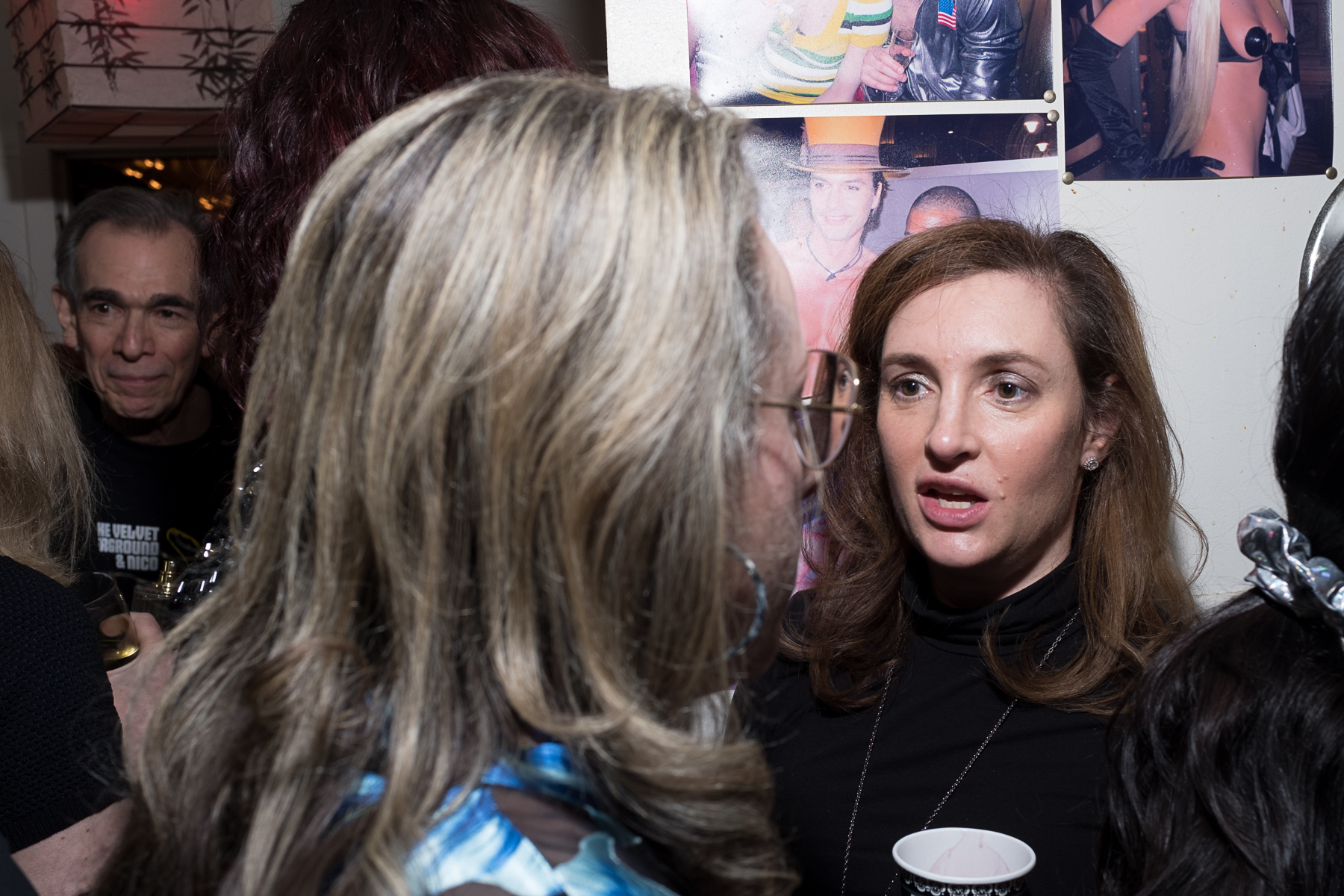 We are family: Carly Sommerstein chats with my paternal cousin Kathy Garrigan.
Terry telling tall tales to the gals.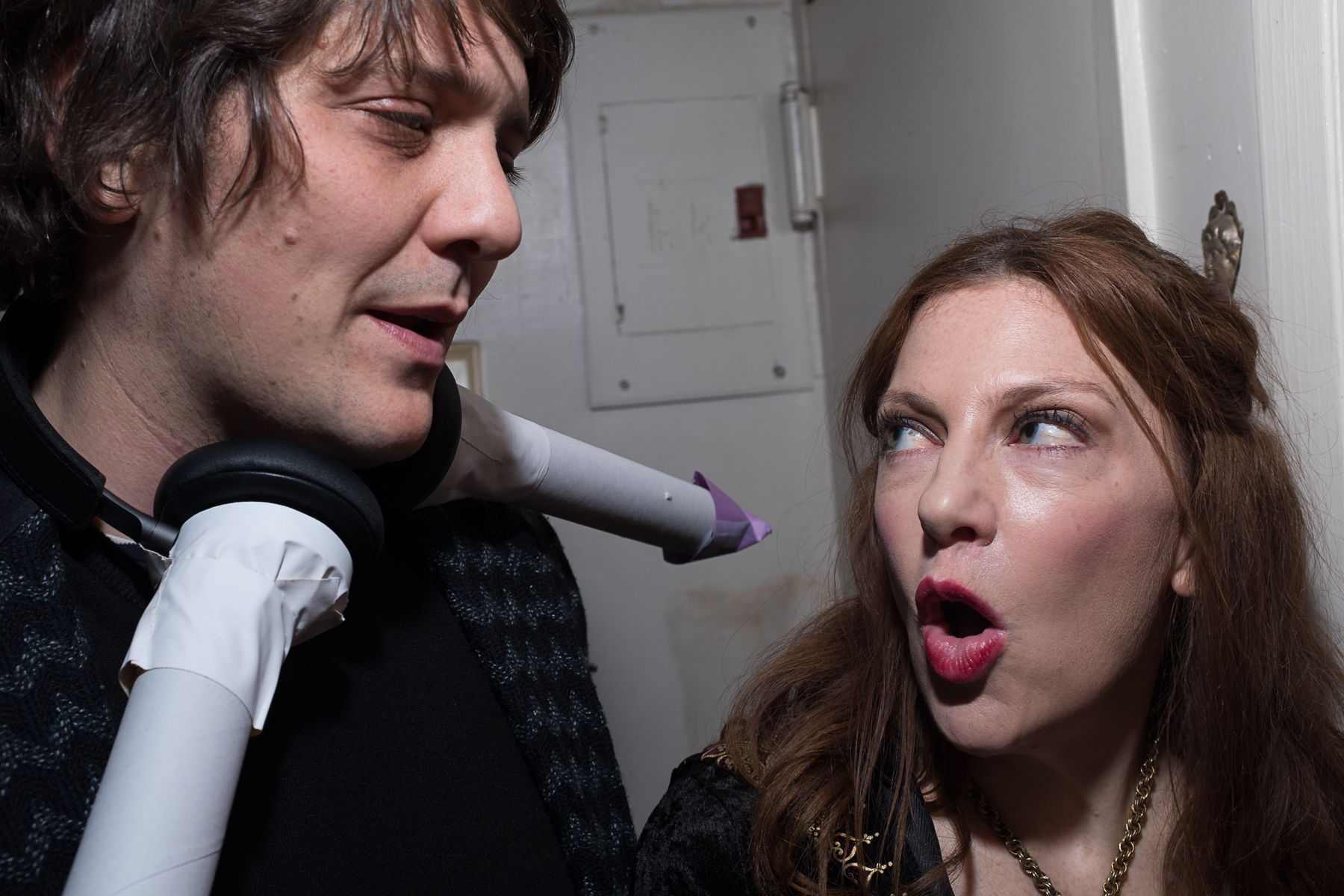 It takes two: Rob & Chay
Saint Scholastica (Katie Degentesh) makes a beeline for the bar. I love the trompe l'oeil t-shirt!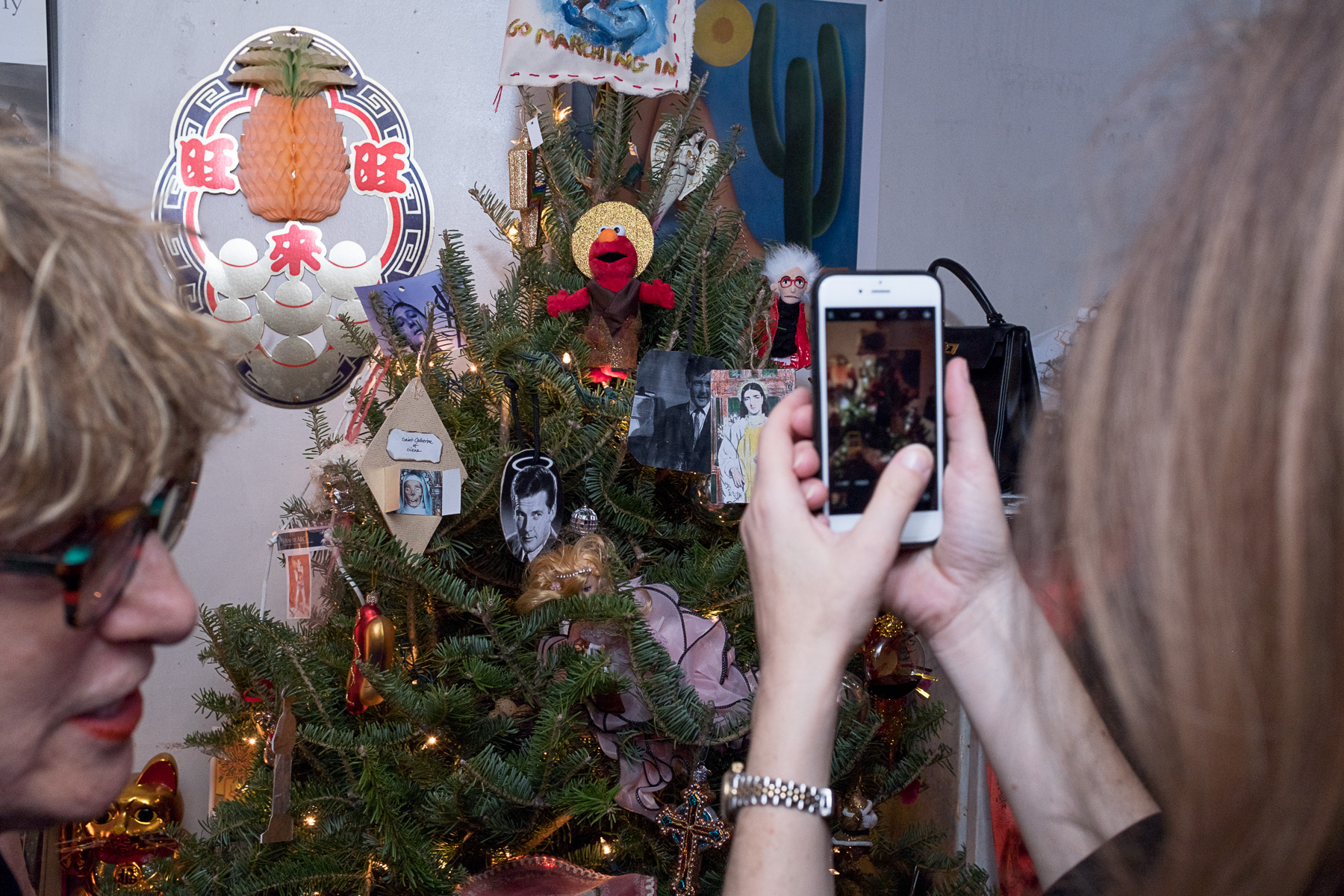 We are living in the digital age (even if my apartment is a time warp of old New York…)
She's into leather: Lauren Ezersky with Ela Erdogan.
Quaff, baby, quaff! Cathy celebrates the moment as Jack Kastan looks on.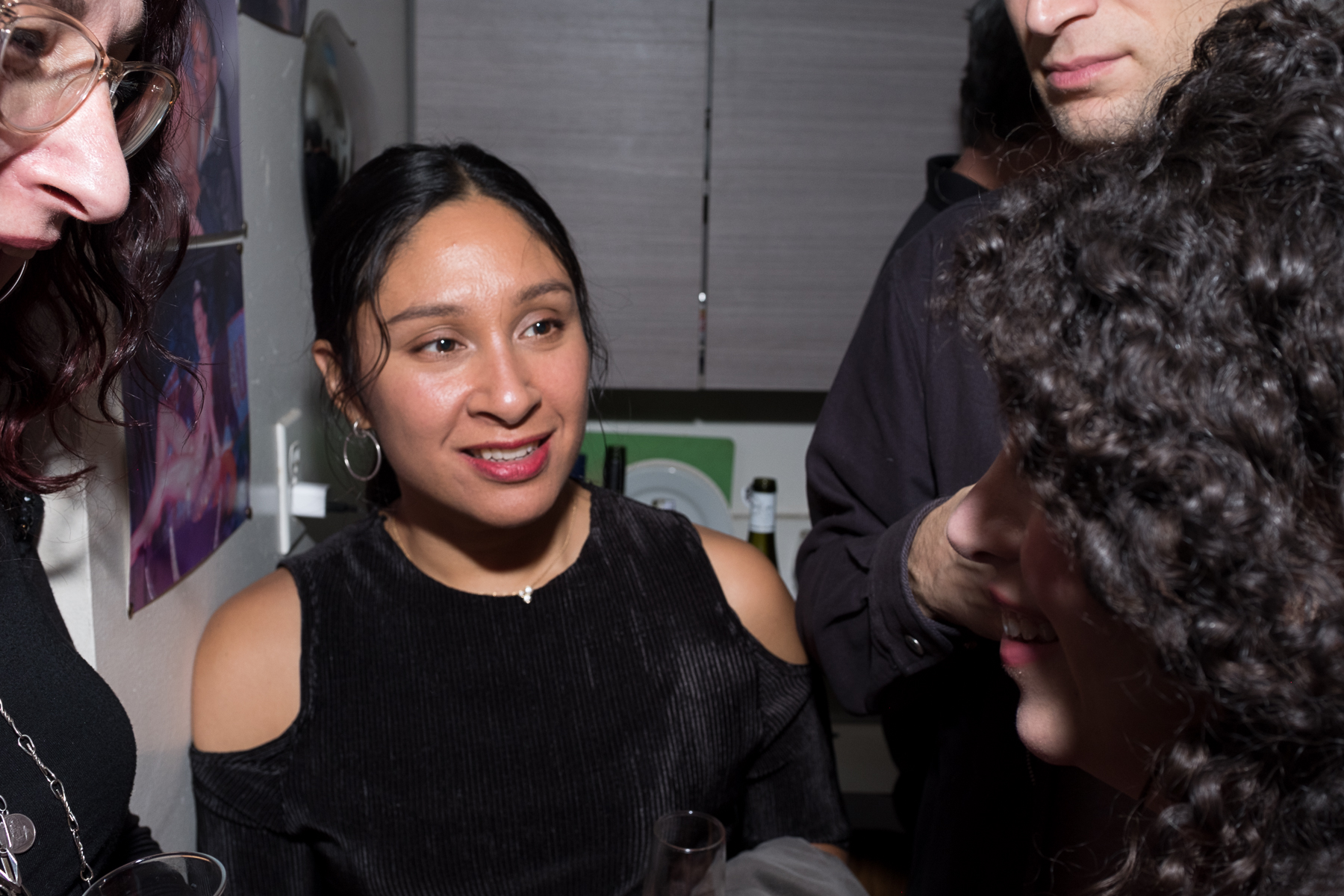 The radiant Suzanne Batmanghelichi.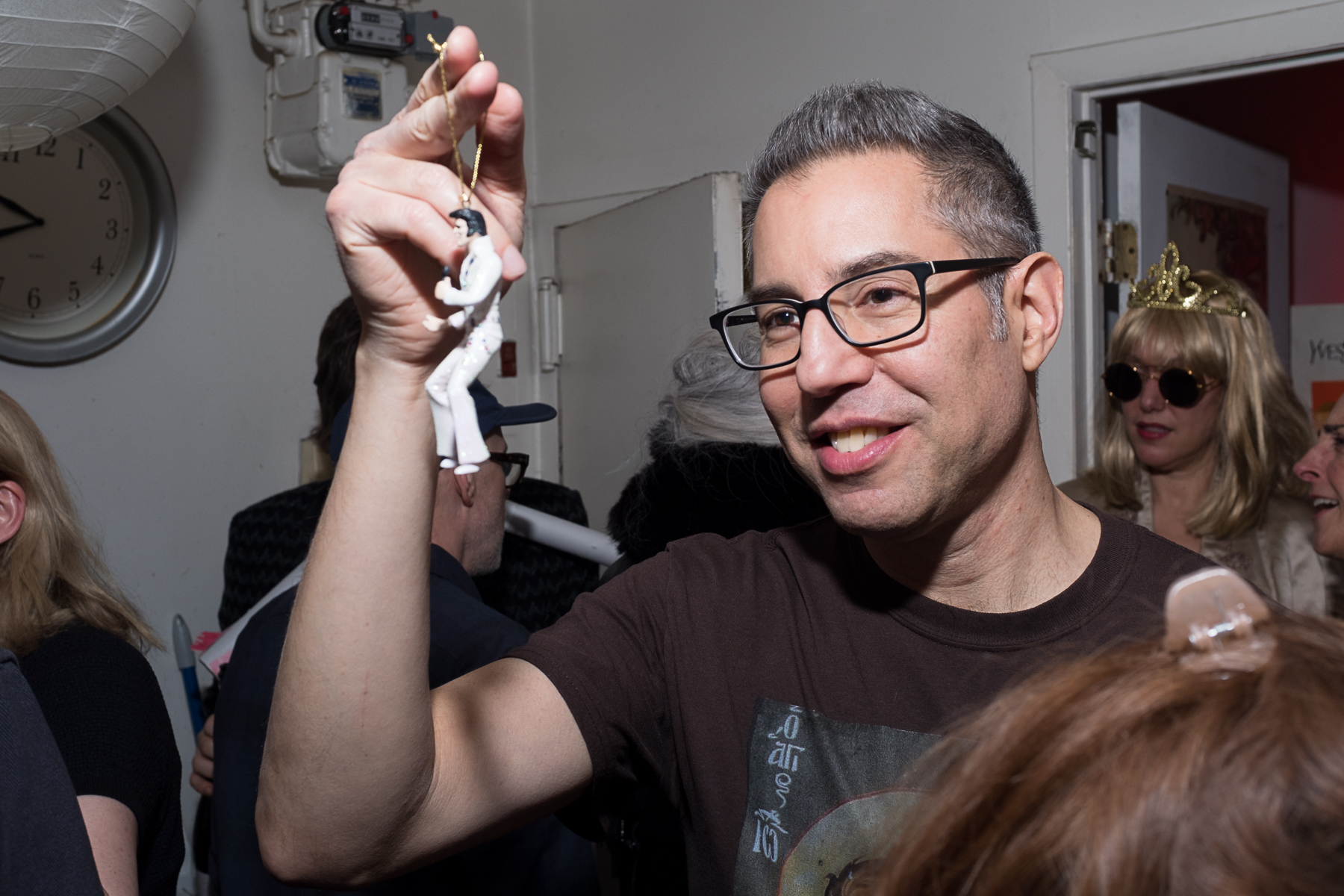 Moi delivering Saint Elvis to the tree.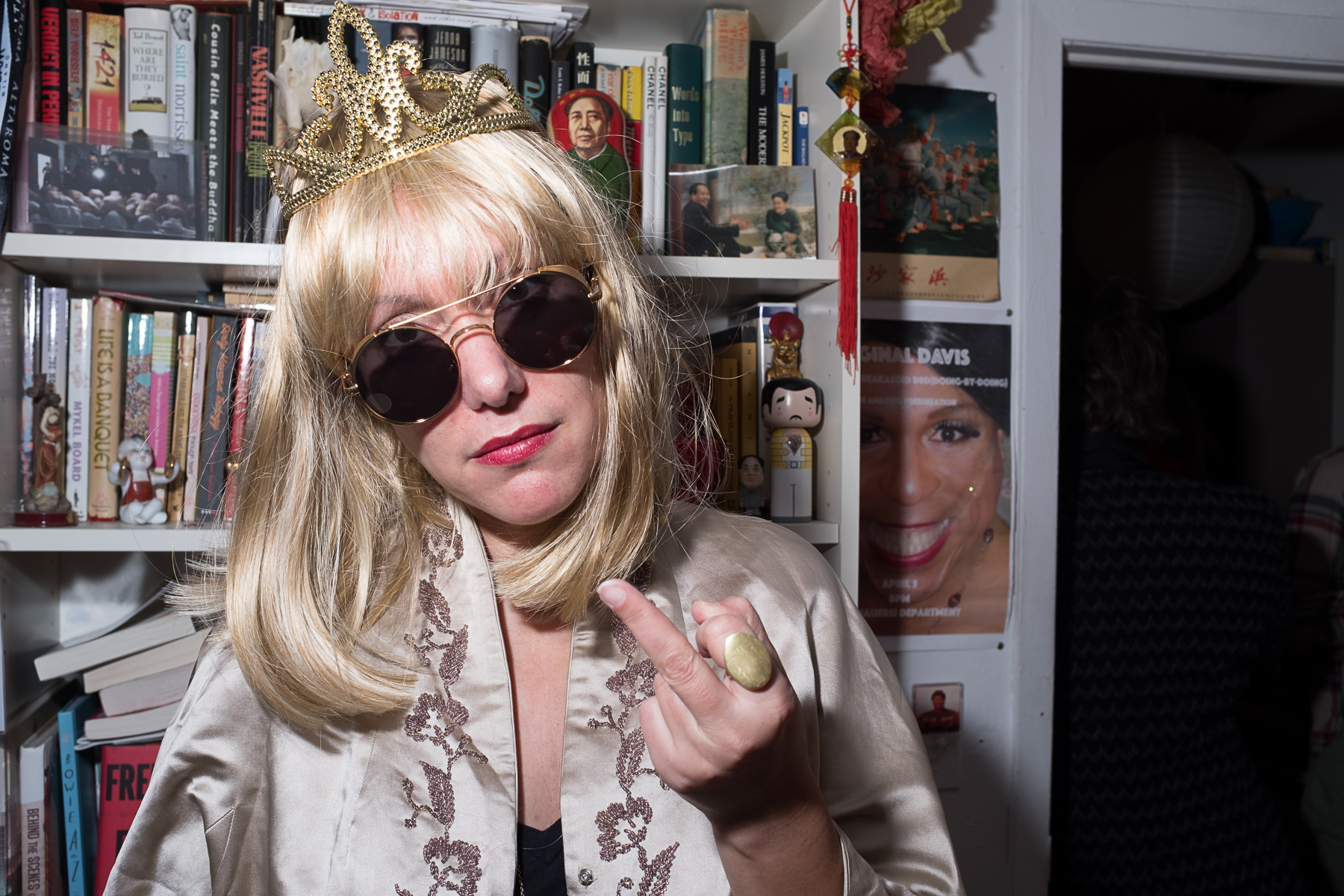 As I am often happily marooned in the '90s, I was a big fan of Allison's Amanda de Cadenet look (remember that night she and Courtney Love went out in matching ensembles?)
Writers Corey Sabourin & Nancy Stout.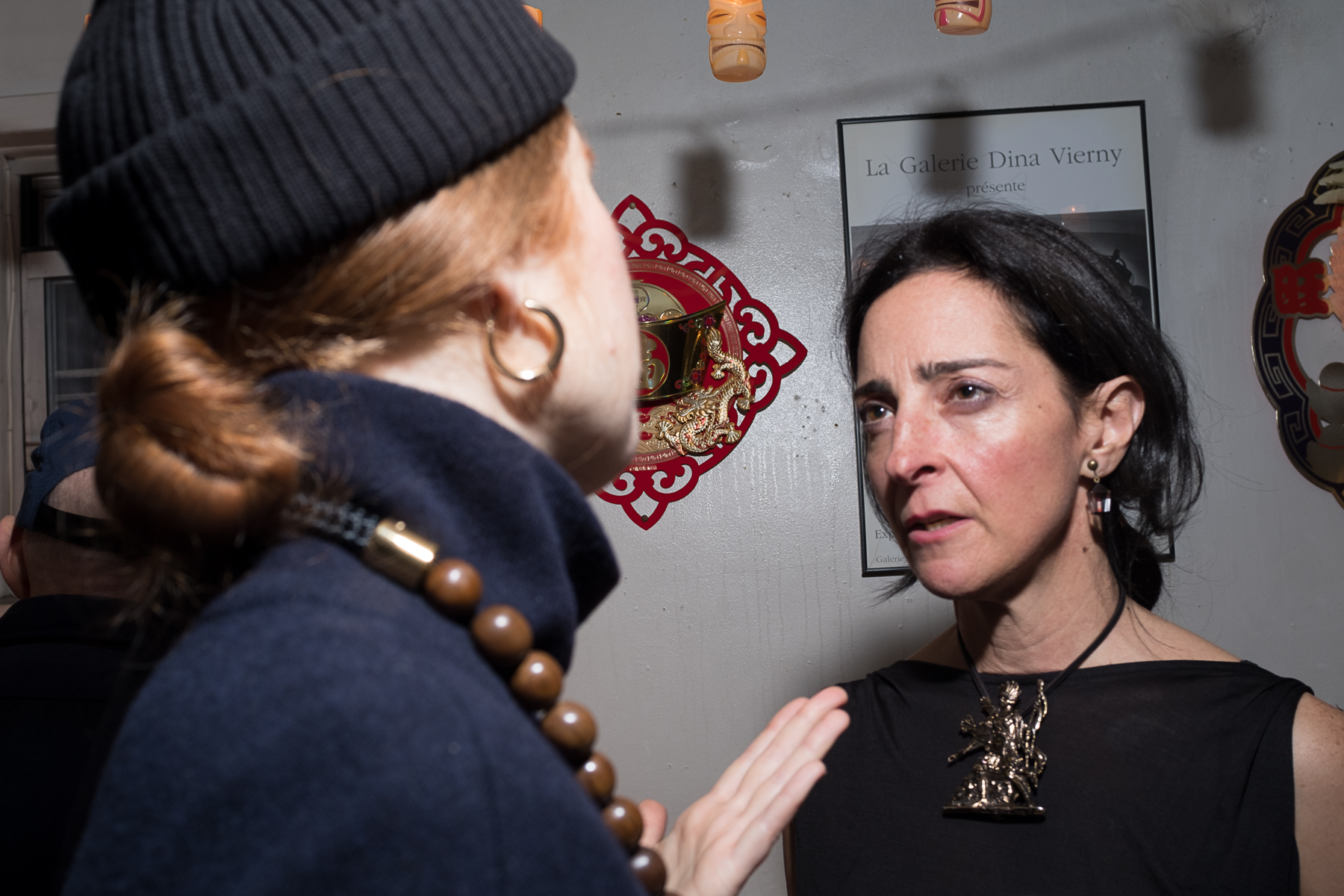 What is Christy Nyiri saying to Catherine Talese?! (We love Catherine's pendant.)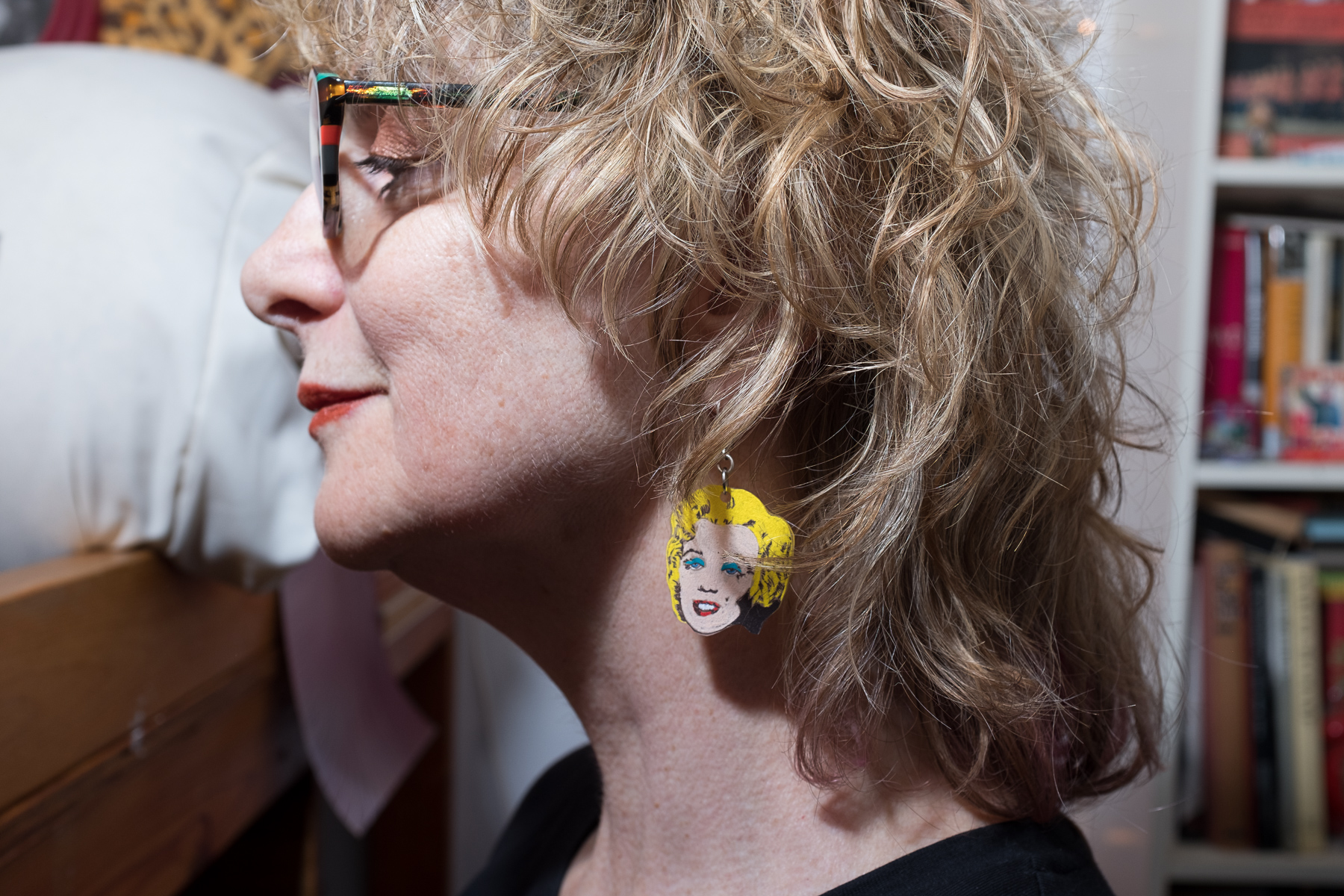 Janice Eidus in a Warholian mood in my Mao Room.
Artist Dana Schein with graphic design guru Christy Nyiri.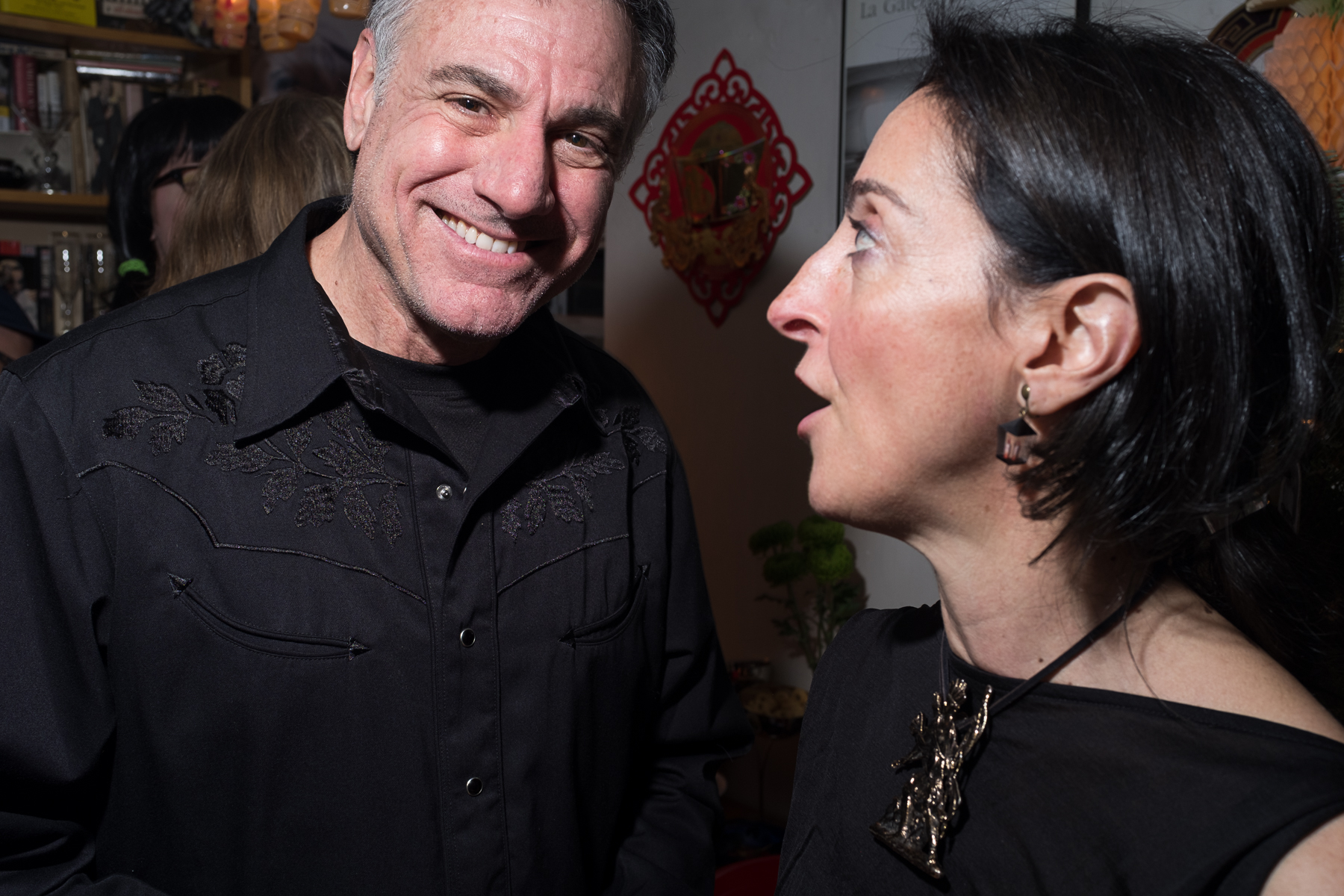 Giddy-up, cowboy! Saul Arber & Catherine Talese.
Nancy having a rap session on my bed with painter Scott Neary.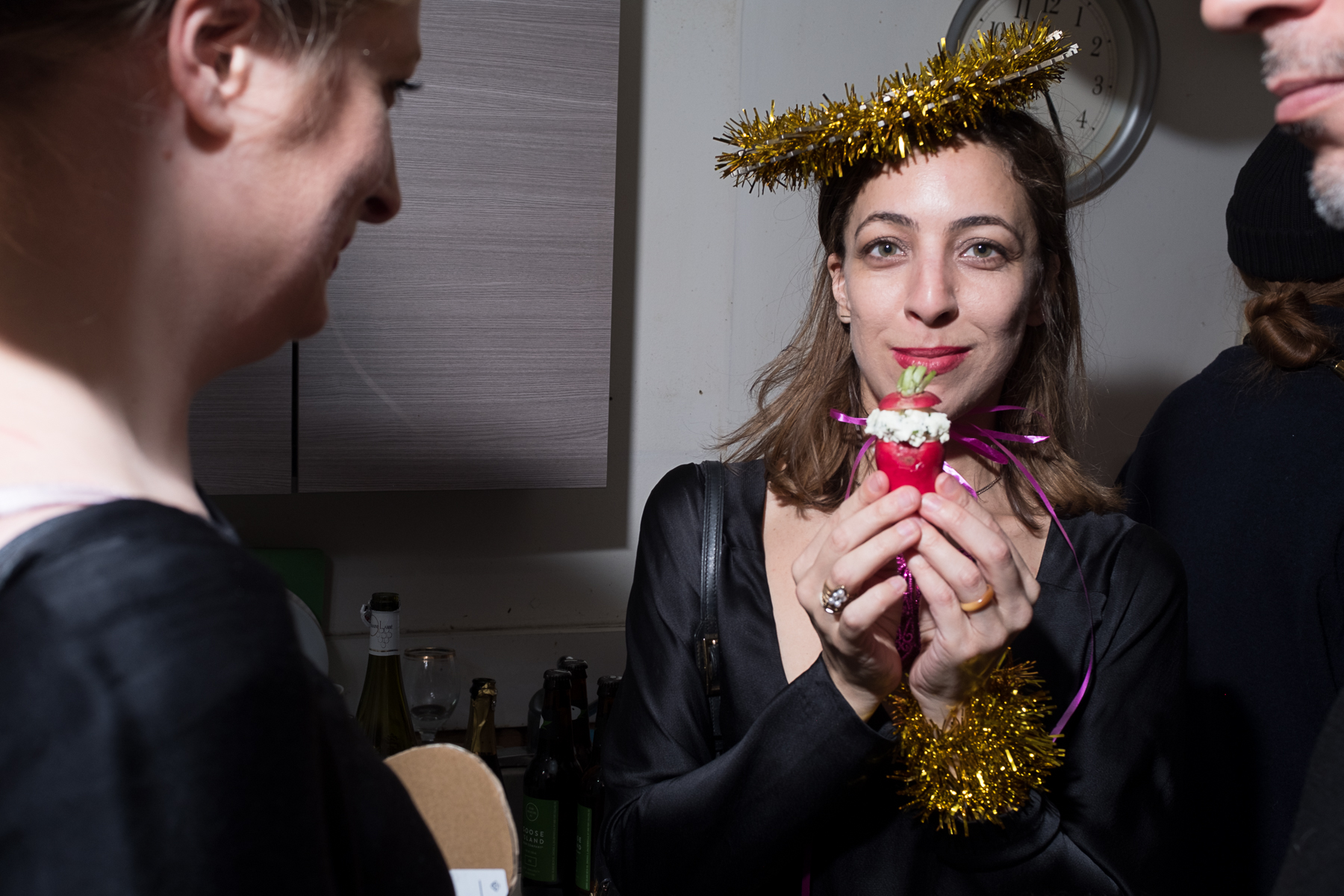 Alexis Romano partaking in the holy sacrament that is my famed radis farcis au chèvre.
South American chanteuse Carlota Gurascier and her pal David.
Nives and Saul
Josh Casey of MoMA Design Store holds onto his makeshift crown.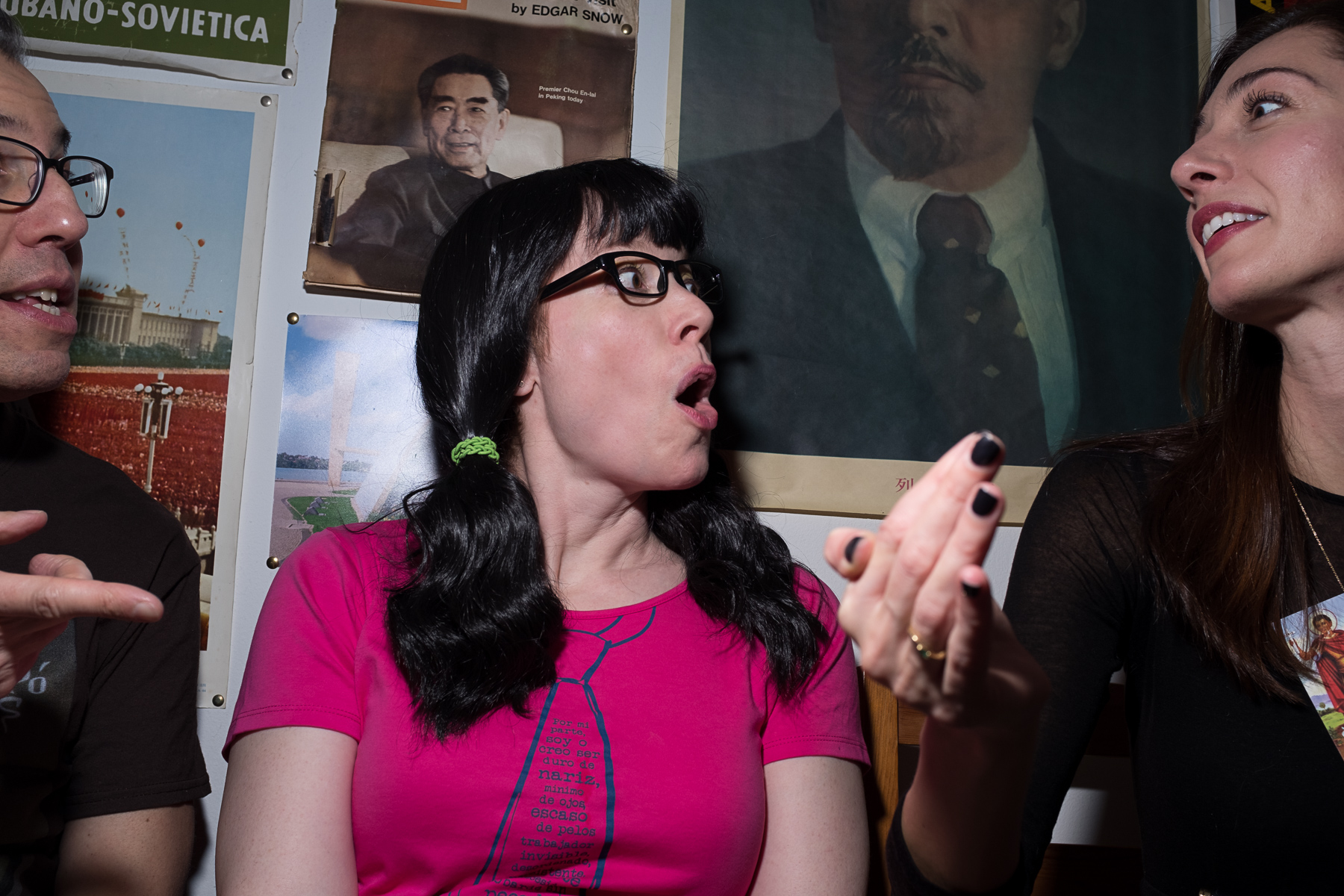 Moi, Katie & Carlota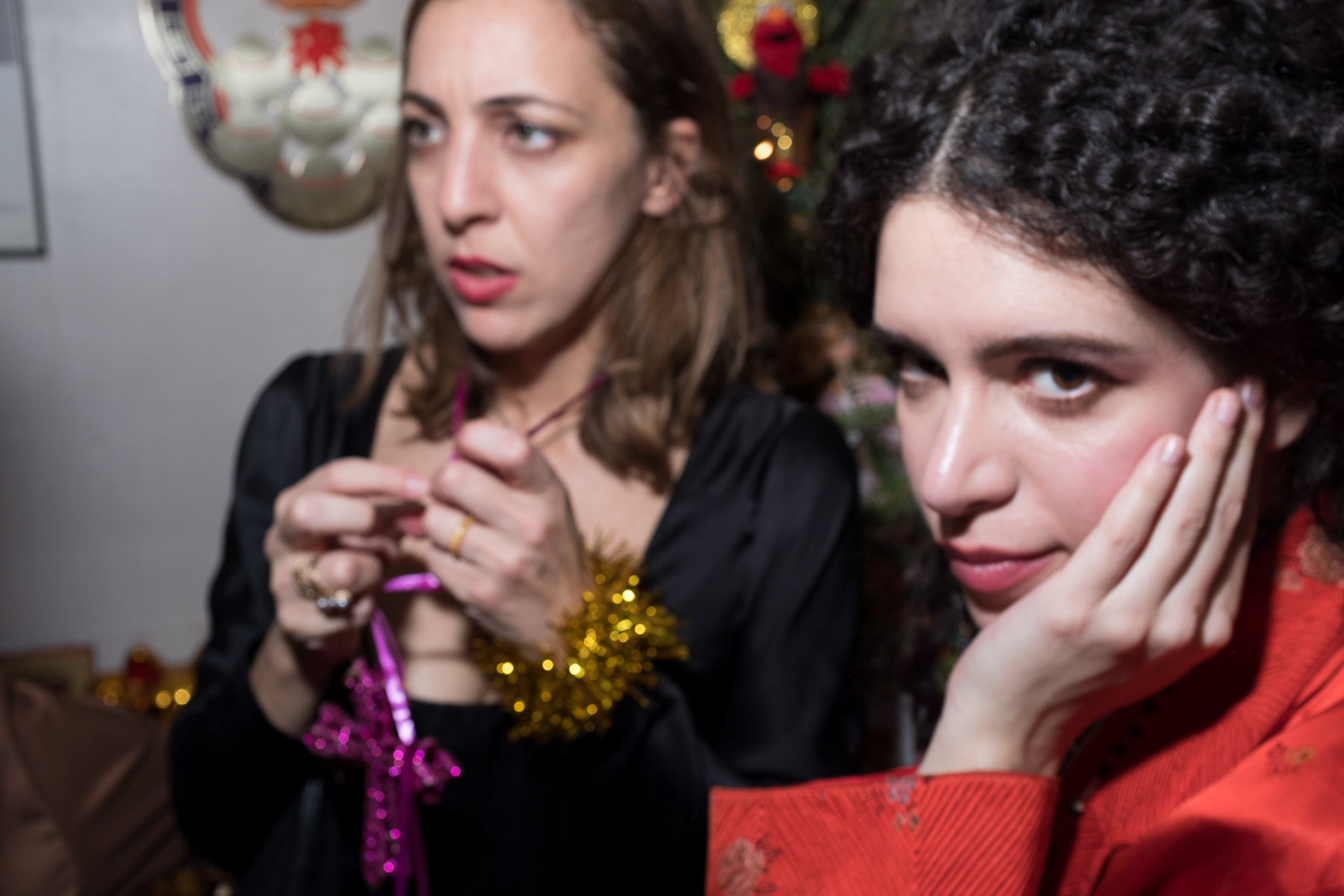 Alexis & Dana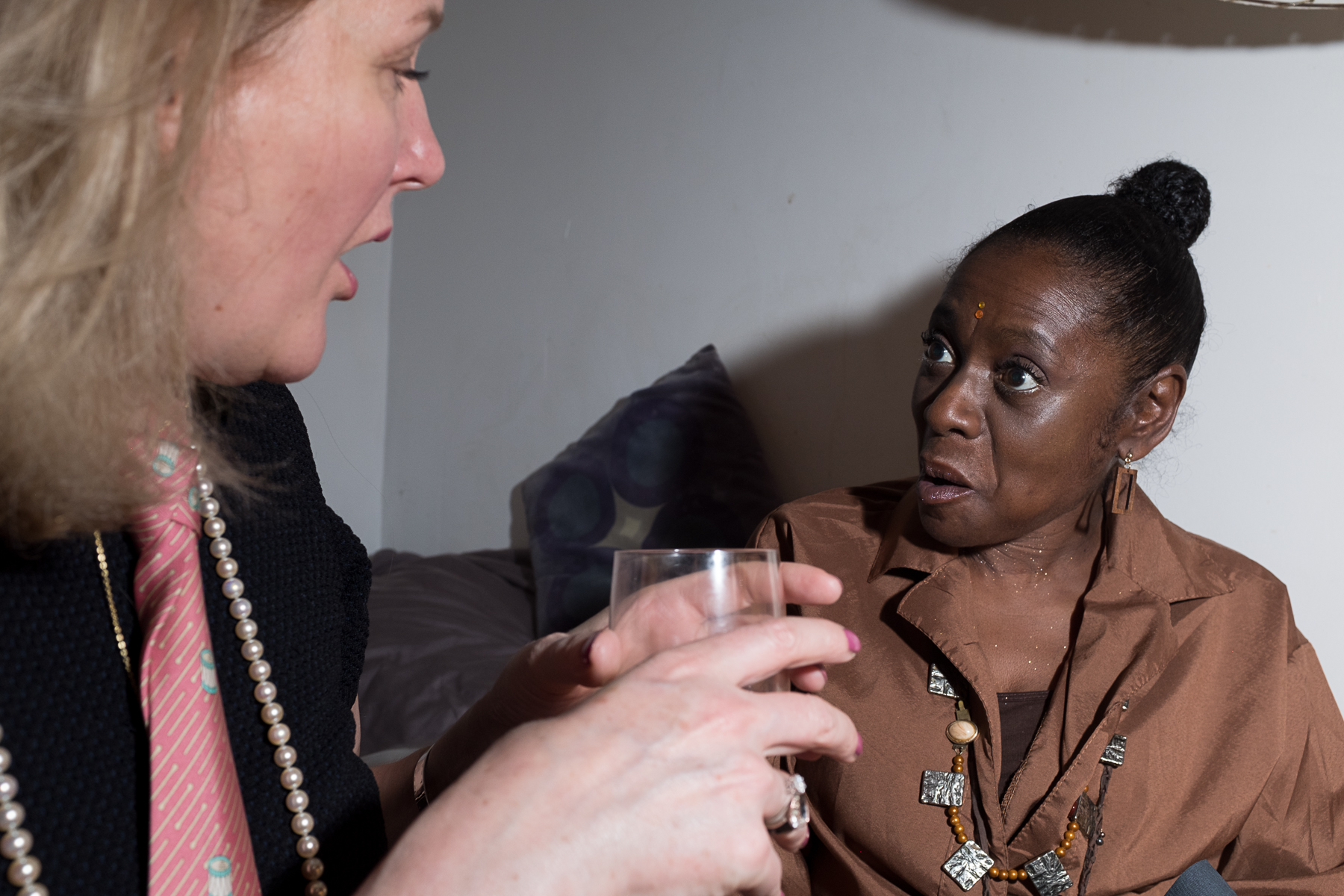 Nives & Alenia
Katie & my MoMA colleague Lisa Carr
And a few more of my shots…
Chay's husband Rob channeled Saint Sebastian via Steve Martin's A Wild and Crazy Guy.
Glennda Orgasm archivist Stevin Michels and artist Dana Schein.
Alenia in—you guessed it—The Mao Room!
Josh Casey, king for a day? Almost!
The ever-ebullient Lisa Carr loved meeting Peter and Jack.
Found under my tree the next morning: an Eve Kitten Clock designed by Nancy Bacich!
Not sure who brought the beautiful Saint Ziggy candle…the Greek Orthodox icon of my favorite saint, John the Baptist, was picked up during my 2008 trip to a fashion week in Thessaloniki.
Merry Christmas,
Glenn Belverio