Dear Shaded Viewers,
What started in Nottingham in October 2018 is now in its third incarnation at the Arnolfini Centre for Contemporary Arts in Bristol, UK, with an opening reception on Saturday, September 14.  This large-scale exhibition is curated by Irene Aristizábal (Head of Curatorial and Public Practice, BALTIC), Rosie Cooper (Head of Exhibitions, De La Warr Pavilion), and Cédric Fauq (Curator, Nottingham Contemporary), with Kieran Swann (Head of Programme, Arnolfini).
I am honored to have my 1993 video Glennda and Camille Do Downtown included in this traveling show for the third time and, for this edition, Kieran Swann has chosen to also include my 1992 video Two Spirits Speak Out in the exhibition's screening program.
From the looks of it, the roster of international artists—highlighting the experiences of women and celebrating their triumphs, and showing how the struggle for liberation is ongoing and hard-won—has been expanded for this edition. Artists include Judy Chicago, Gran Fury, Blondell Cummings, Zoe Leonard, Dyke Action Machine!, Joan Jett Blakk, fierce pussy, Pamela Singh, Monica Sjöö and many more. (For a full list of artists, visit this page.)
At Arnolfini, Still I Rise responds to local conversations about Bristol's legacy in the Transatlantic Slave Trade by focusing on black feminist artwork and activism.
"Still I Rise: Feminisms, Gender, Resistance – Act 3 is a timely exhibition focusing on the his/herstory of resistance movements and alternative forms of living from a gendered perspective. This major group exhibition looks at resistance across different times, places and scales: from the domestic sphere to large-scale uprisings. Establishing intersectional thinking as its driving method and incorporating feminist and queer thought and action, Still I Rise spans the late 19th century to the present and beyond.
With over 100 exhibits by some 70 practitioners, Still I Rise presents the way in which resistance has been approached by visual artists, writers, architects, designers, activists, working as individuals or in groups. It takes place within a global context, referring to both key historic moments and recent women-led uprisings and demonstrations, including mass protests in Argentina confronting violence against women: 'Ni Una Menos', and the global Women's Strike initiated in the US.
At Arnolfini, Still I Rise responds to local conversations about Bristol's legacy in the Transatlantic Slave Trade by focusing on black feminist artwork and activism. It also looks at the histories of feminist movements out of Bristol, by featuring a range of material from Feminist Archive South. Initiated in 1978 and based in Bristol, FAS is said to be the UK's first archive of feminist writing, publications, and donated material.
At the core of Still I Rise is the idea of collaboration, community building and egalitarianism. Throughout the exhibition, Arnolfini also hosts  a programme of performances, screenings, workshops and conversations, creating a site for participation and a platform for multiple voices."
Still from Glennda and Camille Do Downtown 
From Hettie Judah's review from iNews UK of Still I Rise at Nottingham Contemporary:
'It is to this exhibition's credit that they make space for serious dissent and opposing viewpoints within the movement(s). Feminist firebrand Camille Paglia turns up in Glennda Orgasm's film Glennda and Camille Do Downtown.
In the short film from 1993 Paglia proclaims her love for "early porn", announces that drag queens taught her everything she knows about feminine allure, dismisses posh feminists as "all white bread and mayonnaise" and confronts a group of women protesting against pornography, calling them "wimps" for failing to stand up to her.
"The Feminism of the 21st century will be pro art, pro sex, pro porn," according to Paglia. The first 18 years of the century have not exactly borne out this prediction. At the moment, it feels like the feminism of the 21st century is wildly split between the real world need to address abuse, prejudice and inequality, and the academic world chasing its tail about terminology.'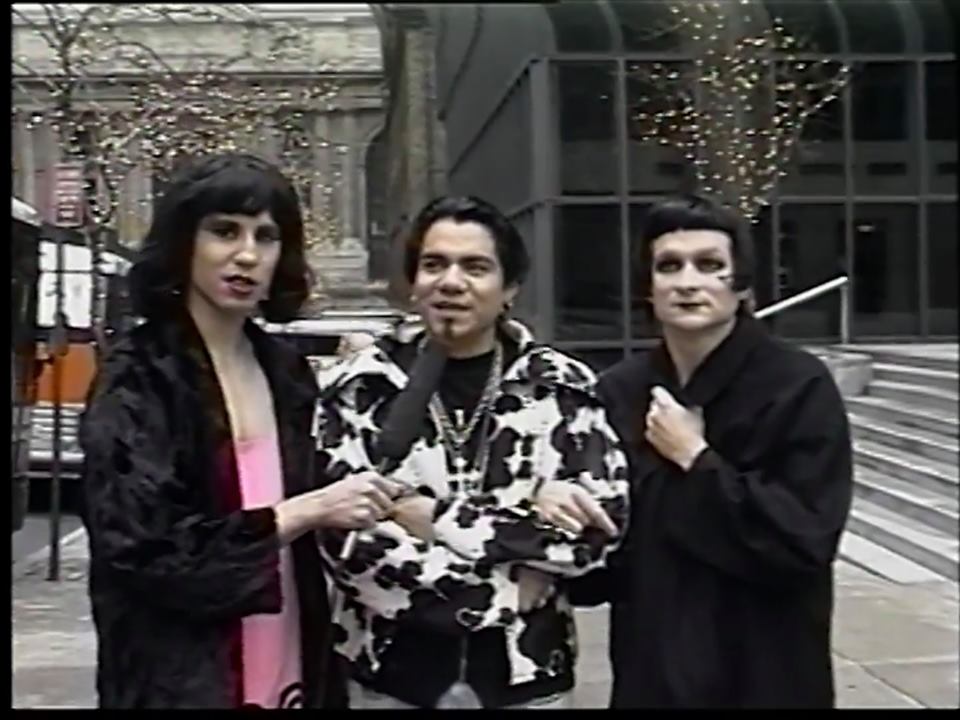 Still from Two Spirits Speak Out
Read my coverage of Still I Rise at Nottingham Contemporary here.
Love,
Glenn Belverio